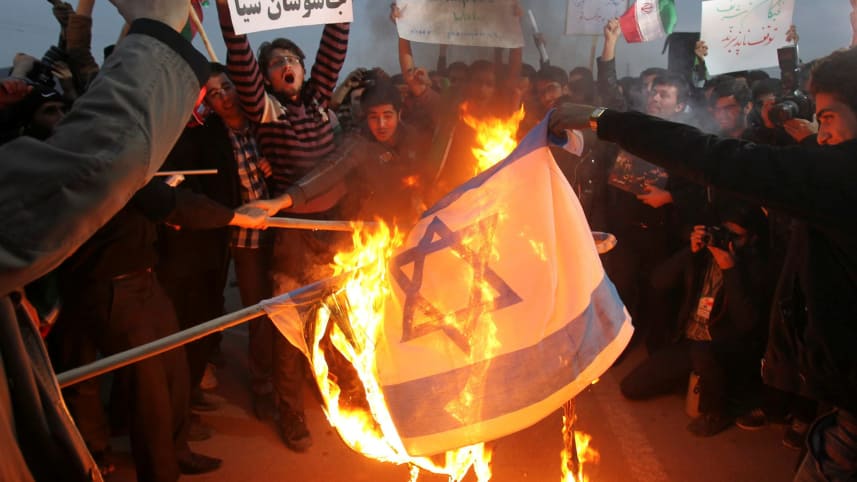 Analysis/Does Iran Really Want to Destroy Israel?
زفي بارئيل من الهآرتس: هل إيران تريد حقيقة تدمير إسرائيل
Zvi Bar'el/Haaretz/January 07/19
Turns out, Iranians are split over this question, but the debate doesn't make it to Israel – nor does the fact that the Iranians have other interests unrelated to the Holy Land.
A heated public debate took place recently between Iranian Foreign Minister Javad Zarif and a reporter from the French weekly Le Point. Le Point asked Zarif in an interview, among other things, about Iran's intention to destroy Israel and why Iran's ballistic missiles are inscribed with the words "death to Israel." Zarif rejected the question out of hand. "When did someone say that Iran would destroy Israel? Show me one person who said this."
In response, the reporter quoted a statement by the former Iranian president, Mahmoud Ahmadinejad in 2007: "Israel must disappear from the map." Zarif responded that "Ahmadinejad was quoting the Ayatollah Khomeini, who said that Israel would disappear from the pages of history." He did not say that he would destroy it. Israel's policy and conduct will lead to its being destroyed by itself, Zarif explained.
This interview made waves in Iran, because it seems to be the first time that an Iranian official says clearly that Iran does not intend to destroy Israel, as opposed to interpretations in the West and in Israel, by which the Iranian threat also includes a strategy to destroy Israel.
Iran's Foreign Ministry spokesman, Bahram Qassemi, explained that "Zarif's remarks are consistent with the permanent policy of Iran," and the question he was asked had tripped him up, because "Khomeini and Khamenei did say that Israel would disappear from the face of the earth within 25 years because of its policy, but they did not say Iran would be the one to destroy it… Iran does not threaten to destroy Israel, Israel is the one threatening to destroy Iran," referring to the leader of the 1979 Iranian revolution Ayatollah Ruhollah Khomeini and former current Supreme Leader Ayatollah Ali Khamenei.
Not all Iranian analysts bought this explanation. The Iranian daily Kayhan accused Zarif of distorting Khomeini's words and of departing from the goals of the Islamic revolution, which, the paper said, includes the destruction of Israel. Other commentators quoted other Iranian leaders who spoke of Israel as a cancer that must be destroyed and Khamenei's statement from 2012 that Iran would assist any country or group that would fight the Zionist state.
But there were some who did not fear airing criticism against Iran's continued anti-Israel policy, like Seyed Hadi Borhani, a professor of Middle Eastern studies at the University of Tehran. In an article published on the website Khabar Online, he wrote that Iran is paying a high price for its policy because most of the world considers Israeli attacks on Iran legitimate actions against Iran's intention to destroy Israel. "The main goal of Iran's policy toward Israel is the change of its racist regime and not to destroy it," he said. A well-known Iranian commentator, Sadegh Zibakalam, who lives in Iran, tweeted that the main question is not whether Iran will destroy Israel or whether Israel will be destroyed on its own," but rather "who gave Iran the responsibility to destroy Israel. And are most of the people in favor of or willing to destroy Israel?"
Other Iranian journalists responding to Zarif's comments held that this appeared to be a new Iranian policy and that this was an important thing to note.
But more than arguments over precise wording or semantic analysis of Zarif's words, the very sensitivity to them and the dispute over their essence that is going on in Iran should reverberate in Israel as well, where there is no public discourse over what has already been accepted as an axiom: That Iran wants to annihilate Israel.
The moods, criticism of the regime or political and diplomatic analyses published in Iran, which do not follow in the spirit of official declarations, hardly ever reach the public in Israel. "We read the Israeli newspapers translated into English. We know who the Israeli politicians are, we follow the Netanyahu investigations and try to understand Israeli society," an Iranian journalist wrote Haaretz, communication with whom is by roundabout emails. But in Israel, only a handful of scholars and intelligence people read the Iranian newspapers, although some of the important ones appear online in English or Arabic.
Not all Iranians are busy all day long with nuclear bombs, missiles, Israel, Hezbollah or sanctions. Since November, the musical "Les Miserables" has filled the theaters in Tehran every day of the week, although the cost of a ticket – $20 – is prohibitive for most Iranians. The actresses are not permitted to uncover their hair, their singing is accompanied by background voices so they are not singing solo, which is against the law. But the director, Hossein Parsaee, has seen to impressive lighting, artificial snow and a live orchestra. He is even proud of the fact that Khamenei has given his stamp of approval to the show when he said: "Victor Hugo's book is wonderful. A book about love and compassion."
And anyone who has already seen that musical can enjoy the opera "Carmen," which is also being shown now in Tehran – but only women are allowed to attend. The theater and opera don't make the Iranian regime more liberal. It will not stop arming and threatening, but it knows that it can't make do only with religious studies to win an obedient public.