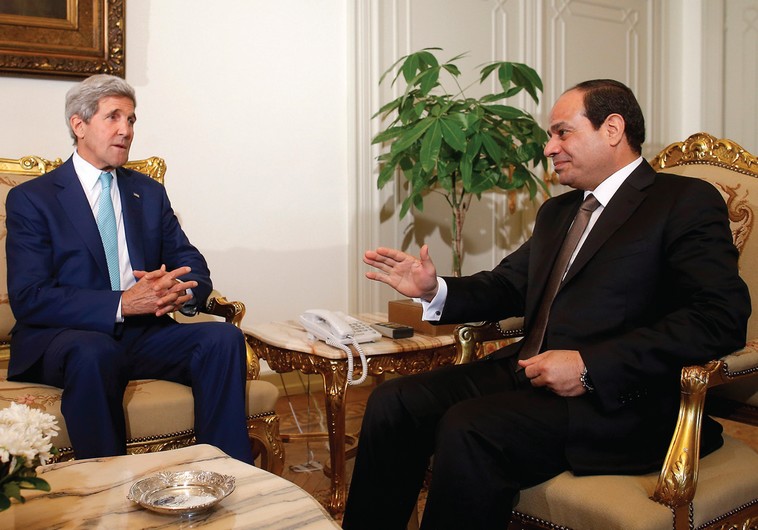 Al-Sisi's disengagement from Gaza


Smadar Perry/Published:11.03.14/Israel Opinion
Ynetnews
 Analysis: Sight of vans loaded with furniture and suitcases, evacuees' grim faces and Egyptian soldiers' determination is reminiscent of images from not-so-distant past in Israel. Senior commentators in Cairo are pointing to an Israeli fingerprint behind Egyptian President Abdel Fattah al-Sisi's dramatic announcement that northern Sinai would be cut off, that a deep separation canal would be dug opposite Gaza and that a large concrete fence would be erected along the border with the Strip. According to these commentators, Israeli experts offered advice and recommendations aimed at benefitting Israel as well in the war on terror in Sinai. In the war declared by al-Sisi, a million and a half Sinai residents have been cut off from two million Gaza residents until further notice. And until that notice, which will come at an unknown date, the Egyptian border terminal in Gaza has been shut down – and Gaza has been dumped on us again. Special eyes will follow the transfer of money from the banks of Beirut and Ankara to fund the terror and smuggling of arms and military equipment. But all those involved in the war on terror estimate that the terrorists, not to mention their senders, have no intention of giving up. On the contrary, despite the full curfew announced in northern Sinai, from 4 pm to 7 am, the terrorists are already working on the next attack. Not all tunnels from Gaza have been sealed. The fact is that the assassination cell which murdered 33 Egyptian officers and soldiers in Sinai last weekend disappeared through the tunnels, and a new cell took its place and carried out another attack.
 Families leaving northern Sinai. 'Those who tried to forcibly stay on the land
The iron fists of the Egyptian security organizations are finding it difficult to figure out whether it's a local branch of al-Qaeda, a case of cooperation between Hamas in Gaza and the Muslim Brotherhood movement in Egypt, or that the Islamic State has managed to infiltrate and recruit local volunteers. One thing is clear: Without the Bedouins' help, it's impossible to plan and prepare on the ground. On the other hand, without the Bedouins the Egyptian army would also find it difficult to collect information and pursue the terror cells.
Only the leaders and elders of the Bedouin tribes are familiar with the concealment caves and hiding crevices. They are afraid of the Egyptian army's revenge, and are even more afraid of the terrorists who have beheaded people in the ISIS style in Sinai too. This affair has not been mentioned by the Egyptian media, and not incidentally. Journalists are kept away from Sinai. This is al-Sisi's old-new survival battle. An Egyptian attorney rushed to the State Security Court in Cairo on Saturday to file a petition against ousted President Hosni Mubarak and his ousted successor Mohamed Morsi for forfeiting Sinai's security and letting the Gaza tunnel industry flourish. This attorney is invited to violate the Egypt Bar Association's boycott of any professional cooperation with Israel, and base his claim on a long series of Israeli complaints about the forfeited security in Sinai in the tunnels along the Philadephi Route: Tunnels have been dug, weapons have been smuggled, Islamist terrorists have raced back and forth from Gaza to Sinai.
Dozens have been ordered to stay and set up local terror systems. The northern Sinai exodus operation has been going on for four days now. Some 1,100 families on the Egyptian side have received an evacuation-compensation order. An immediate evacuation of 800 homes, stores, two mosques and a school along the border with Gaza. They are promising to set up three agricultural villages for them in the heart of Sinai, pay each family 300 Egyptian pounds (about 250 Israeli shekels) in order to rent an apartment for the next three months, and another 1,200 Egyptian liras (1,000 shekels) for each square meters in a deserted building which was bombed in favor of the canal and separation fence. Those who tried to forcibly stay on the land received an unequivocal threat that they would be thrown, without the compensation, into jail. The sight of vans loaded with furniture and suitcases, the grim faces of the evacuees and the determination of the Egyptian army's soldiers is reminiscent of images from the not-so-distant past in Israel.