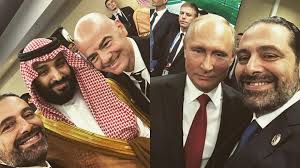 How to Read Lebanon's Acceptance of Russian Military Aid
حنين غدار وبورشيفسكيا/موقع واشنطن/كيق يمكن قراءة قبول لبنان المساعدة العسكرية من روسيا
Anna Borshchevskaya and Hanin Ghaddar/The Washington Institute/December 08/18
The assistance package is small but symbolically important, demonstrating Moscow's growing influence in Beirut while potentially throwing Hezbollah and Iran for a loop.
On November 26, Lebanon accepted $5 million in Russian military aid, with Prime Minister-designate Saad Hariri's office noting that "the Internal Security Forces in the Ministry of Interior will benefit" from the incoming funds. For years, the Kremlin has sought to cultivate religious, cultural, economic, and military ties in Beirut as part of a strategy to expand Russian influence in the Middle East, elevate its role as a peacemaker, and sideline the United States. Lebanon has traditionally resisted the military overtures, so the latest reversal is a win for President Vladimir Putin. The symbolic value of the small gift far outweighs its substance, highlighting Moscow's regional goals and Hariri's interest in maintaining good bilateral relations, despite reservations from Hezbollah and Iran.
MILITARY, ENERGY, AND TRADE OVERTURES
For more than a decade, Beirut declined various Russian military deals—usually after Washington firmly reminded it of the copious U.S. aid its forces received over the same period ($1.5 billion since 2006). In December 2008, it turned down a gift of ten fighter jets as part of a defense cooperation deal that aimed to boost Russia's arms sales and political influence. In late 2010, the two governments were close to striking a similar deal involving a mixture of gifts and weapons purchased with Saudi money, reportedly in coordination with Syria. Yet Beirut ultimately turned that down as well.
More recently, Moscow began working on a $1 billion arms deal in February 2017 that would include fifteen years of interest-free arms purchases. Lebanese president Michel Aoun allegedly approved the deal, then froze it under U.S. pressure. A year later, Russian prime minister Dmitry Medvedev signed a draft agreement that proposed broadening and deepening bilateral military cooperation, though Beirut has reportedly declined to sign it so far.
Regarding the new $5 million offer, Moscow apparently wanted the Lebanese Armed Forces to receive some of the funding, but Washington insists that the LAF cannot simultaneously take Russian and U.S. aid. Hariri appears to have found a loophole, however: transferring the money to the Internal Security Forces.
In tandem with this military outreach, Putin has pursued various deals on energy and other economic interests. In November 2010, he met with Hariri in Moscow and announced "concrete plans" for expanding bilateral cooperation on energy and transport. Three years later, they signed an energy cooperation deal, and several Russian firms prequalified for tender bids: Rosneft, Gazprom, LUKOIL, and Novatek, which has been under U.S. sanctions since 2014. This January, a consortium of Novatek, France's Total, and Italy's Eni signed agreements to exploit two offshore blocks in Lebanon's waters; they reportedly plan to start drilling for oil and gas in mid-2019. Moscow typically views such deals as an extension of its foreign policy toolset, with the goal of achieving greater access and power projection in the Mediterranean region.
The two countries have also signed a number of trade deals in recent years, contributing to a marked increase in bilateral commerce. According to Lebanese Customs, trade with Russia nearly doubled between 2012 and 2017, from $423 million to $770—a significant jump for a country of 6 million people.
ORTHODOX AND CULTURAL OUTREACH
Putin has long used religion as a domestic and foreign policy tool, in part by aligning the Kremlin with the Russian Orthodox Church (together with far-right groups) and reviving his country's historical mission as the main protector of Eastern Orthodox Christianity. This includes courting the sect's relatively large community in Lebanon, mainly via the Orthodox Gathering (al-Liqaa al-Orthodoxi), founded in 2011. The most prominent member of this group is Elie Ferzli, Lebanon's deputy speaker of parliament and former information minister, who has long supported Syria's Assad regime.
In January 2014, a Russian parliamentary delegation—including Sergei Gavrilov, head of a Duma committee that focuses on "defending Christian values"—stopped in Lebanon en route to Syria and met with members of the Orthodox Gathering and other figures, joined by Russian ambassador Alexander Zasypkin. Gavrilov called on the stakeholders to form a joint council with the goal of "activating cooperation on all levels." In October-November 2017, they held a spate of meetings that resulted in calls for closer cooperation with Orthodox entities in Lebanon, including the Gathering.
Moscow also promotes Russian culture in Lebanon, often through agencies that may have wider goals in mind. According to Deutsche Welle, the Imperial Orthodox Palestine Society (IOPS)—a tsarist-era NGO that was revived after the fall of the Soviet Union—has become "the centerpiece of the Kremlin's activity" in Lebanon. Similarly, a number of Russian cultural centers—which have a history of serving as intelligence fronts—sprang up in Lebanon over the years, and press reports indicate more are forthcoming.
PLAYING PEACEMAKER
Putin has also sought to cultivate his image as a peacemaker in Lebanon, whether between the pro- and anti-Syria camps or with Israel. This includes working with Hezbollah at times—Russia does not consider it a terrorist organization and has hosted the group's officials in the past. Yet Hezbollah and its Iranian patron have reservations about Moscow's activities inside Lebanon.
To be sure, they welcomed Putin's 2015 intervention in Syria because they were desperate for help at the time, and they have since relied heavily on Russian air cover and diplomatic efforts. Moscow's involvement changed the course of the war, greatly bolstering Hezbollah and other Iranian proxies. Yet the group is not dependent on Moscow back home in Lebanon, where its position is much stronger, so it tends to perceive any expanded Russian role there as competition for its own powerbrokers in Beirut. This is no doubt why the pro-Hezbollah daily al-Akhbar enthusiastically and erroneously reported that Lebanon had refused the new $5 million military aid package. Likewise, Iran has done quite well at gaining influence within Lebanon's political, security, and parallel institutions, so it would prefer not to cede any of this control to the Russians.
For his part, Hariri favors a greater Russian role and has visited Moscow several times in recent years. He and other Lebanese elites see the Kremlin as a mediator capable of providing an indirect channel between the Syrian regime and its Lebanese adversaries.
Moscow's interest is rooted in the strategy of portraying itself as the most credible broker for regional conflict resolution, particularly regarding Iranian-Israeli tensions. Many officials are growing more concerned about the prospect of Israel attacking Hezbollah targets in Lebanon, since the group is reportedly moving its precision missile development efforts back home from Syria (an issue that will be discussed at length in a soon-to-be-published Washington Institute Policy Note). Russia apparently hopes to mediate an agreement like the one reached in south Syria, this time managing escalation between Israel and Hezbollah in Lebanon. To do so, it needs a greater presence in Lebanon.
The Syrian refugee issue gives Moscow further opportunities to establish such a presence. This July, it launched an initiative with Lebanon to repatriate refugees to Syria. The agreement reportedly included facilitating conditions for their return, and hundreds have begun the journey. Yet this is merely a token number compared to the roughly one million refugees residing in Lebanon, and recent reports suggest that Syrian authorities are ignoring Russia's safety guarantees and killing or detaining many returnees.
Ironically, though, the resultant slow pace of repatriation is allowing Russian officials to consolidate ties with Beirut, gain diplomatic leverage, and keep pressing for further involvement. For example, they reportedly proposed to their U.S. counterparts that Russia deploy a military police brigade twenty kilometers inside Lebanon to facilitate the return of Syrian refugees. National Security Advisor John Bolton reportedly rejected the proposal, but Moscow remains persistent in its quest to establish a military presence inside Lebanon.
CONCLUSION
Although Putin's initiatives in Lebanon may ultimately fail, he has repeatedly showed an eagerness to assume a leading role there, and a willingness to invest the time and resources necessary for reaching that objective. In doing so, he is more interested in gaining leverage than finding genuine resolutions to the refugee issue or other pressing problems—the end result of Russian involvement is usually conflict management rather conflict resolution. Beirut and its Western allies should therefore be wary of the Kremlin's gifts.