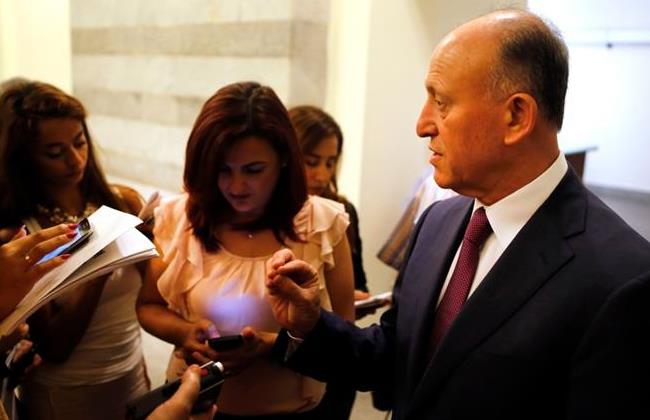 Justice Minister Ashraf Rifi blasts state inequality, denies dealing with Islamist militants


Nov. 01, 2014
The Daily Star
BEIRUT: Justice Minister Ashraf Rifi said Saturday that the state should be fair in implementing the nationwide crackdown on illegal arms, saying the Lebanese Army must raid Hezbollah locations in Beirut, hours after denying a report he transferred money to Islamist militants.
"We all know that in [Beirut's] southern suburbs there are thousands of arms caches and the Army should implement the security plan equally on all Lebanese areas and citizens," Rifi told reporters at the home of one of his bodyguards.
"Raids should not be exclusive to Bab al-Tabbaneh. We are aware of thousands of arms caches in Jabal Mohsen as well. Why don't they launch raids as well?," he asked, referring to the Alawite-majority neighborhood whose residents have repeatedly clashed with those of Bab al-Tabbaneh over the past three years.
He also said people who carry arms were not necessarily terrorists, defending Tripoli against claims that the northern city was a bastion of Islamist militants, especially after the Army engaged in deadly fighting with gunmen in Bab al-Tabbaneh.
During the four-day clashes, which erupted last week, and in the aftermath of the fighting, the Army launched raids in search of militant suspects, arresting dozens of Lebanese and Syrians and seizing several arms caches in Bab al-Tabbaneh and other northern areas.
"Tripoli supports moderation and the Army, and its residents do not need to be given a test of patriotism. They are more patriotic than those who claim to be patriots," said Rifi, a staunch critic of Hezbollah and the Syrian regime.
Rifi, a former security chief, made the remarks at the house of Deeb al-Laheeb, a member of his security detail, hours after the minister denied a report in a local newspaper that he used Laheeb to transfer money to militants holding Lebanese soldiers hostage in order to prevent the execution of one of the captives.
"I read this morning what was said in one of the publishing tools of the Iranian alliance and whatever is left of the Syrian regime," Rifi said in a statement, in reference to Al-Akhbar newspaper's report.
"I am never surprised by what they do … but what prompted me to [release the statement] is the fabrication of a fake story."
Al-Akhbar, known for its close ties to Hezbollah, reported that Laheeb was detained by the Lebanese Army earlier this week for attempting to transfer $280,000 to the kidnappers of Lebanese soldiers and policemen.
The money was seen as a bribe to prevent the militants from carrying out their threat of killing one of the hostages.
Quoting high-ranking political sources, the report said Laheeb was detained near the border as he made his way to the outskirts of Arsal, where the Islamist militants are believed to be hiding, to prevent them from executing a soldier.
The Army refused to release Laheeb and referred him to the public prosecutor's office, the paper said, adding that the money was secured "from secret expenditures of Lebanese agencies not included in the state budget."
Al-Akhbar also said that Health Minister Wael Abu Faour stepped in and transferred the amount after Rifi's failed attempt, reportedly ticking off Maj. Gen. Abbas Ibrahim, head of General Security.
Ibrahim is tasked by the government with following up on the hostage crisis and has recently said he was willing to abandon the case if disruptions continued.
In his statement, Rifi said Laheeb resided in the minister's Tripoli home.
"Deeb al-Laheeb, a member of my security detail, is in my home in Tripoli now and he is bedridden because of back pain, which has left him incapacitated for a long time. He did not go to the Bekaa, did not carry $280,000 nor was he detained," he said.
"I owe it to you [the public] to reveal this intelligence publication for what it is … I vow to you, honorable Lebanese leaders and citizens, that I will always confront their destructive projects."
"Those who confronted the conspiracy of the Syrian regime and responded to their terror and assassinations, will not be intimidated by some moral assassination."
Hours after he released the statement, Rifi invited the media into his Tripoli home, where Laheeb was lying on a bed with his wife standing next to him.
Rifi, sitting on a chair next to Laheeb, said the bodyguard has been bedridden for over two months while the said he would file a lawsuit against Al-Akhbar for defamation.