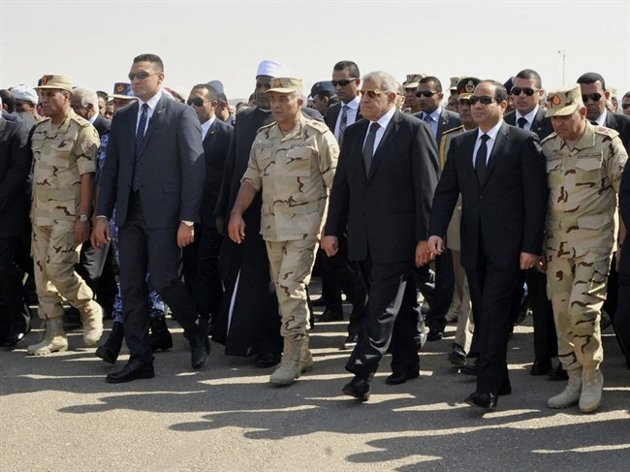 Will Egypt mediate for Assad?


Wednesday, 29 October 2014
Abdulrahman al-Rashed /Al Arabiya
 "Syrian President Bashar al-Assad is seeking, through his diplomatic contacts, to convince Egypt of mediating and convincing Saudi Arabia, Egypt's currently biggest ally, to amend its strict stance regarding him and his regime. These are documented diplomatic contacts, and it's through these contacts that Assad is trying to imply there are major disputes between him and Iran, especially regarding the role of religion within the state and regime. [Assad is doing so] knowing that an Egyptian response [to his demands] may be unlikely!"
This is what Lebanon's Annahar newspaper columnist Sarkis Naoum wrote last week. Naoum's credibility makes us pause and reflect. Assad resorting to Cairo for help confirms all the information we have: he's going through the worst period since the revolution erupted in early 2011. But is there really a dispute between him and the Iranians? Is the Egyptian leadership willing to mediate to save the worst dictator the region has known in 100 years? Is it possible for Saudi Arabia to restore relations with him?
Assad is cornered
Many reasons make it impossible for Saudi Arabia to accept a deal with Assad regardless of what the deal is and who the mediators are. Among these reasons is that a quarter of a million have been killed by the Assad regime and this is unforgivable regardless of Assad's repentance. Another reason is that the struggle has expanded beyond being a mere dispute with Assad. I don't rule out the besieged Assad resorting to Egypt, seeking its help to save himself but it's totally unlikely for Saudi Arabia to consider his wishes.
"The Syrian regime currently dreams of some sort of miracle that prolongs its time in power"
If Assad is really trying to deceive the Saudis and the Egyptians, alleging there's a dispute between him and Iran due to religious interferences state affairs then no one will believe him because he is in position to look down upon the Iranians who are defending him and spent so much to keep him in power.
The Syrian regime has lost most of the capabilities of his military and security institutions which have been used to rule the country for the past four decades. The Assad regime will collapse overnight without Iran's support.
Assad has several times tried to convince Saudi Arabia to alter its stance but he failed because he never intends to give up power even if within the context of a reconciliation that maintains the state's structure and includes some of its current figures. Saudi public opinion also strongly agrees with the Saudi government's stance and it's impossible that it will accept reconciliation with Assad, whom it considers the worst ruler the region has ever known.
Therefore, Assad must forget about reconciliation and take the only path available which is to pack up and depart to either Moscow or Tehran. If Egypt wants to bargain with him, it can grant him residency in one of the several guesthouses, although this will upset many.
A miracle
The Egyptian stance regarding the struggle which erupted in Syria since the 2011 revolution is certainly confusing. In the beginning, the Muslim Brotherhood, who were in governance, supported the Iranian suggestion of reconciliation based on keeping Assad in power and on granting the opposition marginal posts in the government.
The Brotherhood's stance thus harmonized with their strong ties with Iran – ties which were established since Khomeini's revolution three decades ago. Meanwhile, the Iranians are still the biggest supporters of the Muslim Brotherhood in Egypt, Sudan and Gaza. Later on, during the Muslim Brotherhood's last days in power and prior to the June 30 revolution, Mohammad Mursi's government adopted a different stance as Mursi announced his support for a change of regime in Syria during a ceremony that included delegations from Gulf Islamic groups.
Truth be told, what we are saying about these options for Assad is no longer of importance as we've gone beyond the phase of discussing the falling Syrian regime, which only survives now thanks to Iranian military support. The Syrian regime currently dreams of some sort of miracle that prolongs its time in power.
I think the only miracle remaining would be for Assad to request the Egyptian president's mediation to allow him to exit Damascus within the context of a political agreement that maintains small parts of the regime and that harmonizes with the agreement reached during the Geneva I conference. This is the sort of mediation which Egypt can take on and may be accepted by the Syrian opposition, amid the expansion of the Islamic State of Iraq and Syria, the West's involvement in the crisis and the failures of Assad and his allies.