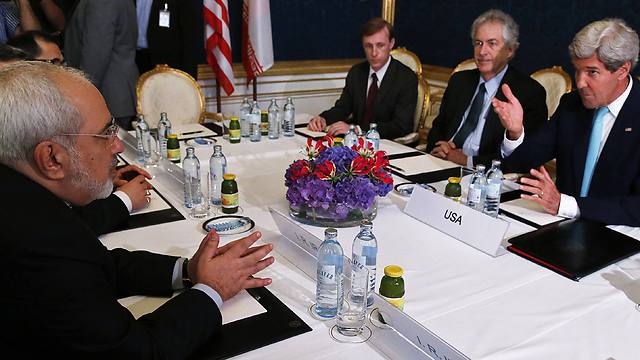 Report: US, Iran entered state of 'detente', facing common Islamic State enemy 


Yitzhak Benhorin/Ynetnews
Published: 10.29.14, 08:04 / Israel News
Wall Street Journal says Washington has reassured Tehran that strikes on IS fighters in Syria will not be used to oust Assad. The Wall Street Journal on Wednesday quoted senior US and Arab officials as saying that the Obama administration and Iran "have moved into an effective state of détente over the past year", as they hold direct nuclear talks and face a common threat from the Islamic State.  The report comes a day after The Atlantic's Jeffrey Goldberg, long considered close to the Obama administration, claimed that a US official had called Prime Minister Benjamin Netanyahu "a coward" on tackling Iran's nuclear program, despite his frequent rhetoric on the issue. According to the Wall Street Journal, the officials say that "recent months have ushered in a change as the two countries have grown into alignment on a spectrum of causes", at the forefront of which are "peaceful political transitions" in Iraq and Afghanistan, tackling the Islamic State in Iraq and Syria.US officials also told the paper that the US has clarified to Iran that ongoing strikes against Islamic State targets in Syria will not also target forces belonging to Syrian President Bashar Assad, a long-standing Iranian ally who is currently battling opposition fighters – including Islamic State – inside his country.
Furthermore, the report claims, the White House has "markedly softened its confrontational stance" toward Iranian allies Hamas, which fought Israel in a 50-day conflict over the summer, and Hezbollah, the Lebanese group armed by Iran and long-considered a major threat to Israel's northern border. The newspaper also quotes senior US officials as saying that top American diplomats, including Secretary of State John Kerry, negotiated with Hamas via Turkish and Qatari intermediaries during ceasefire negotiations in July, in an effort to end Hamas rocket strikes on Israel from Gaza. In addition, the report cites American and Lebanese officials who claim that US intelligence agencies have "repeatedly tipped off Lebanese law-enforcement bodies close to Hezbollah about threats posed to Beirut's government by Sunni extremist groups, including al-Qaeda and its Syria-based ally the al-Nusra Front.