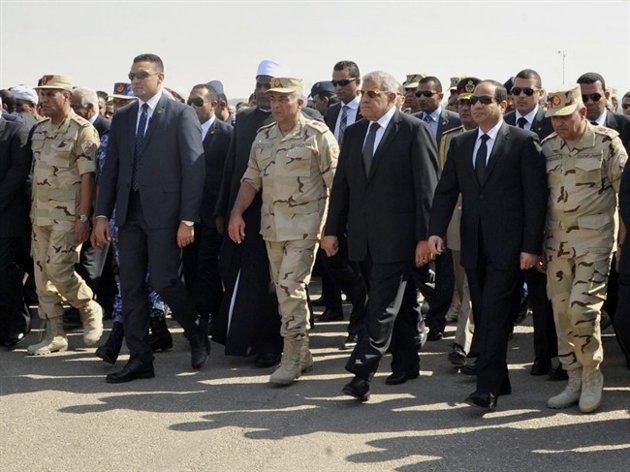 After Sinai attack, Egyptian president orders army to back police in guarding key facilities
The Canadian Press/By Hamza Hendawi, The Associated Press | The Canadian Press – 27/10/14
 CAIRO – Egyptian President Abdel-Fattah el-Sissi on Monday ordered the military to join police forces in guarding vital state facilities against terror attacks, a move that would expand the military's already dominant public presence since it toppled the government of Islamist President Mohammed Morsi 15 months ago.
The decree follows a surge in attacks by Islamic militants against troops and police and the weekend killing of 30 Egyptian soldiers by suspected militants in the troubled northern part of the Sinai Peninsula — the deadliest attack against the army in decades. El-Sissi slapped a dusk-to-dawn curfew on northern Sinai after the attack while there has been a flurry of media reports saying authorities were preparing to evacuate civilians from Sinai's hotspots.
The president's decree stipulated that army troops will join police in guarding state facilities for two years, during which they will be treated as military installations. The perpetrators of any attacks against the facilities will be tried before military tribunals.
Presidential spokesman Alaa Youssef said facilities to receive military protection include railway lines, bridges, roads, oil and gas pipelines and oilfields.
Suspected militants have repeatedly bombed gas pipelines, power lines and telephone exchanges. In Cairo, Morsi supporters are blamed for blocking or throwing oil on key roads and bridges to disrupt traffic in the city of some 18 million people.
El-Sissi, who led the July 2013 military takeover that removed Morsi after one year in office, has been seeking to rally the nation behind him in the fight against the militants, calling it an "existential" battle. He accused foreign powers he did not name of involvement in Friday's attack in Sinai.
The attack and el-Sissi's reaction have whipped up jingoistic sentiments in Egypt, prompting some media outlets to publicly declare their unwavering support for the state in the fight against terror or bar certain guests from their political programs on charges of being "rumour mongers" — parlance for critics, no matter how mild, of the government.
In the past week, several talk show hosts have either been briefly taken off the air in the middle of their programs or prevented altogether from hosting their shows. The clampdown on the freedom of expression in the name of the fight against terror is the latest encroachment on liberties in Egypt since el-Sissi assumed office in June.
In the 15 months since Morsi's ouster, authorities have killed hundreds of Islamists and jailed thousands, including most of the leaders of the Muslim Brotherhood, the Islamic group from which Morsi hails. A parallel crackdown has been underway against secular pro-democracy activists who fueled the 2011 uprising that topped longtime ruler Hosni Mubarak.
El-Sissi has repeatedly warned against a foreign plot to "down" Egypt and declared his commitment to freedom and democracy as long as national interests are safeguarded.
On Sunday, a Cairo court convicted 23 activists of violating a draconian law on street protests, sentencing them to three years in prison, a fine of 10,000 pounds (about $1,400) and placing them under police surveillance for three more years after their prison terms end. They included prominent rights activist Sanaa Seif, who has been on hunger strike for nearly two months, and Yara Sallam, a rights lawyer with one of Egypt's key human rights advocacy groups.
"It's back to business as usual in Egypt, with the Egyptian government brazenly trampling on the rights of its citizens and Western governments supporting it," Sarah Leah Whitson of Human Rights Watch was quoted as saying in a statement issued late Sunday by the New York-based group. "The el-Sissi government will clearly go to any length to crush domestic opposition, whether secular or Islamist."
The 23 allegedly organized and took part in a demonstration last June near el-Sissi's palace in Cairo against a law adopted late last year that criminalizes street protests staged without a prior police permit. The law has deepened the rift between el-Sissi and his supporters on one hand and liberal pro-democracy youth groups on the other.
"It is not acceptable to hang the country in the name of freedom and it is not understandable either that freedom is executed in the name of security," wrote columnist Abdullah el-Sinnawi in Monday's edition of al-Shorouk daily newspaper.