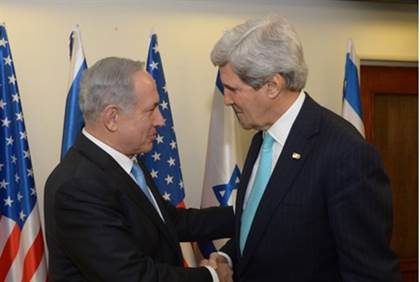 Why is Kerry singling out Israel?
By: Guy Bechor/Ynetnews
Published: 10.26.14
Op-ed: US secretary of state keeps saying Israeli-Palestinian issue cannot remain unchanged. What about the situation in Syria, Iraq, Russia, China and Turkey?
Like a regular mantra, US Secretary of State John Kerry has a habit of saying that the Israeli-Palestinian issue cannot remain unchanged.
Strangely enough, he isn't saying that about the conflict in Syria, where the death toll has already crossed the 200,000 mark with people being slaughtered, beheaded and dying in different ways, on its way to the 250,000 mark; he isn't saying that about four million refugees from Syria and 10 million displaced people; he isn't saying that about the Islamic State, which is beheading people and butchering minorities; he isn't saying that about Iraq, which has been torn into pieces, or about Baghdad's airport which is about to fall into the hands of jihadist terror. He isn't saying that about Libya either, a country controlled by a coalition of insane jihad organizations, on the verge of Europe. He isn't saying that about Yemen, which has died and is controlled by wild tribes navigated from behind the scenes by the "smiling" Iran; he isn't saying that about the intolerable uranium enrichment in Tehran, which has him and the West wrapped around its little finger.
He isn't saying that about Russia either, which not only conquered eastern Ukraine, but also annexed the huge Crimea region. It isn't an "occupation," after all; that only exists in Israel.
He isn't saying that about Turkey, which brutally conquered one-third of the island of Cyprus, and still controls the area; he isn't saying that about China either, which is slowly turning Tibet into a region inhabited by Chinese; he isn't saying that about Hezbollah, which is piling up tens of thousands of missiles on Israel's border; he isn't saying that about his Qatari friends, who are cunningly funding the terror that the United States is fighting against; he isn't saying that about Hamas either, which proudly announced that it is rebuilding its network of terror tunnels targeting Israeli territory.
He is only saying that about Israel – the only safe, stable, democratic place one can rely on in the Middle East. Only in Israel, the situation cannot remain unchanged.
I would just like to mention that it was John Kerry who was Syrian President Bashar Assad's personal friend and sat down with him many times for intimate meetings. It was John Kerry, in his former position as chairman of the Senate Committee on Foreign Relations, who worked to return the American ambassador to Damascus and pressure Israel, with the price being the Golan Heights of course. Then too, the situation could not remain unchanged, and aren't we lucky that it did remain unchanged.
The question is why is he always singling out Israel of all the nations in the world? Could it be that it pains him to see Israel secure and thriving, and that's why he has such an urge to weaken it? To sell it to a Palestinian gang whose only goal is to weaken Israel, and then resume the fighting against it after it crumbles?
Can't he hear the leader of this gang, Mahmoud Abbas, referring to the Jews as "impure," as they are defiling the Temple Mount when they visit it? Can't he see the law sentencing a Palestinian to death for daring to sell a house to a Jew? Abbas even added that he would step up the punishment for selling homes to Jews, but how can a death sentence be stepped up? The situation cannot remain unchanged. Perhaps the foreign minister of the United States would care to explain to us why he only uses this expression here. Why is he singling Israel and the Jews out of all the nations?