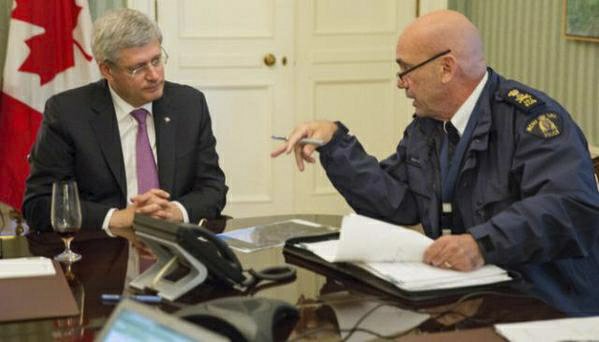 Stephen Harper says "Canada will never be intimidated" after attack in Ottawa


By Andy Radia | Canada Politics/23/1014
Stephen Harper Canada's PM, took to the airwaves on Wednesday night following the deadly shootings at the National War Memorial and Parliament Hill.
In the televised address to the nation, the prime minister said that today's events were a grim reminder that Canada is not immune to the types of terrorist attacks we have seen elsewhere in the world.
"We are also reminded that attacks on our security personnel and on our institutions of governments are by their very nature attacks on our country, on our value, on our society, on us Canadians as a free and democratic people who embrace human dignity for all," Harper said from an undisclosed location.
"But let there be no misunderstanding. We will not be intimidated. Canada will never be intimidated. In fact this will lead us to strengthen and re-double our efforts and those of our national security agencies to take all necessary steps to identify and counter threats and keep Canada safe here at home. Just as it will lead us to strengthen our resolve and and re-double our efforts to work with our allies around the world and fight against the terrorist organizations who brutalize those in other countries with the hope of bringing their savagery to our shores."
Harper also offered prayers for for the family of 53-year-old soldier Patrice Vincent who was killed Monday by a car driven by Martin Rouleau in an incident believed to be linked to terrorist ideology.
Harper didn't, however, didn't provide many details about the events on Parliament Hill.
Earlier in the day, Ottawa police said that they received several 911 calls about multiple shootings in the downtown area.
Cpl. Nathan Cirillo, 24, a Canadian forces reservist, was shot — and later pronounced dead — by a gun man while guarding the National War Memorial.
Minutes later, another series of shootings took place on Parliament Hill.
The suspect — identified by media as 32-year old, Canadian-born Michael Zehaf-Bibeau — was shot dead by House of Commons security staff as MPs were convening for the weekly caucus meetings.
At least one security guard was injured in the combat with a non-life threatening wound.
Much of downtown Ottawa, including Parliament Hill, was put on lock-down, for most of the day, while RCMP swept the area. 10 hours after the incident, many areas were still in lock-down.
At a 2 p.m. media conference, police remained guarded about the details of the shootings. They wouldn't say whether or not there were multiple suspects or whether they believed that this event was akin to the event on Monday.
Earlier in the day, the PMO released photos of Harper being briefed by RCMP chief Bob Paulson (included at the top of this post) and speaking to U.S. President Barack Obama on the telephone.
The White House released this statement:
"President Obama condemned these outrageous attacks, and reaffirmed the close friendship and alliance between our people.
"The President offered any assistance Canada needed in responding to these attacks. Prime Minister Harper thanked the President and the two leaders discussed the assault and agreed to continue coordination between our governments moving forward."
NDP leader Thomas Mulcair also had the opportunity to address the country.
"These acts were driven by hatred but also designed to drive us to hate. They will not," he said.
"We will stand up and we will stand together. We will persevere and we will prevail."
During the day, Liberal Leader Justin Trudeau's communications director Kate Purchase released this statement.
"All Canadians are particularly shocked and saddened by the horrific shooting of a young man, as he dutifully guarded our National War Memorial," she wrote.
"Canadians are a resilient people who treasure our freedom. We cannot and will not allow armed criminals to terrorize our country and our democracy. Mr. Trudeau spoke with the Prime Minister earlier this afternoon and offered the Liberal Party of Canada's absolute support as we seek to prosecute those responsible for this attack, and prevent events like it from happening in the future."
And finally, Green Party leader Elizabeth May urged Canadians and lawmakers to remain calm.
"Today is not a day that 'changes everything.' It is a day of tragedy. We must ensure we keep our responses proportionate to whatever threat remains," May said in a statement.
"This senseless, horrifying attack has shaken all of us who work in Parliament, but we stand together, strengthened in our resolve to uphold the values of peace and democracy upon which our country was founded."
In terms of response against terrorist attacks in Canada, the Conservatives have already indicated that they will introduce legislation, this week, to give CSIS more powers "to allow our security and intelligence service to better operate and investigate threats from abroad."
At the public safety committee meeting, earlier this month, CSIS director Michel Coulombe said they were monitoring 80 suspected Canadian terrorists that had returned home from conflicts around the world.
The RCMP also noted that they were tracking numbers of others who have become radicalized.
Are you a politics junkie?
Follow @politicalpoints on Twitter!