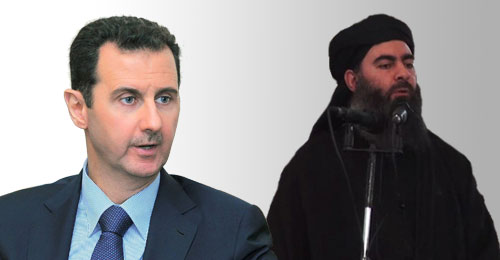 It is Safer to be Skeptical than Naive
Eyad Abu Shakra /Asharq Al Awsat
Thursday, 16 Oct, 2014
Yet again, Washington has turned down all calls for safe havens and no-fly zones in Syria's border areas. It has thus far refused to answer a vital question: If it really believes that "Bashar Al-Assad has no place in the future of Syria," then what practical steps is it taking to prevent Assad's militia, along with its sectarian non-Syrian allies, from re-occupying the territories we are promised will be liberated from the Islamic State of Iraq and Syria (ISIS) and other extremist groups?
Another question worth posing, in the light of Washington's dubious handling of the unfolding Iraqi–Syrian scenario, is whether it has a genuine comprehensive strategy for the Middle East, a strategy that links its declared regional ambitions with the ever-changing political and military realities on the ground. So far, Washington has not clarified its position on Hezbollah preventing the election of a new Lebanese president until it can install a puppet candidate who will obey its own directives. And regarding Yemen, here too we have not heard any serious comment about the Houthi campaign to take control of the fragmenting country. Last but not least, there is no clear indication on where the US stands on an Iranian official's recent boast that Tehran now controls four Arab capital cities: Baghdad, Damascus, Beirut and Sana'a.
What we are witnessing is strange indeed.
ISIS has occupied the Syrian city of Raqqa for more than a year now, and in June it overran Mosul, the largest city in northern Iraq, and its environs. This has happened against the backdrop of ISIS's takeover of virtually the whole of eastern Syria and western Iraq. Still, Washington did not seem to be unduly alarmed until ISIS began airing images of the brutal executions of innocent American and British nationals, and threatening the Kurdistan region in northern Iraq, and later the Syrian town of Ain Al-Arab (Kobani) in the Kurdish strip along the border with Turkey.
It is worth noting here that extremist groups managed once before to take over wide swaths of Iraq's Anbar province, the vast Sunni tribal stronghold that extends from greater Baghdad's western boundaries to the Syrian border. Back then, the extremists were defeated and driven away by tribal Sunni Sahwa (Awakening) movements. However, Nuri Al-Maliki's pro-Iranian government continued to persecute and discriminate against the Sunni population, whom it treated as a "defeated" community, doubting its "patriotism." In the course of Maliki's hegemony, Iraq's security forces lost the national, all-encompassing aspects of their identity, and thus became merely confessional organs imbued with sectarian loyalties. Thus, it was hardly surprising that both the (American-built) army and police collapsed when ISIS overran Mosul and also disappeared throughout Anbar, which is now back under the control of extremists. In fact, the farce of Maliki's premiership did not end until Washington realized it was becoming a threat even to the strategy he was clumsily serving, and so he had to go in order to ensure its survival.
What is taking place in Iraq now represents attempts to save the status quo brought about by the 2003 invasion. The very same invasion opposed by Barack Obama, who has been very keen to undo it, to the extent of withdrawing American troops from the country.
But the ambiguity of the American position does not stop here. There is no point revisiting the Syrian tragedy, so let us look at the current situations in Lebanon and Yemen.
What does the Obama administration want for these two countries, and subsequently for the region as a whole, given its preoccupation with detente with Tehran? And why does it seem to see terrorism and extremism as exclusive to only one confession, allowing itself to hand the Middle East to the Iranian leadership and their cronies, and not without Israel's blessings?
It is true that Al-Qaeda, which was responsible for carrying out the 9/11 outrage, was and is an extremist Sunni group. I also appreciate the fact that President Obama and his two soul mates, Susan Rice and Denis McDonough, were still young in the late 1970s and the 1980s, so they do not remember well that period in the history of the Middle East before the appearance of the Sunni demon they hate so much. But I do think it is worth looking back on those days, not to revive old animosities, but rather to discredit the notion that terrorism and extremism have fixed religious, sectarian or racial identities.
In 1979, 52 Americans were taken hostage for 444 days at the US embassy complex in Tehran in the aftermath of Khomeini's "Islamic Revolution." Then, in October 1983, while Obama was in his senior year at Columbia University in New York, the US Marines' barracks in the Lebanese capital Beirut was hit by a suicide bombing. All in all, 241 American servicemen were killed in the explosion, which Washington blamed on pro-Iran operatives. Furthermore, between 1982 and 1992, Lebanon witnessed a wave of kidnappings and hostage-taking targeting foreign nationals, during which 96 people were kidnapped and imprisoned—some even killed—including 25 Americans and 12 Brits. Again, pro-Iran Shi'ite extremists were held responsible, an accusation later vindicated by the circumstances and conditions of their release.
Today, following a series of assassinations since 2005, including some which members of Hezbollah have been formally accused of being involved in, the pro-Iran party holds the whole of Lebanon hostage, aided by its Christian stooges. It is also pushing the Lebanese army into a bloody sectarian quagmire, gradually destroying state institutions, and systematically trying to exploit extremist Sunni elements that it had initially aided and abetted in the hope of weakening the moderate Sunni leadership that Iran detests. This is part of Iran and Hezbollah's attempts to ingratiate themselves with the West and Israel.
As for Yemen, Iran seems to be playing both home and away at the same time. In the former Marxist–Leninist and predominantly Sunni South Yemen, it is supporting secessionists. In the North, its followers, the Shi'ite Houthis, are now the de facto rulers of the country, despite the fact that most of Yemen's sizable Shi'ite minority are Zaydis, not Twelvers, and thus have nothing to do with Iran's doctrine of velayat-e faqih. As for the Sunni, Shafi'i majority, they too had nothing to do, in the good old days, with Al-Qaeda's extremist brand of Sunni fundamentalism.