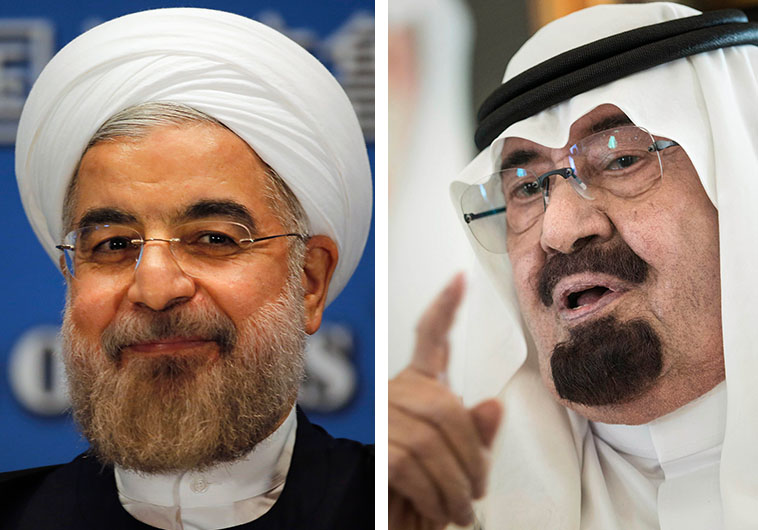 Tension between Iran and Saudi Arabia returns after signs of improved ties
Oct. 14, 2014/J.Post/Agencies
DUBAI – Senior Saudi and Iranian officials have renewed criticism of each other's interventions in the Middle East in a sign that tensions between the rival Gulf powers remain high despite top-level meetings this summer.
Saudi Foreign Minister Prince Saud al-Faisal repeated longstanding accusations that Iran is an "occupying force" in Syria, while Iranian Deputy Foreign Minister Hossein Amir Abdollahian attacked the kingdom's role in Bahrain.
Shi'ite Muslim Iran and Sunni Saudi Arabia are enmeshed in a struggle for influence across the Middle East and they support opposing sides in wars and political disputes in Iraq, Syria, Lebanon, Bahrain and Yemen.
In September Iranian Foreign Minister Mohammad Javad Zarif and Prince Saud met in New York, their first face-to-face talks since Hassan Rouhani was elected Iran's president last year vowing to improve ties with neighbours.
That meeting, and one in Jeddah in August between Prince Saud and Abdollahian, had raised hopes that the two countries might find common ground in their shared concerns over the rise of Sunni militant group Islamic State in Iraq and Syria.
"If Iran wants to be part of the solution, it has to pull its forces from Syria. The same applies elsewhere, whether in Yemen or Iraq," Prince Saud was quoted by local media as saying on Monday, reverting to Riyadh's habitual rhetoric about Iran.
"Mr Saud al-Faisal's remarks, if quoted accurately, contradicts the atmosphere ruling diplomatic negotiations between the two countries," Abdollahian responded, pointedly ignoring the minister's royal title.
"Iran is helping the people of Syria, Iraq and the region in the fight against terrorism within the framework of international laws," he added in a statement sent to Reuters.
Since Rouhani's election, Iran's tone has been far less confrontational than under his predecessor, but Saudi Arabia still sees Iranian backing for Shi'ite groups in Arab countries as a threat.
Tehran is also critical of Saudi Arabia's support for the Sunni ruling family in Shi'ite-majority Bahrain, including its decision to send forces there at Manama's invitation to help it end mass anti-government protests in 2011.
"If Riyadh removed their military presence from Bahrain, there would be a political solution, the repression of people would stop, and a national dialogue would be realized," said Abdollahian.
The comments showed that the countries remained wary of each other's ultimate goals, Mohammad Ali Shabani, an Iran analyst who was recently in Tehran, said.
"Saudi Arabia still views Iran as its main threat and rival. Thus, cooperation with Iran over issues like Iraq is likely prompted by a sense that a lack of engagement will only harm Saudi interests," he said.