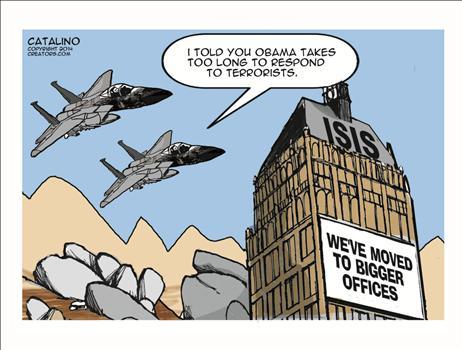 Opinion: US losing to ISIS in race against time
Tariq Alhomayed/Asharq Al Awsat
Sunday, 12 Oct, 2014
During a televised interview on the Charlie Rose Show, former director of the US National Counterterrorism Center Matthew G. Olsen said that the Islamic State of Iraq and Syria (ISIS) has more than 30,000 fighters, in addition to 15,000 foreign fighters, meaning that the group today is almost 45,000-strong.
Olsen said that one of the most prominent reasons behind ISIS's dangerous growth is the ongoing Syrian crisis, which has lasted for more than three years, in addition to the mistakes made by former Iraqi Prime Minister Nuri Al-Maliki. This gave ISIS an opportunity to expand its presence on the ground in the border region between Iraq and Syria, in addition to helping the group attract Iraqi and Syrian recruits, as well as foreign fighters. ISIS gaining control of oil-rich territory also helped to fill the group's coffers, propelling it to become one of the richest terrorist organizations in the world.
So the question that must be asked here is: How could ISIS benefit from these "mistakes" to the point that it has been able to gain as many as 45,000 fighters within just a few short years while the US and the West has been unable to train and equip moderate Syrian rebels—namely the Free Syrian Army (FSA)—in the same amount of time? This is even more perplexing when you take into account the fact that the majority of FSA soldiers are defectors from the Assad regime and so therefore already have military training.
Therefore, how can we explained the comments made by retired US General John Allen—who has been tasked with coordinating the anti-ISIS international alliance—that training moderate Syrian rebel fighters will be a long process that could take years? Allen made these comments after US Congress signed off on a plan to train and arm moderate Syrian rebels, saying that we must manage our expectations. At the same time, ISIS has been able to recruit and train extremists from across the world in a shorter amount of time and is still advancing today despite international airstrikes targeting the group in both Iraq and Syria. Worst of all, ISIS is continuing to sell oil despite all this! We must ask: who is purchasing this oil? How is it being transferred and smuggled out of the country? And what action is the international community taking to stop this?
The issue of ISIS's oil is a major one that deserves a complete and comprehensive reading, but the burning questions remains: How was ISIS able to train and equip its fighters so quickly while the US administration is telling us that it will take years to prepare the moderate Syrian rebels?
This confirms that ISIS is an organization which is being backed by "evil" states and apparatus, which is something that Saudi Interior Minister Prince Mohammed Bin Naif himself confirmed. However this also demonstrates that the US administration is not committed, even after everything that has happened, to take effective and serious action to address the Syrian crisis. Otherwise, how can we explain how ISIS is faster and more effective at training and arming its fighters than the US and the international community?