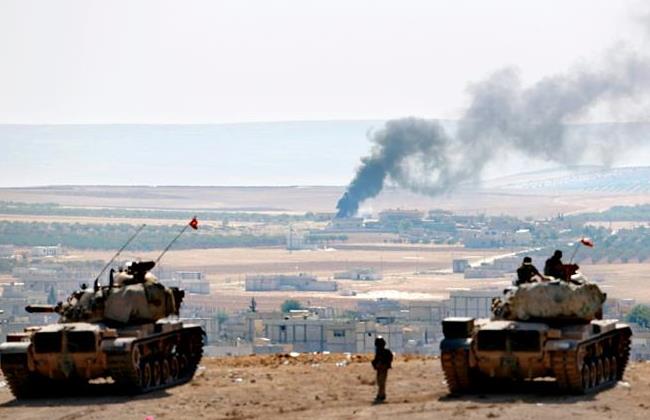 U.S. flip-flops on buffer zone as ISIS advances
Oct. 09, 2014 /Agencies
WASHINGTON: The White House and the Pentagon said Wednesday the U.S. was not considering supporting setting up a buffer zone inside Syria to help protect Turkey's borders, hours after Secretary of State John Kerry said it was being discussed.
After an hourlong meeting in Washington, Kerry and visiting British Foreign Secretary Philip Hammond both stopped short of embracing a buffer zone, but said it was being considered. Kerry said the issue would be raised later this week at a meeting of U.S. officials and Turkish leaders. "It's worth examining. It's worth looking at very, very closely," he said. The move comes as the U.S. is prodding Ankara to ramp up action against ISIS, which is closing in on the Syrian town of Ain al-Arab, also known as Kobani, which sits on Turkey's border.Turkey has long called for the creation of a buffer zone inside Syria as well as a no-fly zone to secure Turkey's borders and stem the flow of refugees. But the Pentagon has maintained that doing so would be costly and controversial, largely because it would need to be accompanied by a no-fly zone overhead. Both Kerry and Hammond said that the concept of a buffer zone would need to be carefully examined, including with other nations, to see how it would work.
"But I certainly wouldn't want to rule it out at this stage," Hammond told reporters. Shortly after, Pentagon spokesman Rear Admiral John Kirby told a news conference, "It is now not on the table as a military option that we're considering. That said, I think it's a topic of continued discussions."And White House spokesman Josh Earnest told reporters, "It's not something that is under consideration right now." "Airstrikes alone are not going to do this, not going to fix this, not going to save the town of Kobani," Kirby added.
Ultimately, "capable" ground forces – rebel fighters in Syria and Iraqi government troops – would have to defeat ISIS, he said. France said it supported Ankara's proposal to create a safe zone along its frontier with Syria to ensure security and to host fleeing refugees.
In a telephone conversation with his Turkish counterpart, Recep Tayyip Erdogan, President Francois Hollande "gave his support to the idea … of creating a buffer zone between Syria and Turkey to host and protect displaced people," the French presidency said.
On the ground, ISIS fighters pushed into two districts of the strategically important Syrian border town of Ain al-Arab in fierce fighting late Wednesday, Kurdish officials among the town's defenders said. "Tonight [ISIS] has entered two districts with heavy weapons, including tanks. Civilians may have died because there are very intense clashes," Asya Abdullah, co-chair of the Democratic Union Party (PYD), the main Syrian Kurdish group defending the area, told Reuters from the town.
Another PYD official said that despite continuing U.S.-led coalition airstrikes on Wednesday evening ISIS fighters had seized some buildings on the eastern edges of the town. The militants were being held in the suburbs by fierce resistance from Kurdish forces defending the town, which has been under assault for more than three weeks, the official added. The ISIS assault on Ain al-Arab has sent some 200,000 people flooding across the border into Turkey, and some residents said hundreds more remained two days after jihadists breached the town's defenses.
"There are 1,000 civilians who refuse to leave," an activist, Mustafa Ebdi, said. "One of them, aged 65, said to me: "Where would we go? Dying here is better than dying on the road.'" U.S. and coalition aircraft targeted ISIS fighters near the town Wednesday, launching six attacks to help the defenders, the U.S. military said. The strikes destroyed an armored personnel carrier, artillery and several vehicles, Central Command said. The sounds of heavy gunfire and mortar shells were heard from the Turkish side of the border, an AFP reporter said, as fierce street battles raged. "The raids helped prevent the fall of the town, but what is needed now is weapons," Ebdi said. An ISIS fighter carried out a suicide truck bombing in east Ain al-Arab, but there was no immediate news of casualties, the Syrian Observatory for Human Rights said. Observatory directory Rami Abdel Rahman said ISIS reinforcements were heading from Syria's Raqqa province.The Observatory says about 400 people, more than half of them jihadists, have been killed in and around Ain al-Arab since the assault began in mid-September. Ain al-Arab would be a major prize for the jihadists, giving them unbroken control of a long stretch of Syria's border with Turkey. Ankara has come under increasing pressure to act in Ain al-Arab but its response has been complicated by concerns over emboldening Kurdish separatists, who have waged a deadly insurgency in Turkey for the past three decades. Turkey has detained dozens of Kurds who crossed the border from Ain al-Arab on suspicion of having links with the outlawed Kurdistan Workers' Party (PKK), officials said Wednesday. The United States, along with Arab, European and other allies have launched nearly 2,000 air raids against jihadists in Iraq and Syria.
More than 180,000 people have been killed in Syria since an uprising against President Bashar Assad's regime began in 2011, morphing into a several-sided civil war that has drawn thousands of jihadists from overseas.
Several Syrian human rights groups called on the world to save the Ain al-Arab from ISIS. In their appeal, seven rights groups – including the Kurdish Organization for Human Rights and the Human Rights Organization in Syria – said ISIS fighters' offensive on Ain al-Arab and their "inhuman practices and measures have taken a clear form of persecution and ethnic cleansing."The statement also said that the fighting over Ain al-Arab has displaced nearly 280,000 people who fled fearing "killings, executions, throat slitting, beheadings, mayhem and kidnaping of women and children."The Syrian human rights group also criticized Turkey, saying it was "preventing and hindering the entrance of Kurdish refugees fleeing Syria's northern border from the brutality and terrorist acts" of ISIS.