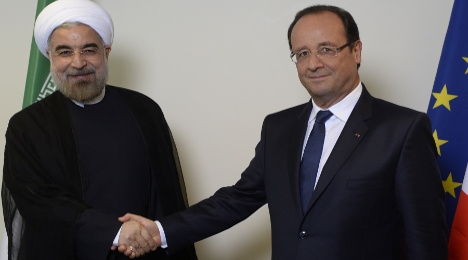 What Rowhani really wants at the U.N.
Friday, 26 September 2014/
Majid Rafizadeh/Al Arabiya
Iranian President Hassan Rowhani made his second appearance at the U.N. General Assembly in New York. During his first visit, he appealed to Western diplomacy, brought a smile, and made history by talking with U.S. President Barack Obama on the phone.
This time, it is unrealistic to expect another historic encounter, such as a handshake between the two. Although the White House said it is open to meeting with Rowhani, he is under much more domestic pressure from hardliners and Supreme Leader Ali Khamenei this year than last.
Khamenei, who has the final say on foreign policy, has hardened his position on Iran's nuclear enrichment. Hardliners have criticized Rowhani's policies, and pushed for no concessions regarding Tehran's nuclear program. However, sideline diplomacy and talks between Iranian and American officials will continue to be a positive development.
"The rise of the Islamic State in Iraq and Syria is providing Tehran with a new, robust tool to advance its foreign policy objectives"
Majid Rafizadeh
The rise of the Islamic State in Iraq and Syria is providing Tehran with a new, robust tool to advance its foreign policy objectives. For example, Rowhani met with British Prime Minister David Cameron regarding Iran's cooperation in battling ISIS. Such high-level bilateral talks are the first since the 1979 Islamic revolution, and mark another historic diplomatic initiative between London and Tehran.
Rowhani was in a stronger position during his first appearance at the U.N. General Assembly. Having replaced his controversial predecessor Mahmoud Ahmadinejad, who used to capture the spotlight with his incendiary language and rancor, Rowhani utilized a more diplomatic tone, and enjoyed domestic and foreign support to resolve tensions.
Domestic crackdown
This year, however, his U.N. appearance coincides with significant challenges to his domestic and international credibility, legitimacy and popularity. Domestically, Rowhani has not fulfilled his promises of more freedom of speech, press and assembly. Higher rates of human rights abuses have attracted the world's attention. He has also shown less inclination to challenge the power of the hardliners and Iran's judiciary.
Last year, Rowhani's U.N. speech coincided with the release of several high-profile activists, lawyers and politicians from prison. This year, he appears at the General Assembly while opposition leaders – including Mehdi Karroubi, Mir Hossein Mousavi and his wife Zahra Rahnavard – are under house arrest.
Several Iranian-American and Iranian journalists – including Marzieh Rasouli and Jason Rezaian, the Washington Post Tehran correspondent – are still in prison. Last week, six Iranians were sentenced to up to six months in prison and 91 lashes for making a video dancing to the Pharrell Williams song "Happy."
More recently, 50 women – including a 25-year-old British-Iranian citizen – were arrested for trying to watch the national volleyball team play against Italy in a qualifying match in Iran's Azadi Stadium. Last week, 11 Iranians were arrested on charges of sending text messages that insulted the former supreme leader and founder of the Islamic Republic, Ruhollah Khomeini.
There has been a renewed media crackdown under Rowhani. The number of bloggers being arrested has risen, as have the numbers of executions and human rights violations. Rowhani has remained silent over the escalating domestic crackdown, hardliners' power and the judiciary. This has significantly impacted his image at home and abroad, raising questions about his ability to bring about change.
Foreign policy
However, he appears to be making progress on foreign policy, so this was his focus at the General Assembly. He sought to remove political and economic sanctions against Iran by maintaining that it has the right to enrich uranium. As the Nov. 24 deadline for a final nuclear deal approaches, Rowhani and Obama appear eager to break the impasse.
One of the strategies that Rowhani's administration has recently employed is utilizing its battle against ISIS to get nuclear concessions. Tehran knows that there are commonalities with Washington when it comes to fighting the group.
This issue has raised considerable concern among U.S. lawmakers who say the White House is softening its position toward Iran in return for its assistance against ISIS. As a result, Rowhani's speech highlighted the rise and threat of the group.