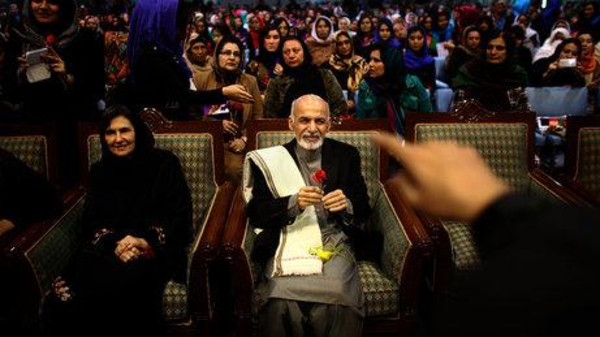 Afghanistan's next first lady, a Christian Lebanese-American?
Afghan presidential hopeful Ashraf Ghani has shared he spotlight with his Lebanese-American wife Rula.
By Staff writer | Al Arabiya News Saturday, 5 April 2014
They say that behind every great man there is a woman and Afghan presidential hopeful Ashraf Ghani seems to be taking the phrase seriously, sharing the spotlight with his Lebanese-American, Christian, wife at rallies and political events. Afghanistan will hold a presidential election on April 5 to elect a successor to Hamid Karzai and Ghani has been touted as one of the leading contenders. The American-trained anthropologist has been reported to be gathering female support, with some women professing their backing because he is a Western-educated, former World Bank official. "Four years ago, I studied a couple of his books, and I prefer him as a candidate because of his knowledge," Take Khatera Tajamyar, 24, told news outlet NPR.
In March, the election runner held a rally in Kabul attended by several thousand women on International Women's Day. In a rare sight in Afghanistan's political scene, his wife addressed the crowd. Ghani returned to Afghanistan after the Taliban were ousted and held various government posts, including finance minister.
Known in Afghanistan as Doctor Ashraf Ghani, he won about four percent of the vote in the last presidential election in 2009.One of Afghanistan's best-known intellectuals, Ghani spent almost a quarter of century abroad during the tumultuous decades of Soviet rule, civil war and the Taliban regime. During that period he worked as an academic in the United States and Denmark, and with the World Bank and the United Nations across East and South Asia.
Within months of the Sept. 11, 2001, attacks on the United States, Ghani resigned from his international posts and returned to Afghanistan to become a senior adviser to Karzai. Ghani is among the strongest backers of a crucial bilateral security deal to keep U.S. troops in Afghanistan beyond 2014 that Karzai has refused to endorse. He has said he would sign it swiftly if elected. A Pashtun belonging to Afghanistan's biggest ethnic group, Ghani has defended his decision to pick ethnic Uzbek former warlord Abdul Rashid Dostum as a running mate.
"The ticket is a realistic balance between forces that have been produced in the last 30 years and have a base in this society," Ghani told Reuters. For the full list of Afghanistan's presidential hopefuls, click here. (With Reuters) Last Update: Saturday, 5 April 2014 KSA 13:39 – GMT 10:39