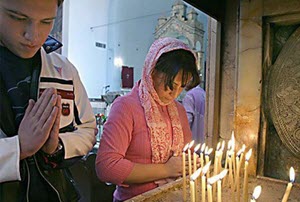 No respite in suppression of Christians and other religious minorities in Iran under Rouhani


By Donya Jam/NCRI Iran News
Source: Le Plus de l'Obs/Wednesday, 27 January 2016
There has been plenty of talk about the Iranian nuclear deal and its nefarious regional conduct, but it is time to pause and really think about how Tehran deals with its Christian minority.
As a Christian with Iranian ancestors, I take special interest in the plight and suffering of the Christian minority in Iran. The existence of the Christian community in Iran dates back centuries and is a major part of the history of the country. For centuries, Muslims, Christian, Jews, and Zoroastrians got along fine in Iran. We were all Iranians and our religion was not an issue at all.
After the ayatollahs took over in 1979 things changed for worse. The religious persecutions began and the restrictions became more and more institutionalized. Many Christians and Jews fled. But some stayed in their native country.
In the 1990s several Iranian bishops and pastors were killed mysteriously by the Iranian regime's security apparatus. One of them was Pastor Haik Hovsepian-Mehr who disappeared from the streets of Tehran on January 19, 1994. The authorities reported his death to his family on January 30. He believed in the God-given right of a person to believe according to his conscience. He loved the people of Iran whether Christian or Muslim. For their religious freedom, he gave his life.
When in 2013 (not 2003) Rouhani was chosen as the regime's president, some in the West touted that change and reform is on its way. Rouhani was dubbed as a moderate. He declared that year that, "All ethnicities, all religions, even religious minorities, must feel justice".
This electioneering promise and show for the west could not be farther from the reality on the ground. In fact, despite the fact that his predecessor was deemed the extremist, conditions for believers in Iran have actually deteriorated since Rouhani's election.
Fitting this pattern, the suppression of Christians has continued unabated and has worsened in some cases. Several pastors including Saeed Abedini, an Iranian-American, are incarcerated and sentenced to long terms of imprisonment simply for practicing and advocating their belief.
According to the U.S. Commission on International Religious Freedom, Iranian authorities have escalated their persecution of religious minorities since the election of President Hassan Rouhani despite his promises to grant them more rights. The commission's annual report for 2015 found that an increased number of religious minorities have been jailed under Rouhani.
"The government of Iran continues to engage in systematic, ongoing, and egregious violations of religious freedom, including prolonged detention, torture, and executions based primarily or entirely upon the religion of the accused," the commission said in the report's section on Iran.
According to the National Council of Resistance of Iran, the Iranian regime arrested a group of practicing Iranian Christians on Christmas Day at an in-house church in the city of Shiraz, southern Iran. The group of Iranian Christians had gathered together on December 25, to celebrate Christmas when plain-clothes agents of the regime's notorious Ministry of Intelligence and Security raided the in-house church.
On December 30, it was revealed that authorities in Tehran are planning to transform illegally-confiscated church grounds into an 'Islamic prayer center.' The land belonging to the Iranian Assyrian community's Chaldean Catholic Church in Tehran's Patrice Lumumba Street (in Western Tehran) was illegally confiscated two years ago under the pretext of constructing an Islamic prayer hall and the authorities have refused to hand it back.
And these are just two recent examples.
When faced with threat and intimidation prior to his disappearance, Pastor Hovespain Mehr said: "If we go to jail or die for our faith, we want the whole Christian world to know what is happening to their brothers and sisters."
Do not give Rouhani a free pass when he comes to Europe. Let's remember the victims of this tyrannical regime are Muslims, Christians and Jews alike and also let's keep in mind that Rouhani represents this regime in its entirety and he cannot dodge the responsibility for the regime's conduct. To stay silent during such blatant persecution and denial of religious freedom is to be an accessory to the crime and a betrayer of, the very values we hold dear as citizens of a democracy and as people of faith.
Let us not welcome this tyrant, Hassan Rouhani, with open arms, but instead stand up for our values and for those in Iran, especially religious minorities, who are denied their voice and freedoms.