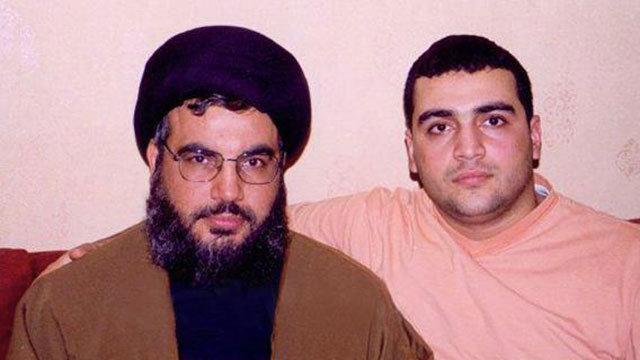 Nasrallah's son directed West Bank terror cell


Yoav Zitun and Roi Kais/Ynetnews/Published: 01.20.16,
Shin Bet, IDF prevent attack by cell that was receiving instructions from Hezbollah leader's son; cell's orders included training suicide bombers and using explosive belts.
The Shin Bet and IDF, in cooperation with police, foiled a terror shooting allegedly planned by a cell in the Tulkarm area led by Mahmoud Jalloul, who was directed by Hezbollah, the Shin Bet announced on Wednesday.
Jawad Nasrallah, son of Hezbollah Secretary General Hassan Nasrallah, used social media networks to recruit Jalloul, a Palestinian resident of Tulkarm.
In a statement, the Shin Bet said: "Jalloul was instructed to start an e-mail account, through which he received orders to recruit more members and collect advance information with the goal of committing terror attack.
"Among other things, the cell was instructed to carry out the following:
"1. Using a secret communication channel to receive instructions to commit attacks using explosive belts, to train suicide bombers, to collect information on training camps," and more.
"2. Instructions to carry out surveillance and collect information about security forces active in the area. Cell members asked Hezbollah for help in attaining weapons and funds with the goal of carrying out the terror attack.
3″. Hezbollah transferred $5,000 to the cell through money transfers from abroad for the purpose of committing the attack.
"4. In addition, Mahmoud Masarwa and Ahmed Abu Al-Az purchased weapons from the cell's director, Mahmoud Jalloul, and were arrested before carrying out a shooting attack on IDF troops, and they were in possession of the weapon with which they intended to carry out the attack. The 'Carlo' type weapon was seized during the investigation."
The statement went on to describe the uniqueness of the incident: "This is a highly unusual incident in which a terror cell which grew under the direction of Hezbollah planned on carrying out an attack.
"Hezbollah is trying to ride the current wave of terror in Israel and is working diligently to fan the flames so as to increase the incitement by taking advantage of the Palestinian population and seducing its young people to carry out attacks in return for money.
"Hezbollah recruits and directs terrorist cells from abroad using the Internet secretly in order to carry out attacks."