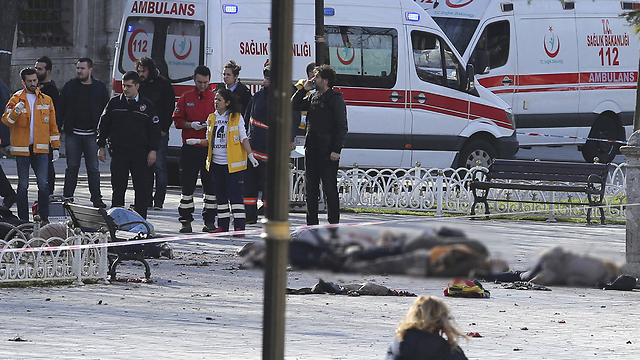 Blast in Istanbul tourist district kills at least 10 people


Reuters/01.12.16,
Explosion in Sultanahmet square, area near the Blue Mosque and Hagia Sophia, also wounds 15 people; tourists from Germany, Norway, South Korea said to be among wounded; no Israelis reported hurt so far.
ISTANBUL – An explosion in the heart of Istanbul's historic Sultanahmet tourist district killed at least ten people and wounded 15, two seriously, on Tuesday and some local media reports said a suicide bomber may have been responsible.
Several bodies lay on the ground in the Sultanahmet square, some 25 meters away from the Blue Mosque and Hagia Sophia, a major tourist area of Turkey's most populous city. A police officer and witness at the scene reported also seeing several bodies and body parts. Most of the 10 people killed were foreigners, Turkish Deputy Prime Minister Numan Kurtulmus said.
Turkey's Dogan news agency says at least six Germans, one Norwegian and one Peruvian are among those wounded in the explosion, while Seoul's Foreign Ministry told reporters that one South Korean had a slight finger injury after the blast. So far, there have been no reports of Israeli tourists hurt in the attack.
The Istanbul governor's office said the authorities were investigating the type of explosive used and who might have been responsible for the attack. State-run TRT television and AHaber television reported it was likely caused by a suicide bomber. A government official said the explosion was believed to be "terror-linked." He did not provide further details.
Kurtulmus said the suspected suicide bomber had been identified from body parts as a Syrian national born in 1988, and that his links were being investigated. Turkish security officials told Reuters that there is a high probability that Islamic State militants were responsible for the explosion.
"The explosion was very loud. We shook a lot. We ran out and saw body parts," one woman who works at a nearby antiques store told Reuters, declining to give her name. Police sealed the area, barring people from approaching in case of a second explosion, and a police helicopter hovered overhead.
Ambulances rushed to the scene, ferrying away the wounded as police cordoned off streets. The Sultanahmet neighborhood is Istanbul's main sightseeing area and includes the Topkapi Palace and the Haghia Sophia museum. Turkish Prime Minister Ahmet Davutoglu immediately convened a security meeting with the country's interior minister and other officials.
As with previous attacks, authorities imposed a news blackout, barring media from showing images of the dead or injured or reporting any details of the investigation. Turkey suffered two major bombing attacks last year, both blamed on the Islamic State group. More than 30 people were killed in a suicide attack in the town of Suruc, near Turkey's border with Syria, in July.
Two suicide bombs exploded in October outside Ankara's main train station as people gathered for a peace rally, killing more than 100 in Turkey's deadliest-ever attack. The prosecutor's office said that attack was carried out by a local Islamic State cell. A year ago, a female suicide bomber blew herself up at a police station for tourists off the Sultanahmet square, killing one officer and wounding another. That attack was initially claimed by a far-left group, but later turned out to have been perpetrated by a woman with suspected Islamist militant links, officials said. Kurdish, leftist and Islamist militants have all carried out attacks in Turkey in the past.
*The Associated Press contributed to this report.