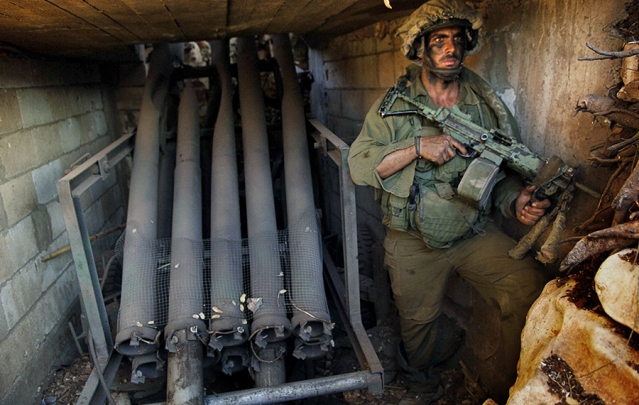 Hezbollah's Russian Military Education in Syria


Brig. Gen. Muni Katz, IDF and Nadav Pollak
December 25/15/Washington Institute
Working alongside Russian forces will likely enhance the group's ongoing shift toward a more offensive-minded strategy, with significant implications for the planning and conduct of any future conflicts against Israel.
For the first time in its history, Hezbollah is conducting offensive maneuver warfare as part of its operations in Syria. The Russian intervention is only enhancing that experience, likely giving the group important lessons for future conflicts.
Thus far, Hezbollah has long followed a strategy of defense and attrition in hostilities against its main enemy, Israel — an approach that many high-ranking officers in the Israel Defense Forces (IDF) liked to call "not losing." Taking into account Israel's manpower and technological advantages, this strategy focused on prolonging the fighting as much as possible, maintaining home-front attrition by firing rockets on Israeli population centers, and increasing the costs of IDF ground maneuvers in southern Lebanon. Hezbollah displayed this defensive mindset during the 2006 war when it hid rockets and fighters in elaborate networks of underground fortifications and areas of dense vegetation that Israeli officers dubbed "nature reserves." The group believed that as long as it did not crumble, it could claim that it survived a war with the mighty IDF, which according to its narrative was actually a win. The Syria war has changed this defensive paradigm, however.
NEW EXPERIENCE, NEW STRATEGY
In Syria, Hezbollah has had to shift its main objectives to taking over territory and maintaining control over it, all while fighting quasi-conventional forces that use guerrilla tactics. Against the IDF, the group was accustomed to fighting in small units on familiar terrain, but now it is deploying hundreds of fighters in complex offensive operations on unfamiliar territory. For Hezbollah's commanders and fighters, such experience can change their views on the most effective way to win a battle, and Russia's involvement means that they are learning such lessons from one of the best militaries in the world.
From the start, Russia has depended on Syrian, Iranian, Hezbollah, and other Shiite forces to get the job done on the ground. Given the complexity of the campaign and Moscow's desire to avoid perceptions of failure, Russian forces are probably maintaining very close cooperation with their partners to make sure they are executing their missions. Reports indicate that joint Hezbollah-Russian operations rooms have been established in Latakia and Damascus, while Hezbollah and Iranian personnel apparently helped recover a downed Russian pilot in November. Moscow still seems reluctant to add significant ground forces to the fight, so it will need to strengthen such coordination even further.
PLANNING AND EXECUTING A MILITARY CAMPAIGN
On the macro level, Hezbollah will be exposed to Russian military thought, which entails sophisticated operational concepts and advanced military planning skills. The Russian military has ample experience in conducting different types of operations, including counterinsurgency and conventional campaigns. Consider this scenario: a Russian commander sits with Hezbollah, Iranian, and Syrian commanders and lays out the military strategy for the Syria campaign. He talks about the objectives, the timeframe to achieve these objectives, and the priorities in the fight. He then emphasizes which assets can be instrumental in battle, and perhaps offers important lessons from past operations such as the counterinsurgency campaign in Chechnya. For Hezbollah, this will be the first time it will be able to watch how a first-tier military plans a fighting campaign.
Learning processes such as these happen all the time. For example, Syria's experience as part of the American coalition during Operation Desert Storm in 1991 transformed its war strategy altogether. After witnessing firsthand the effects of a U.S. AirLand battle and the efficiency of precision-guided munitions, the Syrian military correctly inferred that Israel could employ some of the same munitions and tactics. Accordingly, the regime shifted its focus from thinking about how to conquer the Golan Heights to a more defensive strategy that entailed restructuring certain units and procuring/developing multiple antitank, fire, and improvised explosive device capabilities.
In addition, when actors are planning a joint military campaign involving simultaneous air and ground offensives, they usually share intelligence with each other, and the current war is no exception — the Russians have probably shared battlefield intelligence with Hezbollah in Syria and exposed the group to its intelligence assets. This would not be the first time they have done so. During the 2006 Lebanon war, a joint Syrian-Russian intelligence post located in Syrian territory passed intelligence reports to Hezbollah.
More generally, the group may be getting a good look at how Russian analysts combine signal, visual, and open-source intelligence to present a better picture of the enemy and the battlefield. This likely includes the use of satellite imagery, aerial footage from Orlan-10 drones, advanced signals intelligence capabilities, and electronic warfare elements. Such observations would be particularly valuable because Hezbollah has not had much experience in maximizing visual intelligence from drones and incorporating it with other intelligence.
Working with the Russians will also help the group learn how to execute complex offensive operations in urban environments. In previous conflicts, Hezbollah tactics focused on guerrilla warfare, with small units responsible for defending their villages or blocking IDF movements. This approach does not apply to many battles in Syria, where Hezbollah has often had to deploy much larger units in offensive operations in tandem with artillery and aerial assets. Russian forces have extensive urban warfare experience, so they likely have many pointers for the group, including how to organize an effective command-and-control structure, how to choose different weapons for different scenarios, how to create additional targets after entering a battlefield, and how to maintain logistical routes.
In Chechnya, for example, the Russians formed "Storm" detachments composed of snipers, soldiers with automatic weapons, forward observers, and reconnaissance personnel — an approach meant to maximize mobility and flexibility. They also used numerous rocket launchers (e.g., the TOS-1 mobile thermobaric multiple rocket launcher and the man-portable RPO-A Shmel) while maneuvering inside the Chechen capital of Grozny, indicating good coordination between different elements. Discussing these tactics with experienced Russian commanders could give Hezbollah deep insight into properly task-organizing its forces, effectively coordinating disparate elements on the battlefield, and other matters — an invaluable benefit despite the group's lesser training and equipment compared to Russian troops.
PREPARING FOR FUTURE CONFLICTS
When military commanders experience a long, difficult campaign, their thoughts inevitably stray to potential future conflicts. This often means translating the lessons they have learned into new strategies and new tactics — and new approaches to military procurement and training. Hezbollah commanders in Syria are no doubt already thinking about such issues, and fighting alongside the Russians could greatly affect their conclusions.
On the strategic level, the group no longer seems married to its "not losing" mindset, instead focusing on ways to achieve perceived victories early in a given conflict. In 2011, for example, Hezbollah leader Hassan Nasrallah mentioned that his forces plan to infiltrate Israel's northern border during the next war in order to conquer settlements in the Galilee, and he has repeated this sentiment since then. This is a major departure from the group's traditional defensive paradigm, and conversations with Russian commanders could cement that shift and help the group further develop its offensive strategies.
On the tactical level, Hezbollah now has a front-row seat to watch the variety of weapons systems and equipment the Russians are bringing to bear in Syria, some of which it has never seen before. Thus, the group can learn how to use its existing weapons (some of which are Russian made) more effectively and examine systems it might want to procure in the future. Recently, for example, reports indicated that Hezbollah has acquired SA-22 surface-to-air missiles. Russia has brought the same system into Syria — if these weapons are put into use under the supervision of joint operations rooms, Hezbollah personnel could get a better sense of how to operate the system's radar and deal with multiple targets at the same time. Similarly, they will witness how Russian ground forces use rocket systems such as the TOS-1 and RPO-A Shmel, which have already been spotted in Syria and might seem useful to the group in a future war with Israel. Even experience with superior Russian versions of basic equipment could prove crucial, including night-vision goggles, tactical vests, and medical supplies.
REGIONAL IMPLICATIONS
Almost three months have passed since Moscow began its campaign in Syria, signaling its strong commitment to preserving the Assad regime. Given that Russia and Hezbollah are not retreating anytime soon, the group's learning process will continue. Furthermore, Russia is reportedly in the process of increasing its military presence (e.g., see PolicyWatch 2531, "The Costs of Russia's Air Expeditionary Campaign"), so Hezbollah may get the chance to learn additional lessons.
Recent history has also shown that whatever Hezbollah learns, its partners in crime will soon follow suit. Numerous terrorist organizations have studied and implemented the group's military tactics — in some cases, Hezbollah even sent trainers to help certain proxies upgrade their capabilities. For example, Hezbollah-trained Shiite militias demonstrated such tactics against American soldiers in Iraq prior to the U.S. withdrawal (see PolicyWatch 2277, "Hezbollah in Iraq: A Little Help Can Go a Long Way"). High-ranking Hezbollah veterans also reportedly trained Houthi forces in Yemen, who are now showing significant capabilities in their fight against the Arab coalition. And in Gaza, terrorist organizations such as Hamas and Palestinian Islamic Jihad have long implemented Hezbollah strategies in the political and the military realms.
Moreover, as Hezbollah learns from the Russians, it will become even more capable relative to the Lebanese Armed Forces, which are already weaker than the group in terms of fighting experience and weapons. Tilting the balance of power further in Hezbollah's favor is a dangerous prospect given Lebanon's atmosphere of heightened instability and factional tension.
Regarding Israel, it is important to note that while Hezbollah is gaining valuable experience in Syria, the enemies they face there are far weaker than the IDF. Jabhat al-Nusra, the Islamic State, and various rebel factions all have their strengths, but they do not present the same challenges as a war against a well-trained military with a highly capable air force, navy, and army, all of whom know Hezbollah very well. The group will learn important lessons, but implementing them will be very challenging, especially when the rival is the IDF.
As Russia entered the Syrian theatre in September, Nasrallah told al-Manar Television that Moscow was "playing a positive role that will have a positive outcome, God willing." The Russian military education that Hezbollah will receive in the coming months will only reinforce the group's optimism — and capabilities.
Muni Katz, a brigadier general in the IDF, is a 2015-2016 visiting military fellow at The Washington Institute. Nadav Pollak is the Institute's Diane and Guilford Glazer Foundation Fellow.