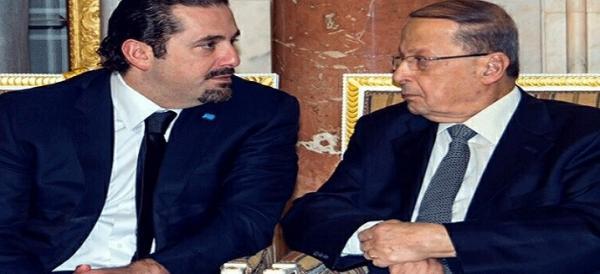 Report: Franjieh's Presidential Nomination Product of International Deal


Naharnet/December 01/15/The expected presidential nomination of Marada Movement leader MP Suleiman Franjieh is a result of a "regional-international" deal aimed at preventing chaos from taking over Lebanon, reported al-Akhbar newspaper on Tuesday. A ministerial source told the daily that "there is a 75 percent chance that this deal will go ahead."On Change and Reform bloc MP Michel Aoun's stance on the nomination, it said: "We are faced with a fateful issue and there is a need to cater to Aoun's concerns, which Hizbullah should attend to." "This is not the first complication to arise between the two sides and it is not impossible to resolve," it remarked. There has been a flurry of political talks in the country that followed a Paris meeting between Franjieh and al-Mustaqbal Movement chief MP Saad Hariri. The meeting sparked intense speculation that the two leaders agreed to the nomination of the Marada chief for the presidency. Aoun, a presidential candidate himself, announced on Monday that it is up to the March 8 coalition to decide whether or not to nominate Franjieh for the presidency. "My stance on Franjieh's nomination will either complicate or facilitate the situation and I will declare it before the (presidential) elections take place," he added. "Why should Suleiman Franjieh's nomination come from Saad Hariri?" he asked.
Report: Mustaqbal Informs Hizbullah, AMAL of its Nomination of Franjieh as President


Naharnet/December 01/15/The Mustaqbal Movement informed Hizbullah and the AMAL movement of its nomination of Marada Movement chief MP Suleiman Franjieh as president, reported As Safir newspaper on Tuesday. It said that the Mustaqbal Movement had informed the two sides of its decision during the dialogue session with Hizbullah that was held at Speaker Nabih Berri's Ain el-Tineh residence on Monday. The presidential elections were therefore the main topic of discussion at the meeting, which was summed up in its concluding statement that said: "Talks tackled the political developments, especially those related to the constitutional junctures."The bilateral talks come amid calls for a so-called national political settlement which have been voiced by several parties, including Hizbullah chief Sayyed Hassan Nasrallah and al-Mustaqbal Movement leader MP Saad Hariri. The country is witnessing a flurry of political talks between parties from both the March 14 and March 8 camps. The new momentum followed a meeting that was held in Paris between Hariri and Franjieh. The Franjieh-Hariri meeting has sparked intense speculation that they agreed to the nomination of the Marada chief as president.
Aoun rejects Franjieh as president, informs Hezbollah


How Hezbollah reacts to the looming rift may affect its relations with its Christian allies
Joseph A. Kechichian/The National/December 01/15
Beirut: A few days after Future Movement leader and former prime minister Saad Hariri and Hezbollah chairman Hassan Nasrallah appeared to indirectly anoint Sulaiman Franjieh as the most likely candidate for the presidency in Lebanon, the Free Patriotic Movement (FPM) leader, General Michel Aoun, informed his March 8 alliance allies that he rejected the Marada official for the post.
Aoun, who remained the official March 8 contender, apparently informed his Lebanese Forces counterpart, Samir Geagea, of his position, according to Al Nahar daily. Speaking to RT on Monday, Aoun announced that while it was up to the March 8 coalition to pick its candidate, he wanted to remind everyone that he was the nominee until further notice. This was a response to Franjieh, who met with the FPM's newly anointed chief Jibran Bassil, who is the Foreign Minister and also Aoun's son-in-law, when the prospector declared that while he "maintained his support for General Aoun," he was ready "to take another stance" if Aoun aimed at blocking his bid.
In the event, and while Aoun said that he was not officially informed of any accord that may have been reached between Hariri and Franjieh, he nevertheless added: "Why should Sulaiman Franjieh's nomination come from Saad Hariri?"
Asked about a possible settlement involving a March 8 president and a March 14 premier, Aoun described such a scenario as a "fair solution," though he stressed that "each camp must choose its own president".
The FPM cancelled its weekly parliamentary meeting on Tuesday without giving the reason though commentators speculated that high levels contacts were underway to defuse lingering tensions over Franjieh's putative nomination.
In less than a week, the three leading Christian parties, the FPM, the Lebanese Forces and the Phalange, all insisted that the nomination could only go forward if Franjieh distanced himself from Syria. Observers were taken aback by Aoun's vociferous rejection, however, since the Marada were part of the March 8 coalition and, presumably, allied with the General. By informing Hezbollah, which refrained from commenting publicly on Franjieh's presidential bid so far, Aoun took a calculated risk that could in time highlight whether his current obduracy would alter his ties with the Shiite party.
Meanwhile, senior Future Movement officials seemed to be going through a crisis too, as several leading Sunni politicians refused to bow to Hariri's diktats. Minister of Justice Ashraf Riffi and deputy Ahmad Fatfat, two prominent Sunni representatives, voiced their disappointment with Hariri for contemplating a deal with a pro-Syrian contender. It was unclear whether Future Movement ranks would remain intact or whether dissidents would distance themselves from the declared March 14 platform.
The Franjieh nomination was bound to dominate the 22nd national dialogue session although Aoun's latest position may well derail prospects for a rapid resolution. Lebanon has been without a president since May 24, 2014, when Michel Sulaiman ended his six-year term. Whether Hariri's initiative will break the 18-month-long deadlock was unclear.