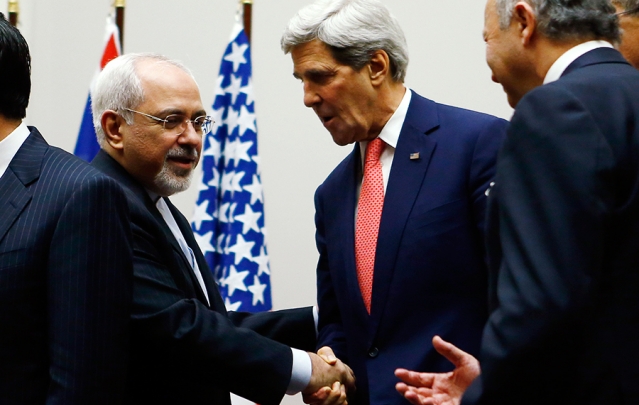 Iran says makes new proposal in nuclear talks, West unimpressed


Vienna, Reuters—Iran has offered "constructive solutions" to resolve disputes in nuclear talks with six major powers, the Iranian Students News Agency (ISNA) reported on Wednesday, but Western officials suggested they had heard nothing new from Tehran.
Iran and the powers are in the last stretch of talks to reach a final agreement to end a more than 12-year standoff over the country's disputed nuclear program. The goal is an agreement that would lift sanctions in exchange for curbs on Iran's nuclear program for at least a decade. "Iran has presented constructive solutions to overcome the remaining differences. We will not show flexibility regarding our red lines," the Iranian diplomat, who was not identified, told ISNA.
But Western officials indicated they have yet to see new proposals from Iran that could end the deadlock. The biggest sticking points include issues such as a United Nations arms embargo, UN missile sanctions, the speed of sanctions relief, and research and development on advanced nuclear centrifuges. "I haven't seen anything new from Iran," a Western diplomat close to the talks told Reuters on condition of anonymity. Another Western official echoed the remarks. Western countries accuse Iran of seeking the capability to build nuclear weapons. Tehran says its nuclear program is peaceful. A successful deal could change balance of power in the Middle East, the biggest milestone in decades towards easing hostility between Iran and the United States, foes since Iranian revolutionaries stormed the US embassy in Tehran in 1979.
It would be a political success for both US President Barack Obama and Iran's pragmatic President Hassan Rouhani, both of whom face skepticism from powerful hardliners at home. Iran, the United States, Britain, France, Germany, Russia, and China gave themselves at least until Friday to negotiate an agreement, but a source from one of the powers said on Tuesday they had to wrap up in the next 48 hours. Speaking to reporters late on Tuesday, a senior US official suggested that the negotiations were approaching a moment of truth.
"I believe we will in the near term either get this deal or find out we can't," the US official said. Iran and the powers have a rough draft of an agreement with five technical annexes, which diplomats say adds up to around 80 pages. But the text contains many brackets highlighting areas of dispute. The disagreements over UN Security Council sanctions are among the most difficult, officials said. "Removing the remaining brackets, this seems to be very, very, very tough," a senior Western diplomat told reporters.
Heated exchange
Russia and China, which have never hidden their dislike of sanctions, had indicated they would support the termination of the arms embargo on Iran and UN missile sanctions, both of which date back to 2006. In the end, however, Moscow and Beijing agreed not to break ranks with the Americans and Europeans who want to maintain the arms embargo and missile sanctions, given instability in the Middle East. "In the current context, it would be pretty obscene as a political message if we resolve the nuclear issue but then give them money and the capacity to import and export arms," a senior Western official said. Russia is especially sensitive about sanctions, Western officials say, due to the fact that it itself is under US and European Union sanctions over allegations that it is supporting pro-Moscow rebels in eastern Ukraine, which it denies. US Secretary of State John Kerry and Iranian Foreign Minister Mohammad Javad Zarif stayed behind in Vienna in an attempt to break the logjam while most of the other foreign ministers returned to their capitals. EU foreign policy chief Federica Mogherini, who is coordinating the talks, also remained in Vienna to help find a compromise.
Kerry and Zarif were involved in a tense exchange of positions on UN sanctions on Monday night, diplomats said. Tehran says conventional weapons and missiles have nothing to do with the nuclear issue and bans should therefore be removed.
"There was no slamming of doors but it was a very heated exchange of views," one of the senior Western diplomats said. French Foreign Minister Laurent Fabius and British Foreign Secretary Philip Hammond are expected to return to Vienna on Wednesday evening.
US and European officials have indicated that they are prepared to walk away from the negotiations if there is not a deal soon, while the Iranians have said they are happy to continue negotiating. Iran's Supreme Leader Ayatollah Ali Khamenei, who has the power to block a deal, last month ruled out either a long freeze of sensitive nuclear work or opening military sites to inspectors. Western officials say Khamenei's "red lines" have made things more difficult for the Iranian delegation. "There is a sort of good-cop/bad-cop between Zarif and the Supreme Leader," a Western official said. "Zarif is under a lot of pressure." The latest extension of the talks to Friday left open the possibility an agreement would not arrive in time for the deadline to allow an expedited, 30-day review of a deal by the Republican-dominated US Congress.If a deal is sent to Congress between July 10 and September 7, Congress will have up to 60 days to review it. US officials fear that could provide more time for any deal to unravel.
Any decision on ISIS is too little too late


Maria Dubovikova/Al Arabiya/Wednesday, 8 July 2015
Estimations of the size of the ISIS army differs from 20,000 to 200,000 militants. What is clear is that the recruitment drive is intensifying. Recruiters fuel the ISIS forces coming both from the territories taken by ISIS and the web it effectively uses as its soft power.
ISIS–held territory is rich in natural recourses and the negligence of some players provides them with the financial capital needed to make their system function and to guarantee its relatively stable existence.
We should be ready to witness the new destruction of the World Heritage monuments, to witness and to "thank" world leaders for making all this nightmare possible through their lack of will
The recent trends show that ISIS recruitment doesn't only seek to make people come to the territories of the self-proclaimed Caliphate, but to make each recruiter a terrorist cell himself: its leader, member and soldier.
There is no more need for sophisticated, expensive terrorist plans. After the Arab Spring, the Libyan collapse and the devastating consequences of the Syrian civil war and the Iraqi collapse, access to weapons that flooded the region became an easy matter.
Luring in vulnerable minds
The over-simplified scheme of luring in vulnerable minds with false religious promises is still being practiced in such places as Tunisia. For the most part, ISIS members are far from representatives of the prosperous, successful and well-educated circles of society. They emerge mostly from the most socially risky underprivileged classes, who have a limited future in the societies to which they belong, or just have a strong feeling of the unfairness of the world and system they live in. Some people are joining ISIS to achieve Paradise, some for money, some for equity that the supposed Islamic State also promises. So, ISIS has the most dangerous army, full of blind and thoughtless people with already washed out brains and a strong feeling of resentment and the will to fight for their miserable state.
Thus there are many scenarios of ISIS' survival as a state or state-like structure and one can only guess at when it will collapse. And even its collapse also promises nothing good to the international community. Thus, both options have negative elements, one more than the other, either ISIS will stay or ISIS will fall. On the one hand we have the most probable development of the situation, in which ISIS will stay and all the current effort of the international community will collapse as it is ineffective and out-of-date in the face of the new challenges.
Tough realism
ISIS will stay as a state or a state-like structure at least at the territories it is occupying now. Only tough realism in the internal decision-making process and replacing rose-tinted idealism and liberalism can stop the global spread of ISIS. However, it will damage the foundation of civilized Western societies. Direct action should replace everlasting talks. This should include action on the enormous illegal migration flows in the Mediterranean – the problem that has a direct impact on ISIS' spread and security, as according to the EU officials the Migrant boats crossing the Mediterranean and carrying the migrants looking for exile also bring ISIS fighters to European shores. That is why this problem needs strong and fast measures instead of the long unproductive debates that are taking place now.
But it is unlikely that the developed world will succeed in even stopping the spread of ISIS, especially in minds of people. For this we need not only to counter propaganda, but the severe restrictive measures at home, especially in the media freedom sphere. Moreover the totality of the problems started from the illegal immigration from hot spots in the Middle East; accommodation and society integration policies in Western countries create dangerous preconditions for the uncontrolled spread of extremism of all kinds. The rest of the world, and primarily the Middle Eastern countries, are also at a high risk of facing ISIS, primarily through the inevitable attacks of its individual recruiters.
The opposite of all this is if ISIS was to collapse. But if this happens, it will come from the inside only. The factors that can precondition its collapse are disillusionment of the people, a fight for power inside its system, the extreme unstoppable violence, witch-hunts and massive killing sprees of the supposed traitors. What is more, ISIS can be blown up by the international community from the inside, not from the outside. What would have the strongest impact on ISIS, pushing it to its destruction, is a cutting off of its financial flows, as money remains one of the fundamental reasons behind its attractiveness. The problem is that money rules and the needed measures to dry the financial resources of ISIS won't be taken. Ideologically subversive activities would have a strong impact also, but can hardly be performed.
Idea of the Caliphate
But even if we suppose that ISIS will collapse, the idea of the Caliphate won't disappear. It will stay and will continue to threaten stability and the future of the region and of the world, especially in the case of the continuing creation of an unfavorable climate and attitude towards the West among the Muslim communities all over the world. Moreover, ISIS' collapse will lead to the return of ISIS foreign fighters back to their homelands, bringing the extremist ideas with them. What we have to accept for now is that ISIS exists and will exist. In the near future, the headlines of media agencies will be hit by reportages about the new attacks on tourists in the popular resorts in the Middle East with pointed attacks in the European land mass and Middle Eastern countries becoming more and more frequent, cruel and bloody. We should be ready to witness the new destruction of the World Heritage monuments, to witness and to "thank" world leaders for making all this nightmare possible through their lack of will and their inability to act in time. The time for taking sound decisions has passed.
Boko Haram offers to swap detainees for kidnapped girls
Michelle Faul| Associated Press/July. 08, 2015 /LAGOS: Nigeria's Boko Haram extremists are offering to free more than 200 young women and girls kidnapped from a boarding school in the town of Chibok in exchange for the release of militant leaders held by the government, a human rights activist has told The Associated Press. The activist said Boko Haram's current offer is limited to the girls from the school in northeastern Nigeria whose mass abduction in April 2014 ignited worldwide outrage and a campaign to "Bring Back Our Girls" that stretched to the White House. The new initiative reopens an offer made last year to the government of former President Goodluck Jonathan to release the 219 students in exchange for 16 Boko Haram detainees, the activist said. The man, who was involved in negotiations with Boko Haram last year and is close to current negotiators, spoke on condition of anonymity because he was not authorized to talk to reporters on this sensitive issue. "Another window of opportunity opened" in the last few days, according to Fred Eno, who has been negotiating with Boko Haram for more than a year. He said he could not discuss details but explained that the recent slew of Boko Haram bloodletting – some 350 people killed in the past nine days – is consistent with past ratcheting up of violence as the militants seek a stronger negotiating position. Presidential adviser Femi Adesina said Saturday that Nigeria's government "will not be averse" to talks with Boko Haram. "Most wars, however furious or vicious, often end around the negotiation table," he said.
Eno said the 5-week-old administration of President Muhammadu Buhari offers "a clean slate" to bring the militants back to negotiations that had become poisoned by the different security agencies and their advice to Jonathan. Two months of talks last year led government representatives and Eno to travel in September to a northeastern town where the prisoner exchange was to take place – only to be stymied by the Department for State Service, the activist said.
At the last minute, the intelligence agency said it was holding only four of the militants sought by Boko Haram, he said. It is not known how many Boko Haram suspects are detained by Nigeria's intelligence agency, whose chief Buhari fired last week.
The activist said the agency continues to hold suspects illegally because it does not have enough evidence for a conviction, and any court would free them. Nigerian law requires charges be brought after 48 hours.
Thousands of suspects have died in custody, and they might include some on a list from Boko Haram that Eno said he first received exactly one year ago. Amnesty International alleges that 8,000 detainees have died in military custody – some have been shot, some have died from untreated injuries due to torture, and some have died from starvation and other harsh treatment. In May, about 300 women, girls and children being held captive by Boko Haram were rescued by Nigeria's military, but none were from Chibok. It is believed the militants view the Chibok girls as a last-resort bargaining chip.In that infamous abduction, 274 mostly Christian girls preparing to write science exams were seized from the school by Islamic militants in the early hours of April 15, 2014. Dozens escaped on their own in the first few days, but 219 remain missing. Boko Haram has not shown them since a May 2014 video in which its leader, Abubakar Shekau, warned: "You won't see the girls again unless you release our brothers you have captured." In the video, nearly 100 of the girls, who have been identified by their parents, were shown wearing Islamic hijab and reciting the Quran. One of them said they had converted to Islam. International indignation at Nigeria's failure to rescue the girls was joined by U.S. first lady Michelle Obama. In a radio address in May 2014, she said she and President Barack Obama are "outraged and heartbroken" over the abduction.
Supporters of the girls, who continue to rally each day under the "Bring Back Our Girls" banner, on Wednesday marched to the presidential villa in Abuja to renew demands that the government bring the students home. There have been unconfirmed reports that some of the girls have been taken to neighboring countries, and that some have been radicalized and trained as fighters. At least three were reported to have died – one from dysentery, one from malaria and one from a snake bite. Last year, Shekau said the girls were an "old story," and that he had married them off to his fighters. Lawan Zanna, whose daughter is among the captives, said this week that 14 Chibok parents have died since the mass kidnapping, many from stress-related illnesses blamed on the ordeal. Some of the Chibok girls who managed to escape have been rejected by their community and now live with family friends, tired of hearing taunts like "Boko Haram wives."The assumption that all girls and women held by the group have been raped is a difficult stigma to overcome in Nigeria's highly religious and conservative society. Shekau had threatened in 2013 to kidnap women and girls if Nigeria's military did not release detained Boko Haram wives and children. The government freed them in May of that year, as a goodwill gesture ahead of peace talks, which failed.
Boko Haram has kidnapped hundreds more – girls, boys, women and young men. Some have become sex slaves, while others are used as fighters, according to former captives. Nigerian opinion on negotiating with the extremists is mixed. Some say the group's crimes are too heinous to be forgiven: The 6-year-old Islamic uprising has killed more than 13,000 people and forced about 1.5 million from their homes. "A lot of people take a hard-line stance that you must never negotiate with a terrorist," said Sen. Chris Anyanwu. She called it a "very complex" issue, balancing the lives of more than 200 girls against the dangers of freeing extremists. The militants last year seized a large swath of northeast Nigeria and declared an Islamic caliphate. Nigeria and its neighbors deployed a multinational army that forced them out of towns and villages this year, but the bloodshed has risen at a fierce rate since Buhari's May 29 inauguration amid pledges to crush the insurgency. Eno said that as the president pursues a necessary military solution, he hopes Buhari also understands the need for negotiation. He said the latest overture comes through respected Islamic scholars and Muslim elders who were ignored by Jonathan's people but now have taken dangerous and courageous steps to engage the insurgents.