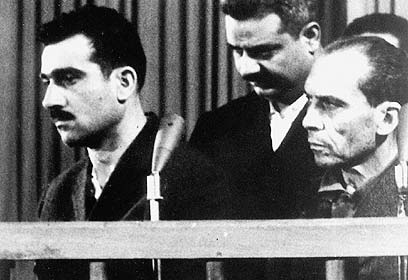 Israel remembers its most daring spy, 
Eli Cohen, aka Kamal Amin Ta'abet
Rotem Elizera/

Ynetnews/May 15/15 
50 years ago, Eli Cohen, aka Kamal Amin Ta'abet, was hanged in a public square in Damascus, after a five-month trial and harsh interrogation and torture; efforts to bring his remains back to Israel have been in vain.
He provided an abundance of vital intelligence that assisted the country in the war against its enemies; and this month marked 50 years (according to the Hebrew calendar) since the execution in Damascus of legendary Israeli spy Eli Cohen. All the efforts to bring his remains back to Israel for burial have come to naught thus far.
Born in Egypt, Cohen moved to Israel at the age of 33 and settled in Bat Yam, where he worked as a translator and subsequently married Nadia, an Iraqi immigrant. In May 1960, he was recruited by Unit 188, Military Intelligence's operational unit, trained as a spy and then sent to Argentina, where he took on a false identity – that of Kamal Amin Ta'abet, an exiled Syrian businessman.
 
Eli Cohen's widow, Nadia Cohen, with a photograph of her husband. (Photo: Kobi Koankas)
Two years later, he moved to Damascus, rented an apartment nearby the Syrian Army's general headquarters, and soon forged close ties with senior Syrian military and government officials.
Thanks to these ties, he managed to gather vital intelligence, which he then passed on to his Israeli handlers – usually during the course of "business trips" in Europe, where he would also meet with members of his family. Some of the intelligence Cohen provided, for example, was of paramount help to the Israel Defense Forces during the Six-Day War.
Two years or so after beginning his work in Syria, the Mossad assumed control of his operations.
Yedith Ahronoth report. The headline reads: Israeli Eli Cohen was hangded this morning in Damascus.
Syrian officials began to suspect there was a spy in their midst after Israel thwarted a classified plot to sabotage Israel's National Water Carrier project. In January 1965, in an effort to root out the spy, the Syrian regime imposed a 24-hour period of radio silence.
Cohen knew nothing about it, and he was apprehended in his apartment by Syrian security while transmitting a report to his handlers. On May 18, 1965, after a five-month trial and harsh interrogation and torture, Cohen was publicly hanged in Damascus' Marjeh Square. He was survived by his wife and three children.

Eli Cohen (left) during his trial (Photo: AFP)
On May 18, the President's Residence in Jerusalem will host an event in his honor, to be attended by the prime minister and former Mossad chiefs.
"We live the tragedy every day," his widow, Nadia, said. "Despite the fact that 50 years have gone by, we still miss him. Time doesn't heal the pain; it intensifies it. His was a life cut short. The children and grandchildren uphold his legacy, remember him, and are proud of what he did."