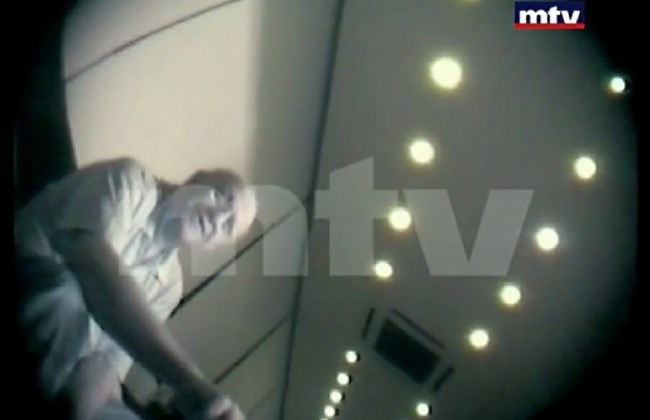 Michel Samaha on video: You can get rid of MPs


Hussein DakroubNizar Hassan| The Daily Star/May. 15, 2015 |
BEIRUT: The broadcast of a video showing Michel Samaha discussing plans to carry out explosions with a police agent has triggered wider public outrage over a lenient sentence against the former minister and prompted calls for the dissolution of the Military Tribunal altogether.
The video broadcast by Lebanese TV channels Thursday night showed Samaha and undercover police informant Milad Kfoury discussing plans to carry out bomb attacks, indicating that Syrian President Bashar Assad was aware of the terror plot.
In footage that shows Samaha wearing nothing but a bathrobe and slippers, the former information minister enumerates the potential targets that Kfoury is allowed to hit.
"You have the iftar banquets [that you can target] … You can get rid of lawmakers. You can get rid of [Akkar MP Khaled] Daher and his brother," Samaha tells Kfoury. "Senior members of the Free Syrian Army, gatherings of Syrian gunmen, [you can target] two or three times the roads they use so that we deal a serious blow to them and so that they won't dare take those roads again."
Kfoury took footage from a hidden camera that he was carrying during his meetings with Samaha.
During another conversation between Kfoury and Samaha, the latter talks about the quantities of explosives that he was smuggling, and the targets of the attacks, including militants and any religious or political figures that were present at militant gatherings in north Lebanon.
In the video, Samaha is seen handing the informant a plastic bag with money.
"I have prepared the implementation phase," Kfoury said. "But you know the difficulty of this for me. All I care about is that Maj. Gen. Ali [Mamlouk] and President [Assad] are the only ones who know about this."
Samaha responded with head and hand gestures, and said: "No one, no one at all … Only two people know, Ali and the president."
MP Walid Jumblatt Thursday joined March 14 politicians in expressing outrage over what they viewed as a soft sentence against Samaha, a verdict that sparked calls for the dissolution of the Military Tribunal altogether.
This prompted State Prosecutor Samir Hammoud to call on Military Prosecutor Judge Saqr Saqr to challenge the verdict.
Saqr is studying the case to prepare an appeal before the Military Appeal Court, the National News Agency reported.
The Military Tribunal Wednesday sentenced Samaha, who was being tried on terror charges, to four-and-a-half years in prison for transporting explosives from Syria to Lebanon. He was found guilty of forming an armed gang, smuggling explosives from Syria into Lebanon and attempting to assassinate political and religious figures.
Given that he had been in custody since 2012, Samaha, a longtime ally of Assad, will be set for release in December. A judicial year is equal to nine months.
Among the fiercest remarks were those made by Justice Minister Ashraf Rifi, who said the verdict was "shameful," pledging to "work through all means to amend the law of military verdicts."
Rifi also announced the death of the Military Tribunal and vowed to appeal the verdict.
Interior Minister Nouhad Machnouk expressed his ire over Samaha's sentence, saying enough was enough, while Jumblatt warned that the soft verdict would legalize terrorism.
"March 14 is dealing with the sentence handed to former Minister Michel Samaha in the framework of the laws and legal procedures," Machnouk said after visiting the tomb of former Prime Minister Rafik Hariri in Downtown Beirut. "We will work on preventing the repetition of what took place, so that the Lebanese are ruled with a unified balance."
"We will have revenge for Wissam [al-Hasan's] martyrdom through legal means and we will not permit his assassination a second time through the use of the legal system. We still have judges who know [what's] right and do not bargain over it," he said.
Brig. Gen. Wissam al-Hasan, the chief the Internal Security Forces' Information Branch, was killed in October 2012 in a car bombing blamed by the March 14 coalition on the Syrian regime. Former Prime Minister Saad Hariri had said that Hasan was assassinated because of his role in uncovering a terror network led by Samaha and Syrian intelligence official Ali Mamlouk.
Machnouk said the Future Movement linked the discovery of the Samaha-Mamlouk terror network to Hasan's assassination.
"Anyone who belittles this issue is a partner in [Hasan's] assassination and partner in undermining civil peace," he said. "Everyone must be aware of these facts before talking about them. Enough is enough. Everything has become permissible."
Jumblatt said the Military Tribunal's verdict in Samaha's case would effectively "legalize assassination and bombings."
"At the very least the Military Tribunal's verdict against Michel Samaha can be described as a judicial, military and political scandal defying law and the application of justice on someone who planned and was about to carry out crimes and terrorist bombings that would have killed hundreds of innocents and ignited the internal security and political situation," Jumblatt said in a statement
Lebanese Forces leader Samir Geagea voiced support for Rifi's stance and called for the dissolution of the Military Tribunal.
"We all stand with Ashraf Rifi in his reaction. It is time to get rid of the exceptional courts, on top of them the Military Tribunal, and return to civilian courts," Geagea said on Twitter. "The Military Court's verdict in the case of Michel Samaha undermines the Lebanese citizen's confidence in his state and in the existence of justice on this land," he added.
A Hezbollah minister lashed out at March 14 politicians for criticizing the verdict. "The Military Tribunal's verdict should be respected. Casting doubt on the tribunal's work will obstruct the judiciary," Minister of State for Parliamentary Affairs Mohammad Fneish told The Daily Star. He said the March 14 campaign against the Military Tribunal was part of "intimidation" that would frighten judges and impede the judiciary's work.