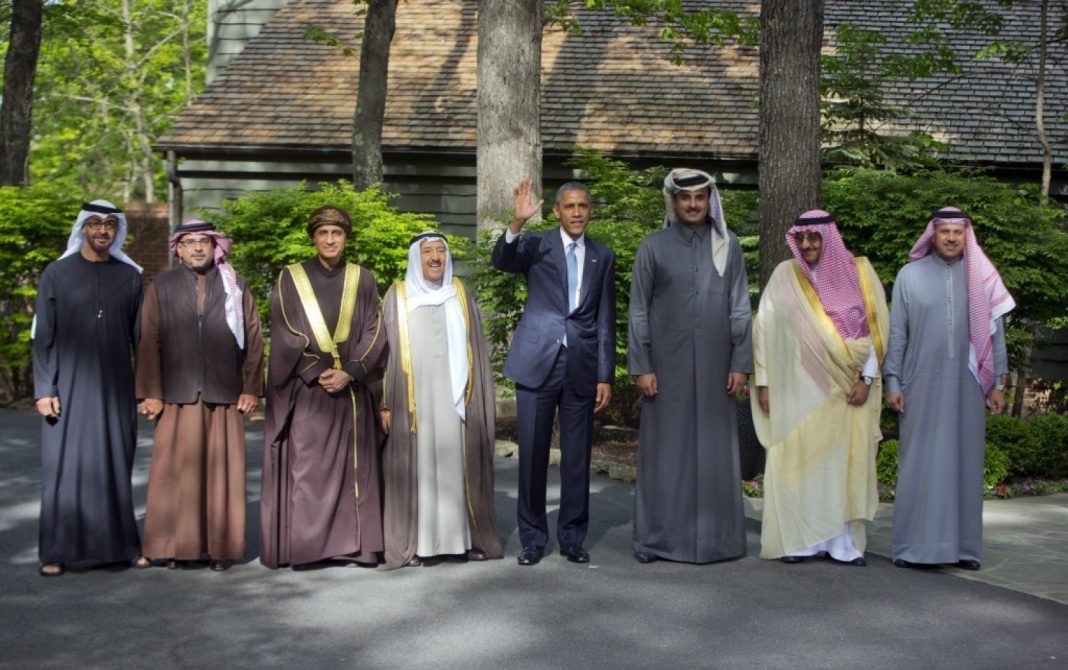 An upbeat ending to Obama's Gulf summit


David Ignatius/ May 14/15 /Washington Post
President Barack Obama, center, waves as he stands with, from left, Abu Dhabi crown prince Sheik Mohammed bin Zayed Al Nahyan; Bahrain Crown Prince Prince Salman bin Hamad Al-Khalif; Deputy Prime Minister of Oman, Sayyid Fahad Bin Mahmood Al Said; Kuwait's Emir Sheik Sabah Al-Ahmad Al-Jaber Al-Sabah; Qatar's Emir Sheik Tamim bin Hamad Al-Thani; Saudi Arabia Crown Prince Mohammed bin Nayef; and Secretary General of the Gulf Cooperation Council, Abdul Latif Bin Rashid Al Zayani of Bahrain after their meeting at Camp David in Maryland, Thursday, May 14, 2015.
President Obama's meeting with Arab leaders of the Gulf Cooperation Council leaders at Camp David ended with surprisingly upbeat statements and an "unequivocal" U.S. commitment "to deter and confront" any future aggression from Iran.
"The U.S-G.C.C. relationship has just been elevated to a new level," said Yousef Otaiba, the United Arab Emirates' ambassador to Washington, in a telephone interview after the summit ended. "The potential for collaboration has just taken a new step."
Coming after months of hand-wringing about deteriorating relations with Saudi Arabia, the U.A.E. and other Gulf countries, the Camp David meeting was seen as a potential arena for confrontation. But it apparently proved the opposite. The Arabs got what they wanted, in assurances of American willingness to challenge Iranian meddling in the region, and Obama got an endorsement of his effort to negotiate a nuclear deal with Tehran.
Mutual suspicions will remain—this is the Middle East, after all—but the meeting represented an important consolidation of ties with Sunni Arab powers as the U.S. heads toward a potential breakthrough agreement with Shiite Iran. Obama, in effect, is adopting a strategy of riding two horses at once–an approach Iran, Saudi Arabia and other regional powers have often adopted.
The Camp David setting seems to have helped lighten the atmosphere. After a somewhat stiff morning session devoted to briefing the leaders on the progress of the Iran talks, the leaders adjourned to lunch. After that, the mood changed. During the afternoon, the leaders talked informally about regional challenges in Syria, Iran and Libya, with Saudi, Emirati and Qatari leaders raising their hands to interject and offer comments and suggestions.
The mood in this afternoon session was "really, really positive," said one attendee. "We came away with a collective spirit we didn't have before the meeting."
Secretary of State John Kerry told the group about his visit this week with Russian President Vladimir Putin, and the U.S. hope that the Russians will join in sponsoring a process of political transition away from the regime of President Bashar al-Assad. Obama and other U.S. officials urged Gulf leaders who are funding the opposition to keep control of their clients, so that a post-Assad regime isn't controlled by extremists from the Islamic State or Al Qaeda.
A joint statement issued by the group took an anti-Assad line, but without the emphatic "Assad must go" tone used by Obama three years ago. This time, the communique "reaffirmed that Assad has no legitimacy and has no role in Syria's future." How this change will be accomplished wasn't explained, and probably hasn't yet been agreed.
The importance of the meeting was symbolic, but that's not a trivial matter. In contrast to Israeli Prime Minister Benjamin Netanyahu, who harangued Obama and lobbied against the Iran nuclear deal from the floor of the Congress, the Gulf Arab leaders have said, in effect, that they'll support the deal so long as Obama keeps Iranian proxies from advancing further in the Sunni world.
For once, in the theater of the Middle East, the Arabs have opted to be the good guys, compared to an unyielding Israeli government. And Obama has responded with the sentiment conveyed by the Arabic expression, "Ahlan wa Sahlan." You are welcome.
***David Ignatius writes a twice-a-week foreign affairs column and contributes to the PostPartisan blog.