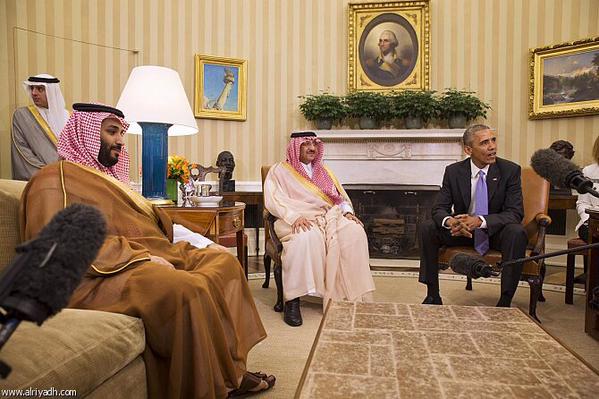 Obama meets top royals in lieu of Saudi King's attendance of regional summit


By REUTERS/05/14/2015

US President Barack Obama on Wednesday went out of his way to play down the absence of Saudi King Salman from a regional summit with Gulf leaders that is likely to be dominated by tension over US efforts to forge a nuclear deal with Iran. Obama met with Saudi Arabia's Crown Prince Mohammed bin Nayef and Deputy Crown Prince Mohammed bin Salman in the Oval Office on Wednesday after King Salman pulled out of the visit last week.
"The United States and Saudi Arabia have an extraordinary friendship and relationship that dates back to [President] Franklin Roosevelt," Obama said at the start of the meeting.
"We are continuing to build that relationship during a very challenging time," he said. Obama said they would discuss how to build on a ceasefire in Yemen and work toward "an inclusive, legitimate government" in Saudi Arabia's impoverished neighbor, where Iran-supported Houthi rebels have been under attack by a Saudi-led coalition.
King Salman decided abruptly to skip the White House meeting and a summit of the Gulf Cooperation Council at the president's Camp David retreat in Maryland outside Washington on Thursday.
The White House has sought to counter perceptions that his absence was a snub that would undermine efforts to reassure the region Washington remains committed to its security against Iran.
"King Salman, when he met directly with Secretary of State John Kerry in Riyadh last week, did not express any specific concerns about the agenda at Camp David," White House spokesman Josh Earnest said on Wednesday.
US officials have said the right leaders were attending the summit, which they portrayed as a working meeting rather than a symbolic get-together. The Gulf Cooperation Council includes Saudi Arabia, Kuwait, Qatar, Bahrain, the United Arab Emirates [UAE] and Oman. The absence of many top Arab leaders, in addition to King Salman, is viewed as a reflection of frustration with Obama's pursuit of a nuclear deal with Iran and a perceived US failure to support opposition fighters in Syria.
The president called Saudi Arabia a critical partner in the fight against Islamic State militants and highlighted his interactions with the two leaders who came in King Salman's place.
"On a personal level, my work and the US. government's work with these two individuals … on counter-terrorism issues has been absolutely critical to maintaining stability in the region but also protecting the American people," Obama said.
Crown Prince bin Nayef said his country attached great importance to the "strategic and historic relationship" with the United States. Obama did not have private meetings on his public schedule with the leaders from the other countries. The leaders, dressed in traditional clothing, arrived at the White House later on Wednesday evening for a dinner and were greeted by Obama upon arrival.