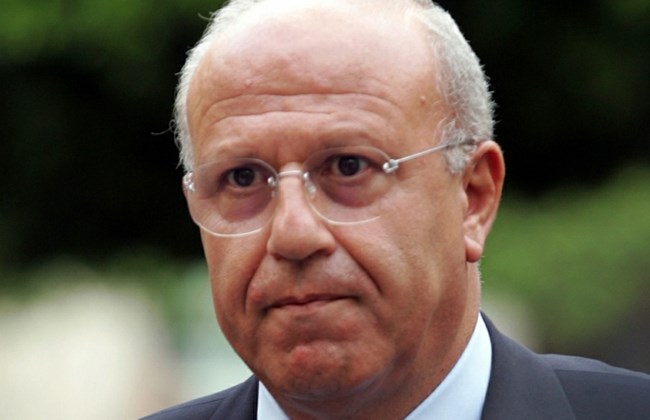 Michel Samaha's Crime/Mockery of justice
The Daily Star/May. 14, 2015
he sentencing of former Information Minister Michel Samaha Wednesday would be laughable if it were not so tragic, and it raises serious questions about both the neutrality and the effectiveness of the judiciary. Found guilty of attempting to take part in terrorist activities – Samaha himself admitted to transporting explosives from Syria – the erstwhile adviser to Syrian President Bashar Assad was sentenced to only four-and-a-half years. Having been arrested in the summer of 2012, and with the judicial year lasting nine months, Samaha is set to be released this December. While his defense attorneys sought to portray him as merely the delivery boy – an insult to both the Lebanese public and Samaha's own intelligence – Samaha has been found guilty of attempting to aid terrorists in setting off bombs on behalf of the Syrian government which could possibly have sparked a new civil war in Lebanon itself. And yet his trial and sentencing concluded quickly, with many prisoners charged for the most trivial of offenses – such as possession of marijuana – awaiting trial for years. As the justice minister himself said after the sentencing, this shameful event should prompt an investigation into the procedures behind sentencing, and perhaps the judge responsible as well. It should also trigger a reflection on the extent to which the Syrian regime still retains an influence over certain sectors of certain institutions in Lebanon, 10 years after their formal withdrawal from the country. Otherwise, the Lebanese judiciary will become an embarrassment, not just at home, but in the eyes of the region's leaders and the international community.
Angry backlash as Samaha sentenced to four-and-a-half years
Youssef Diab| The Daily Star/May. 14, 2015
BEIRUT: The Military Tribunal Wednesday sentenced former Information Minister Michel Samaha, who was being tried on terror charges, to a lenient four-and-a-half years in prison. Samaha, who has been under arrest since 2012, will be set for release in December, since he has already served the majority of his sentence – the judicial year lasting only nine months. The benign sentence sparked a backlash from Future Movement officials, who lashed out at the Military Tribunal calling for its closure. This prompted State Prosecutor Samir Hammoud to call on military prosecutor Judge Saqr Saqr to challenge the verdict issued against Samaha, judicial sources said. The former minister was sentenced after being found guilty of forming an armed gang, smuggling explosives from Syria into Lebanon and attempting to assassinate political and religious figures. The court also revoked Samaha's civilian rights, the sources added. Throughout the hearing Wednesday, Samaha argued that he was personally targeted by the Information Branch – the intelligence services of the Internal Security Forces. "What happened with me is tangible proof that the law is being violated," Samaha told the court. "The Information Branch has personally targeted me … and I have fallen into their trap." Last month, Samaha confessed that he had transported explosives into Lebanon with the aim of targeting Lebanese politicians and religious figures, claiming that he was lured to do so by a police intelligence agent.
Both Samaha and his defense team Wednesday presented the argument that ISF informant Milad Kfoury was as guilty as Samaha and should stand trial. "Milad Kfoury is not an informant but he is the real culprit and he is the tool used by an intelligence agency to target me," Samaha said. "I am a political prisoner of war and I demand acquittal." Prosecutor Hani Hajjar dismissed Samaha's claims that he was a victim of an intelligence trap set up by Kfoury, saying that the ISF is an official security agency that does not manipulate or entrap people."If there was a real trap then it is the trap that Samaha planted for the nation," Hajjar added. Two Future Movement officials slammed the Military Tribunal following Wednesday's verdict. Justice Minister Ashraf Rifi, a Future Movement member, said that he "mourned the death of the Military Tribunal," after it sentenced Samaha to "only" four and a half years in .prison"What happened in the case of Samaha is shameful and I will work through all means to amend the law of military verdicts," Rifi told reporters on the sidelines of a Cabinet meeting in the Grand Serail. "We will not be false witnesses to the violation of Lebanese security," he added. In a later statement Rifi said former Prime Minister Saad Hariri expressed in a telephone conversation his support for his position regarding the Military Tribunal's verdict. Hariri also condemned the verdict and inquired about means to confront what he called "a moral and national scandal." Hariri also discussed means to address the issue with Interior Minister Nouhad Machnouk.
Rifi added he was considering referring Samaha's case to the country's top court, the Judicial Council. Rifi referred Judge Leila Raaydi, civil consultant at the Military Tribunal, to the judiciary over the verdict.  Future Movement Secretary-General Ahmad Hariri denounced Wednesday's decision, saying on his Twitter page that the Military Tribunal should be shut down after issuing a "farcical" verdict against Samaha.  During Wednesday's hearing Samaha said that he had informed the head of the Syrian National Security Bureau, Maj. Gen. Ali Mamlouk, and the director of his office, Lt. Col. Adnan of a plot orchestrated by Kfoury to smuggle explosives into Lebanon.
"Mamlouk and Adnan don't know Milad Kfoury," Samaha said. "I was the one who told them that I have someone who wants to carry out explosions in Lebanon and I asked for their help."
 Samaha claimed that he did not discuss with Mamlouk and Adnan the details of the security operations, saying he deliberated potential targets with Kfoury exclusively.  A former minister who maintained close ties with Syrian President Bashar Assad, the 66-year-old Samaha was arrested in 2012 and indicted the following year for smuggling explosives into Lebanon to target iftar banquets and gatherings in the northern district of Akkar, with the aim of killing politicians and religious figures. Mamlouk, and the director of his office, Lt. Col. Adnan, were also indicted for their part in the conspiracy.
The court also asked Samaha whether he ever suspected that Kfoury was trapping him. The former minister said he was too busy making international contacts over the situation in Syria to realize that the informant tricked him, although he believed that the list of targets Kfoury had set was too ambitious. "I was too busy conducting calls with six European countries, including the Vatican and Catholic churches in Europe, about the situation in Syria," Samaha told the court. "But I did question his ability to hit all the targets he fixed for himself including the bombing of iftar banquets, assassinating religious figures and lawmakers, and carrying out bombings on border crossings in north Lebanon." Samaha added that Kfoury's history as a former member of the Lebanese Forces did not raise his suspicions either.
Meanwhile, Samaha's defense council, Sakhr Hashem, argued that the suspect did not have the criminal intent to carry out terrorist plots in Lebanon. He also claimed that Samaha was merely "a delivery boy" whose mission was to transport explosives from Mamlouk's office and handing them over to Kfoury. "My client had no criminal intent," Hashem told the court. "He [Samaha] was mulling the crime that did not take place and is thus not punishable by the law because he did not execute the plan."  The court Wednesday also heard the testimony of Samaha's driver and bodyguard, Fares Mubarak, who said that Kfoury, the ISF informant who revealed the plot to Lebanese authorities, would visit Samaha's residence on a weekly basis.
The witness, who accompanied Samaha on his trip from Damascus to Beirut during which the explosives were smuggled into Lebanon, denied having any knowledge of the plot.  He also confessed to handing Kfoury a black bag which contained $170,000 which would be spent on the terrorist operations, though he claimed that he had no knowledge of the bag's contents at the time.  In a startling confession in April, Samaha detailed a plot that could have pushed Lebanon into a cycle of sectarian violence. Samaha appeared confused at times, faltering and contradicting himself, but claimed he was being watched by domestic and foreign intelligence services who convinced him to carry out the act, "satisfying my ambitions," and that they used people close to him to persuade him to cooperate.