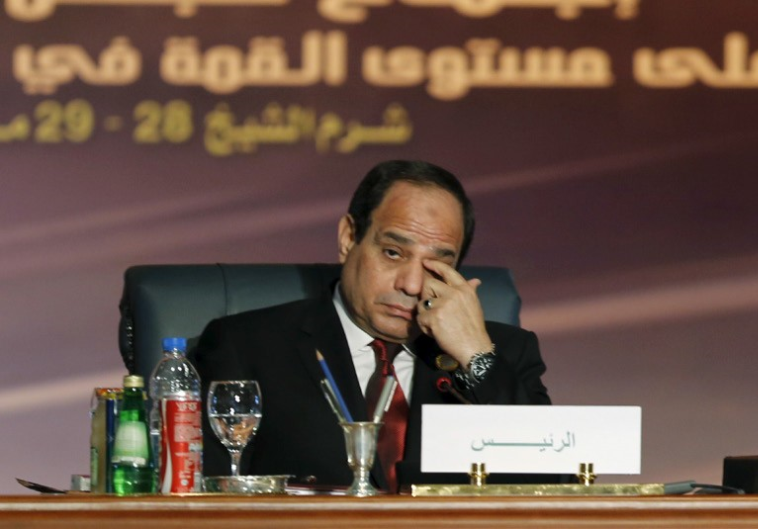 Once untouchable, Egypt's Sisi faces media attacks


By REUTERS/05/11/2015
Egyptian newspapers are publishing what would have been unthinkable when then-army chief Abdel Fattah al-Sisi removed the Muslim Brotherhood from power in 2013: suggestions that he is fallible. It is a sign that a man who enjoys cult-like support may be starting to lose some popularity as elected president. Sisi has boosted his regional status by helping Saudi Arabia wage war against Iranian-allied Houthi rebels in Yemen and spearheading an initiative to create a joint Arab force to fight Islamic State.
In Egypt, where street protests have removed two presidents since the 2011 Arab Spring uprisings, he is still popular. But signs of discontent are slowly emerging. Egyptians await delivery on many promises, ranging from a better school system to improved health care in the Arab world's most populous country, where many are mired in poverty. The pro-government Al-Watan newspaper has run exposes on the obstacles in the way of Sisi's reform plan.
It has highlighted that the military and political elite still dominate Egypt, a strategic U.S. ally. Al Watan has identified factors undermining Sisi, including corruption and nepotism. It has criticized what it said were violations committed by police forces. Sisi overthrew the Islamist Mohamed Mursi, Egypt's first freely-elected president, after mass protests against his Muslim Brotherhood in 2013, and then mounted a tough crackdown.
Security forces killed hundreds of Brotherhood supporters, jailed thousands of others and then went after liberal activists. Egypt says the Brotherhood is a terrorist group that poses a threat to its national security. The Interior Ministry denies allegations of widespread human rights abuses. An economic newspaper, Al Bursa, ran a story with the headline: "Why is the government moving at the speed of a turtle?" and said the prime minister had to do more to produce results.
Another newspaper, al-Masriyoon, ran an opinion piece with the headline: "Egypt in need of early presidential elections." The author, Gamal Sultan, wrote that Sisi's tenure had "moved Egypt further away from stability and put the entire nation on the brink of danger".Sisi, former head of military intelligence, has announced mega-projects such as a second Suez Canal and a new capital, recalling some of the grand national programs of one of his predecessors, strongman Gamal Abdel Nasser.
He has also embarked on a politically-sensitive reform program, including subsidy cuts, seen as far more successful than past efforts to loosen the state's domination of the economy. Sisi has won the backing of foreign investors and the International Monetary Fund. A high-profile investment conference in March secured new pledges of billions of dollars from Cairo's Gulf Arab allies. But some Egyptians say they have yet to feel tangible improvements to their standard of living.
"What reforms? The only thing I can see that he has done is to make fuel more expensive," said Sarah Mahmoud, 35, a Cairo pharmacist. Some have suggested the criticisms of Sisi in the media have been planted to create a false impression of freedom of the press, in a country that human rights groups say is crushing real dissent.
"It is impossible that all the media figures who once defended him and his government, night and day, would suddenly turn against him," said an Egyptian man who declined to be named in al-Minya province. It was not immediately possible to reach the presidency for comment. Ibrahim Eissa, a prominent commentator and editor, said Sisi had to realize he was under scrutiny.
"An elected president is always being monitored and is accountable under the eye of the people and public opinion," he said on a talk show. For some, such as 37-year-old lawyer Osama Hassan, Sisi can still do no wrong. "I reject the attack on President Sisi in this manner in the media. The country will not stand on its own two feet in a night and a day, especially since he took over the country when it was suffering from collapse."