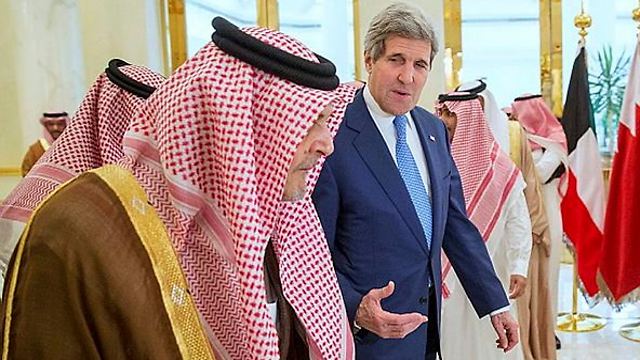 Kerry and Saudi FM: Yemen truce to begin Tuesday, if Houthi agree


By REUTERS/05/09/2015
Saudi Arabia said on Friday a five-day humanitarian ceasefire in Yemen would begin on Tuesday if the Iranian-allied Houthi militia it has been fighting agreed to the pause. "We have made a decision that the ceasefire will begin this Tuesday, May 12, and will last for five days and is subject to renewal if it works out," Saudi Foreign Minister Adel al-Jubeir told a joint press conference with US Secretary of State John Kerry.
Supported by the United States, a Saudi-led coalition began air strikes against the Houthis and forces loyal to ex-president Ali Abdullah Saleh on March 26 with the aim of restoring the government of President Abd-Rabbu Mansour Hadi.
International concern about the humanitarian situation has grown as the strikes have killed more than 1,300 people, sent locals fleeing from their homes and destroyed infrastructure – leading to shortages of food, medicine and fuel. Kerry said the ceasefire could open the possibility of political talks aimed at resolving the crisis in Yemen peacefully.
"We now know that to a certainty, on Tuesday at 11pm Yemen time, a ceasefire will take place country-wide, provided, provided that the Houthis agree that there will be no bombing, no shooting, no movement of their troops or manoeuvring to reposition for military advantage, no movement of heavy weapons or others, that the ceasefire is conditioned on the Houthis agreeing to live by these commitments and it is a renewable commitment. In other words, if they live by it and if this holds, it opens the door to the possibility of extension and the possibility of a longer period of time for the political process to help resolve these differences," Kerry said. He warned that the ceasefire did not mean the conflict was over in the divided country.
"A ceasefire is not peace. Ultimately the parties are going to have to find a way back to the table and they're going to have to make tough choices about more than just a ceasefire. Because even the most durable of ceasefires is not a substitute for peace, even the most durable of ceasefires is not a substitute for an inclusive Yemeni-led political dialogue that all sides can support," Kerry said. Jubeir said the date of the ceasefire was set to allow time for donors to coordinate aid supplies. It would come into force at 11 p.m.