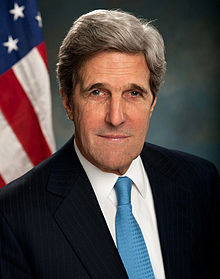 Kerry: US will have to negotiate with Syria's Assad
Ynetnews/News Agencies
Published: 03.15.15/Israel News
Secretary of State seeks to pressure Syrian regime into talks to end 4-year conflict; US line appears to soften after years of insisting that Assad be replaced. The United States will have to negotiate with Syrian President Bashar Assad for a political transition in Syria and is exploring ways to pressure him into agreeing to talks, US Secretary of State John Kerry told CBS News in an interview to be aired on Sunday.
Washington has long insisted that Assad must be replaced through a negotiated, political transition, but the rise of a common enemy, hardline militant group Islamic State, appears to have slightly softened the West's stance towards him.
In the interview, Kerry did not repeat the standard US line that Assad had lost all legitimacy and had to go. Syria's civil war is now into its fifth year, with hundreds of thousands killed and millions of Syrians displaced. "We have to negotiate in the end," Kerry said. "We've always been willing to negotiate in the context of the Geneva I process," he added, referring to a 2012 conference which called for a negotiated transition to end the conflict. Kerry said the United States and other countries, which he did not name, were exploring ways to reignite the diplomatic process to end the conflict in Syria.
"What we're pushing for is to get him (Assad) to come and do that, and it may require that there be increased pressure on him of various kinds in order to do that," the secretary of state said. "We've made it very clear to people that we are looking at increased steps that can help bring about that pressure," he added. The United States led efforts to convene a UN-backed peace talks in Geneva last year between Western-backed Syrian opposition representatives and a government delegation. The talks collapsed after two rounds and no fresh talks have been scheduled.
Russia convened some opposition and government figures in January for talks on the crisis but they yielded little progress and the main opposition coalition boycotted them.
"To get the Assad regime to negotiate, we're going to have to make it clear to him that there is a determination by everybody to seek that political outcome and change his calculation about negotiating," Kerry said. "That's under way right now. And I am convinced that, with the efforts of our allies and others, there will be increased pressure on Assad." Kerry said negotiations are important "because everybody agrees there is no military solution; there's only a political solution."
He spoke with CBS before leaving Egypt for Lausanne, where he was to resume negotiations with Iran on that country's nuclear program.
Syria sank into civil war after a peaceful street uprising against four decades of Assad family rule began in March 2011. The revolt spiraled into an armed insurgency, which has deepened with the rise of Islamic State and other hardliners.
Assad seems more likely to survive the Syrian crisis than at any point since it began. Iran's support for Assad is as solid as ever, with Russia showing no sign of abandoning him. US-led forces started air strikes against Islamic State group in Syria and Iraq in the summer. Washington has said the campaign in Syria is not coordinated with the Syrian military, which also views the group as its enemy.
The war has killed more than 200,000 people and displaced close to half the population, according to the United Nations. Damascus accuses its Western and Gulf Arab opponents of seeking to destroy the country by providing aid to an insurgency now dominated by jihadists, who also pose a threat to the West. Assad appears to be betting that the US-led campaign against Islamic State will force Washington to engage with him.