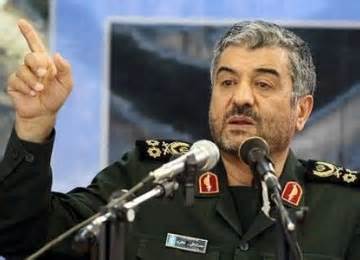 Iranian Major General Mohammad Ali Jafari: ,Hizbullah's Resistance against Israeli Army among Islamic Revolution's Miracles


Naharnet/11 March/15
Iran's top general said Wednesday his country has reached "a new chapter" towards its declared aim of exporting revolution, in reference to Tehran's growing regional influence, while hailing the role of Hizbullah in resisting Israel. Major General Mohammad Ali Jafari, commander of the nation's powerful Revolutionary Guards Corps, said: "Hizbullah and its resistance against one of the armies in the world — that is to say the army of the Zionist regime.. is one of the Islamic revolution's miracles," he said. "It is (part of) the powerful influence of the Islamic system as the helmsman in the region.""Supporting Lebanon and the Gaza Strip are among the Islamic Republic's fundamental principles," he added. His comments come amid concern among some of Shiite Iran's neighbors about Tehran's role.
"The Islamic revolution is advancing with good speed, its example being the ever-increasing export of the revolution," he said, according to the ISNA news agency. "Today, not only Palestine and Lebanon acknowledge the influential role of the Islamic republic but so do the people of Iraq and Syria. They appreciate the nation of Iran," Jafari said in a speech before the Assembly of Experts, Iran's top clerical body. He made references to military action against Islamic State (IS) jihadists in Iraq and Syria, where the Guards have deployed advisers in support of Baghdad and Damascus.
"The phase of the export of the revolution has entered a new chapter," he added, referring to an aim of Iran's 1979 Islamic revolution.Jafari's remarks echoed those of another Iranian general, Qassem Suleimani, head of the Quds Force, the Guards' foreign wing, who has reportedly been posted in Iraq near the front line against IS. "Today we see signs of the Islamic revolution being exported throughout the region, from Bahrain to Iraq and from Syria to Yemen and North Africa," he said on February 11.Iran's role, however, has aroused concern in Saudi Arabia, the region's major Sunni Muslim power, and also in the United States. Former CIA chief Michael Hayden said Tuesday he was "uncomfortable" with Iran's growing influence in Iraq, especially in an offensive in Tikrit, north of Baghdad. The city, which was the hometown of former president Saddam Hussein, is the target of an assault led by Iraqi troops and Shiite militias backed by Tehran.
"I am made uncomfortable by the fact that it looked like a Shia advance against a Sunni town," said Hayden, who headed the Central Intelligence Agency between 2006 and 2009. "And the proof would be what happens if and when they retake Tikrit… how the militias act toward the local population. "It's clear to me that the Iranian policy is based upon Shia dominance of the new Iraqi state, and that effort in itself feeds the Sunni opposition."Agence France Presse