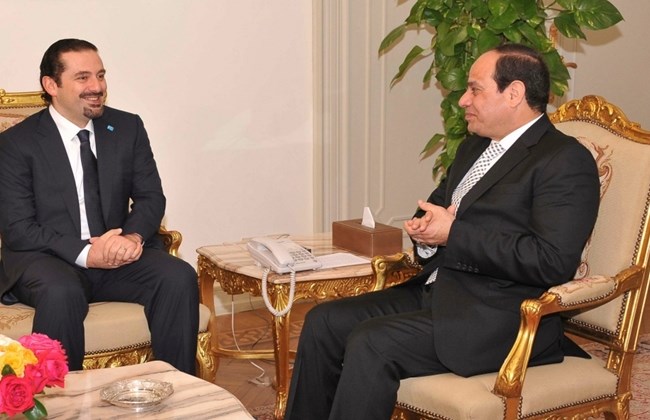 Hariri: No neutrality in fight against jihadis


The Daily Star/Mar. 09, 2015
BEIRUT: Former Prime Minister Saad Hariri held talks Sunday with Egyptian President Abdel-Fattah al-Sisi during a visit to Cairo aimed at reaffirming support for moderation in the face of Islamist extremism roiling the Middle East. Speaking to reporters after the one-hour meeting at the Ittihadiah Palace in Cairo, Hariri also said Lebanon's relations with Iran should be mutually beneficial.
The head of the Future Movement said he reiterated to Sisi the condolences of the Lebanese people over "the martyrs killed at the hand of terrorism." He was referring to the beheading of 21 Coptic Christian Egyptians in Libya by ISIS militants last month.
"I confirmed our support to Egypt in the face of the forces of evil and extremism," Hariri said, according to a statement released by his media officeHariri: No neutrality in fight against jihadis. "We are in the same boat, facing an enemy of religion, values, and Arab and Islamic civilization. There is no room for neutrality in this confrontation," he said. "We are on the side of Arab and Islamic moderation and that is in the side which Egypt, its leadership and people, have chosen, in solidarity with all our brethren in the [Arab] states of moderation."
Hariri said extremism existed in Iran and is practiced by ISIS and the Nusra Front. However, he said he did not consider Iran, despite his criticism of its role in the region, to be an enemy. Hariri said he discussed with Sisi the 9-month-old presidential deadlock and Lebanon's ongoing battle against terrorism. "Discussions focused on the situation in the region and Lebanon, and all the problems in the region. We also talked in detail about the interest of Lebanon and the Arabs," he said.
"We see, just as Egypt does, that moderation means facing all kinds of extremism and not only one kind. Extremism exists, whether the Iranian extremism or the extremism of Daesh [ISIS] and Nusra. We also talked about Lebanon's confrontation against extremism, and President Sisi hoped that Lebanon would elect a president and this is the hope of all countries."
Hariri said the talks covered Iran's growing influence in the region. "Of course, we discussed this issue and stressed that there are risks surrounding the Arab world today," he said. "An Arab strategy should be hammered out to face all these risks. I can honestly say that we have remarks concerning Iran, but this does not mean that we are against Iran. We want our relations with Iran to benefit both Lebanon and Iran, and not solely Iran."
The 4-year-old conflict in Syria was also discussed by Sisi and Hariri, who said that Egypt and other countries backed Geneva conference decisions that called for Syrian President Bashar Assad to step down.
"Egypt and all countries support the 'Geneva I' and 'Geneva II' decisions and I do not see that Egypt has a different position," Hariri said.
"The problem is that the Syrian regime says something and does something else. There is a global consensus that this regime cannot continue the way it is now. The Geneva I and II solutions require the regime of Bashar Assad to leave power. Thus, if the Syrian regime accepts 'Geneva I,' then it should step aside and there would be a power transfer as stipulated by the 'Geneva I' conference."
Hariri, who was accompanied by former MPs Bassem Sabaa and Ghattas Khoury, later met with the Grand Imam of Al-Azhar, Dr. Mohammad Ahmed al-Tayeb, with whom he discussed the situation in the region.
It was Hariri's first meeting with Sisi since the former army chief took office last year after overthrowing Mohammad Morsi, Egypt's first democratically elected president