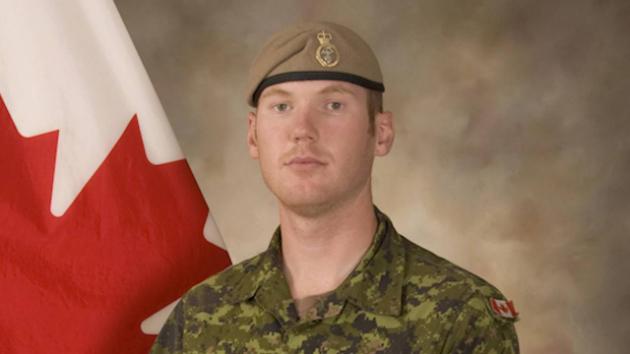 May Almighty God Bless the Soul of Sgt. Andrew Joseph Doiron
Elias Bejjani
March 07/15
"Yahweh gave, and Yahweh has taken away. Blessed be Yahweh's name" (Job01/20)
With deep sadness we learned earlier today about the unfortunate friendly fire incident that took place in North Iraq and in which a Canadian special forces soldier, Sgt. Andrew Joseph Doiron has been killed and three others wounded.
From the LCCC. "The Lebanese Canadian Coordinating Council", we offer our sincere condolences to Sgt. Doiron's bereaved family, comrades, friends and to all Canadians far and wide who are mourning in the wake of his passing.
At the same time our thoughts and prayers go to the quick recovery of the all the injured.
Thank you  Sgt. Doiron' for the precious sacrifice, your life, that courageously you gave to Canada and for maintaining of world peace. You are a Hero, and as we all know heroes like you will never be forgotten. rest in peace and may Almighty God Bless your soul.
For the LCCC
Elias Bejjani
Back Ground
Canadian special forces soldier killed by Kurdish friendly fire in Iraq
The Canadian Press/By Murray Brewster, March 07/15
https://ca.news.yahoo.com/canadian-special-forces-soldier-killed-kurdish-friendly-fire-182406487.html
OTTAWA – A Canadian special forces soldier has been killed and three others wounded in a friendly fire incident in northern Iraq.
National Defence says the troops, who were training local forces, had just returned to an observation post at the front line when they were mistakenly fired upon by Kurdish fighters late Friday.
The military identifies the soldier as Sgt. Andrew Joseph Doiron, from the Canadian Special Operations Regiment, based at Garrison Petawawa, Ont.
In a statement, the military says the three wounded members are receiving medical care, but it does not indicate the extent of their injuries or whether they will have to be moved to a larger medical facility.
The special forces contingent, whose mission is to advise and assist Iraqi and Kurdish troops in their battle against Islamic State extremists, is based near the northern city of Irbil.
The military did not say precisely where incident took place, but Kurdish forces have been conducting a shaping operations in the vicinity of Mosul, Iraq's second largest city, in preparation for an all-out offensive later this year.
Prime Minister Stephen Harper expressed "deep sadness" over the death of Doiron, but in a statement he also stressed it's imperative that the coalition air strikes against the Islamic State continue.
"Our government and the Canadian Armed Forces take the duty to protect Canadians seriously," Harper's statement said. "Part of that duty requires us to stand tall and shoulder our share of the burden in the fight against ISIL."
Canada has 600 personnel involved in the international campaign against the Islamic State, most of them belong to an air task force of CF-18 jets, surveillance planes and a refueller, based in Kuwait.
The country's top military commander, in a statement, expressed profound sadness.
"We have lost another invaluable member of our family," said Gen. Tom Lawson, the chief of defence staff. "A soldier and a warrior, Sgt. Doiron was a consummate professional appreciated by all. His sacrifice will not be forgotten."
The commander of special forces, Brig.-Gen. Michael Rouleau, described Doiron as a gifted special forces operator and a leader.
"He loved his job and the people he soldiered with," Rouleau said in a statement.
"We grieve with Drew's family and extend our condolences to them. Our thoughts are also with our three injured operators. We will bring Drew home with all dignity and wrap our arms around our injured brothers and we will carry on with our important mission in Iraq."
The incident comes as the Harper government is actively debating whether to extend the country's combat mission, which is due to expire at the end of the month.
When the roughly 69 special forces troops deployed last September, the government took pains to emphasize they would be training the Kurds in battlefield and communication skills far behind the front lines.
But it was revealed in late January that the troops had been accompanying their charges to forward outposts, and they had been involved in three firefights with extremists.
And they were even guiding coalition airstrikes by "painting" extremist positions with for pointers for the laser-guided bombs.
Lawson described the change by saying the mission was "evolving."
Harper, Lawson and former defence minister Rob Nicholson, who is now at foreign affairs, have repeatedly underlined that they don't believe what the elite troops are doing constitutes combat because they are firing only in self defence.
From the beginning, Harper has acknowledged the danger.
"We don't think the risks are enormous but the risks are very real," the prime minister said the day he announced the deployment.
New Democrats, who voted against the air combat mission when it came before Parliament last fall, expressed shock and sadness on Saturday with the latest developments.
"We offer our most sincere condolences, on behalf of the entire NDP caucus, to Sergeant Doiron's family, friends and to his extended family – the men and women of the Canadian Armed Forces," Opposition leader Tom Mulcair said in a statement. "We also wish a swift recovery to the three brave soldiers who were injured in this friendly fire incident."
Liberal leader Justin Trudeau also expressed his condolences.
Canada's Prime Minister Stephen Harper today issued the following statement on the tragic death of a Canadian Armed Forces member in Iraq
Ottawa, Ontario
7 March 2015
Prime Minister Stephen Harper today issued the following statement on the tragic death of a Canadian Armed Forces member in Iraq:
"It is with deep sadness that I learned that Sergeant Andrew Joseph Doiron was killed in a friendly fire incident while advising and assisting Iraqi Kurdish forces in Iraq on March 6, 2015.
"On behalf of all Canadians, Laureen and I offer our deepest condolences to the family, friends and colleagues of Sergeant Doiron. We also offer our prayers for the speedy recovery of the other three injured members of the Canadian Armed Forces.
"Canadians are rightly proud of the men and women who serve in our Armed Forces. We support their families, and we honour all those who make the sacrifices necessary to safeguard our country and our highest values.
"This tragic incident reminds us of the very real risks that our brave men and women in uniform assume on our behalf to defend the freedoms that we cherish.
"Almost daily we see new evidence of the violent threat posed by the Islamic State of Iraq and the Levant. More than ever, it is imperative that we, along with the more than sixty countries in the coalition, continue the campaign to halt ISIL's spread and reduce its capacity to carry out terrorist attacks abroad and here in Canada.
"Our Government and the Canadian Armed Forces take the duty to protect Canadians seriously. Part of that duty requires us to stand tall and shoulder our share of the burden in the fight against ISIL. We are proud to do our part, and grateful to the men and women to whom it falls to carry out our commitment to peace and security.
"Sergeant Doiron lost his life in the line of duty. We will honour and remember his service to Canada."
Statement by Minister of National Defence Jason Kenney on death of a Canadian soldier in Iraq
The Honourable Jason Kenney, Minister of National Defence, issued the following statement today on the death of a Canadian soldier in Iraq.
"As Minister of National Defence, I extend my deepest sympathies to the family and friends of Sergeant Andrew Joseph Doiron of the Canadian Special Operations Regiment, based at Garrison Petawawa, Ontario.
"Sergeant Doiron was a true Canadian patriot, whose bravery and dedication to Canada's security is an inspiration to us all. May he rest in peace.
"Sergeant Doiron was killed while conducting advise and assist operations in Iraq when he and other members of the Special Operations Forces were mistakenly engaged by Iraqi Kurdish forces following their return to an observation post behind the front lines.
"Three other Canadian Special Operations Forces personnel were also wounded, all of whom are in stable condition. Our thoughts and prayers are with them for their recovery.
"We remain committed to our mission of supporting our allies in the fight against ISIL's campaign of hatred and terror."