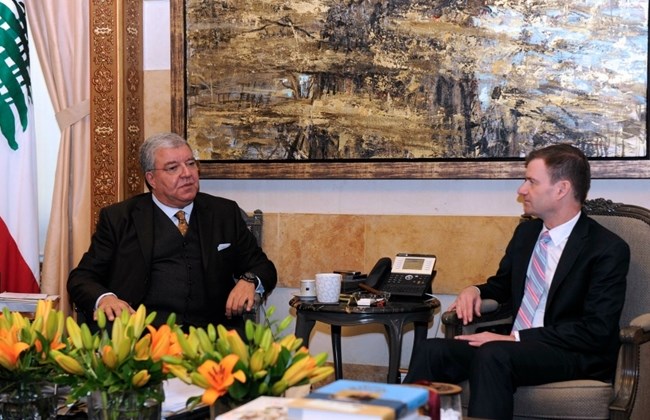 Elect president on your own, U.S. envoy tells Lebanese


Hussein Dakroub/The Daily Star/Mar. 07, 2015
BEIRUT: The United States Friday prodded rival Lebanese leaders to elect a president without counting on foreign deals to help them choose a new head of state and accused Hezbollah of harming Lebanon's stability over its role in Syria.
The remarks by U.S. Ambassador to Lebanon David Hale were the latest foreign appeal to Lebanese political factions to act to elect a president as the deadlock, now in its 10th month, has paralyzed Parliament legislation and is threatening to cripple the government's work.
Meanwhile, the Lebanese Army confirmed it had arrested a key ISIS commander in the military's latest crackdown on Islamist militants threatening to destabilize Lebanon.
Hale cautioned that rivalry between the March 8 and March 14 camps over the election of a successor to former President Michel Sleiman has thrown the government's work into paralysis.
"Disputes over the election of a president have brought the normal functioning of government to a standstill," Hale said in a statement after meeting Interior Minister Nouhad Machnouk. "Yet, this is a time when all elements of the state should be working in unison to address these and other problems, in accordance with the Constitution and the National Pact."
"There is no reason for delay and it is time to put Lebanon's stability ahead of partisan politics. There should be no expectation of foreign deals to choose a president. Instead of looking outside Lebanon for answers, we urge Lebanon's leaders to respect their own Constitution and elect their own president, on their own," Hale added.
However, Hale's remarks sharply contrast with previous statements made by Machnouk, Speaker Nabih Berri and other Lebanese politicians who have argued that a rapprochement between Saudi Arabia and Iran, which back opposing sides in Lebanon, was essential to facilitate the election of a president.
Hale's comments came two days after Berri called for a new Parliament session on March 11 to elect a president. Parliament last month failed for the 19th time since April to elect a president over a lack of quorum, plunging the country in a prolonged vacuum in the country's top post.
Hale said a prime topic during his meeting with Machnouk was the minister's upcoming visit to Washington.
"We very much welcome his visit and look forward to senior level discussions on how we can further deepen security cooperation between our two countries," he said.
Hale promised continued U.S. military support for the Lebanese Army in its ongoing battle against terrorism, warning Lebanon still faced serious security threats from Syria-based jihadis.
"Lebanon is facing serious challenges and threats, and we need to be sober about them. The spillover of terrorism and extremism from Syria is not over," Hale said in the statement released by the U.S. Embassy.
He accused Hezbollah of harming Lebanon's stability over its role in Syria and of violating the government's disassociation policy toward the conflict.
"The harm to Lebanese stability caused by Hezbollah's violation of the policy of dissociation continues," Hale said. "Hezbollah's readiness to violate international norms and U.N. Security Council resolutions was made self-evident in January."
He was referring to a Hezbollah attack on an Israeli military convoy in the Israeli-occupied Shebaa Farms on Jan. 28 that killed two soldiers in response to an Israeli airstrike on a Hezbollah convoy in the Syrian town of Qunaitra in the Golan Heights on Jan. 18 that killed six party members and an Iranian commander.
"Hezbollah continues to make life and death decisions for all of Lebanon, yet consults no one, is accountable to no Lebanese, and answers to foreign powers," Hale said, clearly referring to Iran, Hezbollah's benefactor.
The U.S. ambassador praised the role of the Lebanese Army and security forces in defending Lebanon against the threat of terrorism.
"As you face these security challenges arising from Syria, it is important to look at Lebanon's sources of strength. First, the Army and security services have the will and commitment to defend Lebanon, and are doing so with courage," he said.
"Second, the Lebanese nation is united behind the effort to counter violent extremism. Third, you are not alone. You can count on continuous and meaningful support from the United States and others to ensure that the Army has the means to fight."
"Fourth, our common values distinguish us from these barbaric extremists. Our values are stronger than the false appeal from the extremists, and therefore we will prevail," Hale said.
"And finally, the international community may have differences elsewhere in the region, but it is united in its desire to help Lebanon insulate itself from these external threats and conflicts."
Meanwhile, a Syrian suspect who was being treated at a Bekaa Valley hospital for wounds sustained in recent clashes with the Lebanese Army in the northeastern town of Ras Baalbek has emerged as a key ISIS commander, according to a military statement Friday.
The statement said Hasan Ghorli, nicknamed Abu Hareth al-Ansari, "is one of the most dangerous detained terrorists."
Ghorli was arrested March 2 for his role in the August battle against the Lebanese Army on the outskirts of the northeastern border town of Arsal and the Feb. 23 attack on an Army post in Tallet al-Hamra on the outskirts of Ras Baalbek, which left him wounded after soldiers repelled the militants.
The Army said Ghorli confessed he belonged to ISIS and that he had headed an armed group that pledged allegiance to ISIS in July 2014 and made a decision to attack military positions following the arrest of ISIS commander Imad Jomaa, whose detention triggered the bloody clashes in Arsal in August.
During interrogation, Ghorli also admitted that he would take the place of other guards protecting the kidnapped Lebanese servicemen and moving them from one place to another.
He also said he witnessed the murder of Lebanese Corp. Ali al-Ali and revealed the identity of the ISIS militant who beheaded soldiers Ali al-Sayyed and Abbas Medlej, according to the statement.
A senior military official said Ghorli, who was arrested by Army Intelligence, had been referred to a military court for further interrogation. "Ghorli has made important confessions which we cannot disclose now because they will help the Army in its battle against terrorism," the official told The Daily Star.