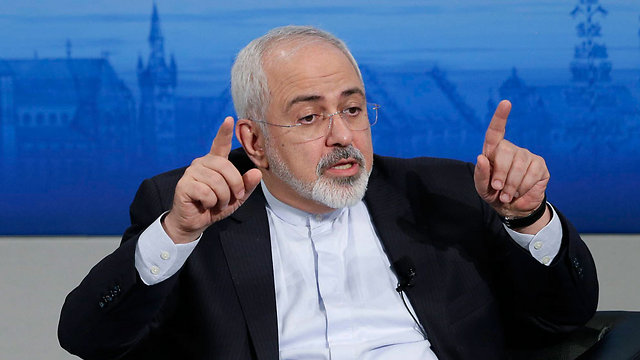 Despite Netanyahu's efforts in DC, Iran's Zarif says nuclear deal could be close
By MICHAEL WILNER/J.Post/03/05/2015
WASHINGTON – Negotiations with Iran over its nuclear program forged ahead this week in Montreux, Switzerland, despite a plea from Prime Minister Benjamin Netanyahu for Western diplomats to change course.
In an interview with NBC News on Wednesday, Iranian Foreign Minister Mohammad Javad Zarif said negotiators "are very close" to a comprehensive nuclear agreement. Iran is negotiating with the United States, Russia, China, France, the United Kingdom and Germany toward a March 31 deadline for a political framework agreement on the nuclear issue.
But Zarif also cautioned his interviewer, Ann Curry, that key details still remain unresolved.
"We believe that we are very close, very close, and we could be very far," Zarif said. "We are very close if the political decision can be made to get to yes, as President Obama said."
Zarif held some 10 hours of meetings with his US counterpart, Secretary of State John Kerry on Wednesday.
Officials in Washington broke slightly from Zarif's assessment: "I think there are a lot of sticking points in the talks," State Department deputy spokeswoman Marie Harf said on Wednesday.
"There are still significant gaps and important choices that need to be made," Kerry told reporters.
While neither the secretary of state nor the foreign minister said he watched Netanyahu's address to Congress on Tuesday, Kerry nevertheless spoke to essential points of the speech, in which the prime minister warned against a deal that would guarantee the normalization of Iran as a nuclear-capable state.
"For all the objections that any country has to Iranian activities in the region – and believe me, we have objections and others in the world have objections – the first step is to prevent Iran from acquiring a nuclear weapon," Kerry said.
He said politics and external factors would not distract from the talks, in which the Western parties aim to constrain Iran with intrusive UN access and verification of its nuclear activity and lengthen the "breakout" time needed for it to build a nuclear weapon.
"No one has presented a more viable, lasting alternative for how you actually prevent Iran from getting a nuclear weapon," Kerry continued. "So folks, simply demanding that Iran capitulate is not a plan.
And nor would any of our P5+1 partners support us in that position."
In a daily briefing with reporters, Harf said that reaching a nuclear deal would not automatically remove use of force from the array of Washington's options in handling the nuclear issue.
"If there is noncompliance of any kind… we reserve every option to act at that point," she said. "All options remain on the table."
Speaking in response to Netanyahu's speech to Congress, Zarif repeated in the interview to NBC his assertion that Iran does not seek nuclear weapons.
"Once we reach that understanding, once this hysteria is out, once this fearmongering is out, then we can have a deal, and a deal that is not going to hurt anybody," he said.
Reuters contributed to this report.