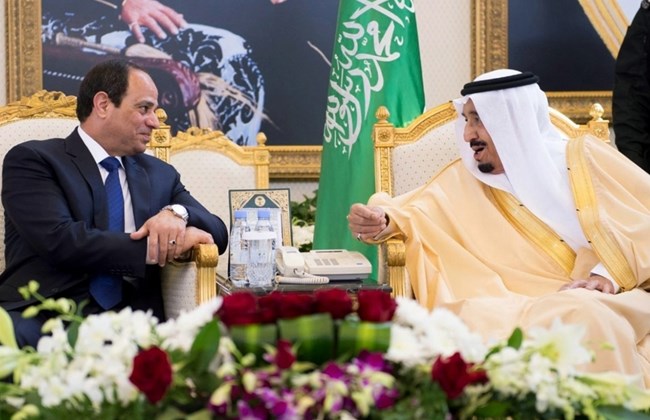 King Salman, Sisi mull joint anti-terror force


Agencies/Mar. 02, 2015
RIYADH: Egyptian President Abdel-Fattah al-Sisi held talks in Riyadh Sunday, his visit to Saudi Arabia coinciding with that of his Turkish counterpart, whom Cairo accuses of backing the banned Muslim Brotherhood.
Sisi and Turkish President Recep Tayyip Erdogan, whose relations have been strained since Sisi ousted his Islamist predecessor Mohammad Morsi in July 2013, did not meet in the oil-rich Gulf state. Salman broke official protocol to meet Sisi at the airport, a pointed mark of favor toward the Egyptian president at a time when media reports have questioned whether the close ties that existed between the two states under the late King Abdullah would continue. The visit is the latest in an intense flurry of diplomacy in Riyadh, and follows talks between Salman and leaders of all Saudi Arabia's Gulf Arab neighbors, as well as Jordan. Erdogan will meet him Monday.
The leaders discussed "bilateral cooperation … and affirmed the deep strategic relations between the kingdom and Egypt, and their eagerness on strengthening them," the official SPA news agency said. King Salman and Sisi also held talks on "regional and international developments."A Saudi official told the Associated Press that the two leaders discussed Sisi's proposal for a joint anti-terrorism force to tackle regional threats, particularly from Yemen, Libya and Syria.
In an interview with the Al-Arabiya news channel broadcast that was this weekend, Sisi said the force would not be used for attacking "but for defending the security of our countries."
He said Jordan has expressed interest in creating such a force, which could include Saudi Arabia and the United Arab Emirates. Saudi Arabia, the United Arab Emirates and Kuwait are the primary financial backers of Sisi's government, having pledged around $12 billion to Cairo since the former head of Egypt's military came to power.Sisi spent roughly four hours in the kingdom.
It marks the first meeting for the two since audio was leaked in February of Sisi allegedly poking fun at the Gulf's immense oil wealth and suggesting that Gulf monarchies have more money than they need and should give more to Egypt. His visit came at the same time as Erdogan, who Saturday traveled to the holy city of Mecca to perform a pilgrimage, before leaving to Medina the next day. isi said the timing of the visits was a "coincidence."
But he also urged Turkey to "stop interfering in Egypt's internal affairs," in the interview with Al-Arabiya. Cairo accuses Ankara, as well as Doha, of supporting the Muslim Brotherhood, the movement of Morsi, blacklisted by Saudi Arabia and the UAE as well as by Egypt. Also Sunday, a bomb went off near a police station and mosque in the southern Egyptian city of Aswan, killing two civilians and wounding a soldier and four others, according to the police. A security official said the crude bomb went off near an electrical transformer on a road that runs along the Nile River, severing the foot of the soldier, who was a conscript.
Last week, a series of blasts went off in Cairo, killing one person and wounding at least seven others in another series of attacks using homemade explosives that authorities blame on Islamist militants. The government is ramping up security ahead of a planned investment conference in Sharm el-Sheikh this month it hopes will draw billions of dollars from abroad.