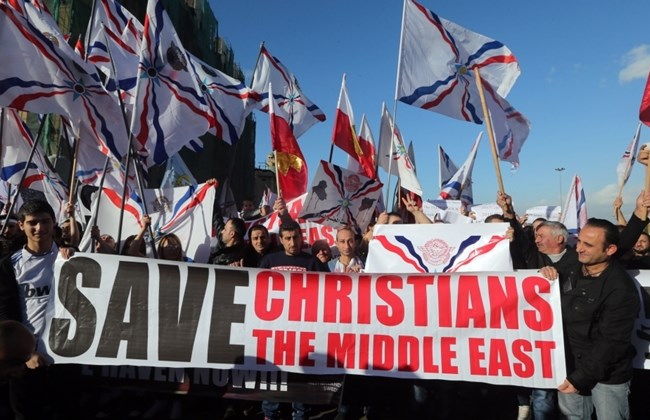 Lebanon opens border to Assyrians fleeing ISIS


The Daily Star/Mar. 01, 2015

BEIRUT: Assyrian Christians fleeing ISIS are welcome to take refuge in Lebanon because their humanitarian case is exceptional, Interior Minister Nouhad Machnouk said. Al-Mustaqbal reported Sunday that Machnouk, after discussing the matter with Prime Minister Tammam Salam and Social Affairs Minister Rashid Derbas, gave the order to allow the inflow of Assyrian refugees from Syria. Machnouk told the daily that the case of the Assyrians fleeing massacres meets the "extreme humanitarian cases" exempted from the recent government policy to stop allowing refugees in.

Al-Mustaqbal also reported that State Minister Nabil De Freij had been making efforts to faciliate the entry of Assyrian refugees. De Freij visited Machnouk and General Security chief Major General Abbas Ibrahim, accompanied by the leader of the Assyrian community in  Lebanon Bishop Yatron Guliano.  The minister told the paper that border control was notified of the decision, saying around 5,000 Assyrians are expected to flee to Lebanon, and they will stay with relatives or in homes provided by the church.

Around 220 Assyrians were abducted from their homes by  ISIS in northeastern Syria last week. The Syrian Observatory for Human Rights said the Assyrians were kidnapped from 11 villages in the Hassakeh province, and that thousands more have fled their homes to avoid capture. The activist group said 29 of the kidnapped were released, while others are to be tried by ISIS' Sharia court.  On Saturday, hundreds of Assyrians marched in Downtown Beirut in solidarity with their brethren.

The marchers chanted slogans in their native language and carried signs that read: "Assyrians are the indigenous people of Mesopotamia", "We demand action from the United Nations" and "Save the Christians in the Middle East." The protesters began their afternoon march at Martyr's Square and headed towards the U.N.'s nearby ESCWA building, calling on the U.N. to take immediate action and protect their communities.