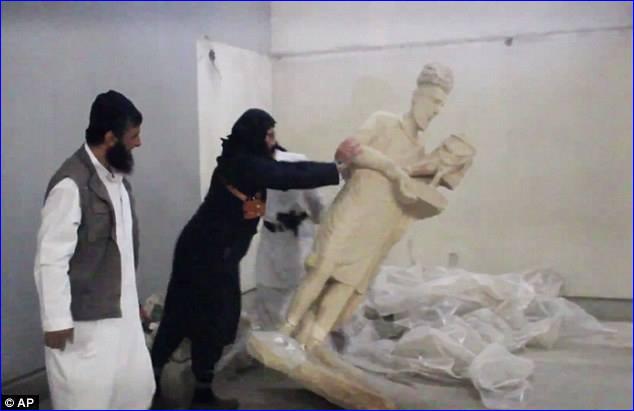 An ISIS members destroys an Assyrian Winged Bull dating from the 7th century BC, in Mosul, Iraq.(AP) — Iraqi Prime Minister Haider al-Abadi has vowed to track down and punish the Islamist militants who smashed rare relics in the northern city of Mosul and are attempting to sell others. Al-Abadi issued his promise while reopening Iraq's national museum in Baghdad, which was looted and finally closed 12 years ago following the U.S. invasion. "All the artifacts of Mosul are marked and recorded," the prime minister said. "We will track down all the pieces smuggled by Daesh [ISIS] and the terrorist groups. We will chase them with the world on our side. "This is a serious call to the Security Council and the United Nations and all peace-loving states and all the advocates of human civilization and the Islamic civilization of Mesopotamia to chase them all." On Thursday, ISIS released a video purportedly showing militants using sledgehammers to smash statues, which they described as idols. The extremists have also destroyed a number of shrines, and believed to have sold ancient artifacts on the black market to finance their bloody campaign. "Those barbaric, criminal terrorists are trying to destroy the heritage of the mankind and Iraq's civilization," al-Abadi said. "We will chase them in order to make them pay for every drop of blood shed in Iraq and for the destruction of Iraq's civilization."In Tehran, Iran offered to safeguard potentially at-risk Iraqi artifacts.
Iran wants to protect artifacts
Mohammad Hassan Talebian, a senior official at Iran's Cultural Heritage Organization, said Iran has written to Irina Bokova, the head of the UN cultural agency, and Iraqi officials to say that Iran is ready to host Iraqi ancient artifacts as long as they are at risk.
Talebian was quoted Saturday by the semiofficial ISNA news agency as saying Iran feels obligated to protect the historical relics of Iraq, a neighbour with which it shares a common history. He denounced the Islamic State group's destruction of the ancient statues.
The bloody campaign by ISIS and its Sunni allies in Iraq continued unabated across the country on Saturday:
•A series of attacks targeting public places and Shia militia checkpoints in and north of Iraq's capital killed 37 people Saturday, authorities said. The first bombs exploded near the market in the town of Balad Ruz, 70 kilometres northeast of Baghdad, killing 11 people and wounding 50.
•Two suicide car bombers later attacked checkpoints manned by Shia militiamen near the city of Samarra, killing 16 Shia fighters and wounding 31, authorities said.
•A bomb killed four people in western Baghdad, while another in Baghdad's neighbourhood of Abu Dashir killed three people and wounding eight.
•Four mortar shells also hit homes in Sabaa al-Bour, just north of Baghdad, killing three people and wounding six, police said.
Samarra and surrounding areas have been under constant attacks by ISIS, which holds about a third of Iraq and neighbouring Syria in its self-declared caliphate. Clashes between Iraqi security forces and ISIS militants followed the attack around Samarra, 95 kilometres north of Baghdad.