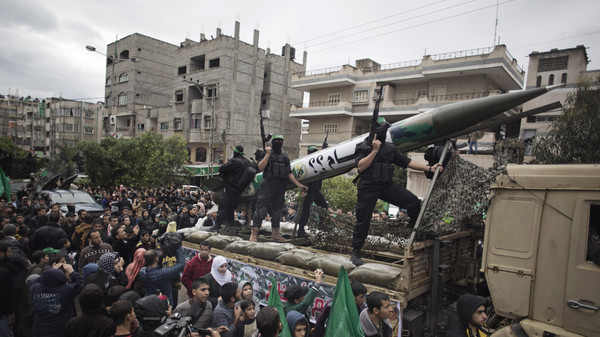 Egypt court brands Hamas a 'terrorist' group
Agence France Presse, Cairo
Saturday, 28 February 2015
An Egyptian court on Saturday branded the Palestinian Islamist movement Hamas a "terrorist" organization, a judicial source said, after it was alleged to have links with jihadists behind deadly Sinai attacks. From Gaza City, Hamas reacted by condemning what it called "a great disgrace which soils the reputation of Egypt." Since Egypt's military ousted Islamist president Mohammad Mursi in 2013, the authorities have accused Hamas of aiding jihadists who have waged a string of deadly attacks on security forces in the Sinai Peninsula.
Egypt blames Hamas, which is close to Mursi's Muslim Brotherhood, of supporting the blacklisted Egyptian movement. An Egyptian court on Jan. 31 banned the armed wing of Hamas, the Ezzedine al-Qassam Brigades, declaring it a "terrorist" group. In March last year, Egypt banned Hamas from carrying out any activities on its soil and froze the assets of the Islamist movement which controls the neighboring Gaza Strip. The court of first instance issued its verdict on Saturday after two complaints were filed against Hamas implicating it in deadly attacks against the police force and army in the Sinai, said the judicial source.
Jihadists on the peninsula have killed scores of policemen and soldiers since Mursi's overthrow, vowing revenge for a crackdown on his supporters that has left more than 1,400 people dead. Saturday's ruling comes just days after Egypt adopted a new anti-terrorism law allowing the authorities to close the premises of any declared "terrorist" organization, and to freeze its assets as well as those of its members. The court ruling was "a desperate attempt to export Egypt's crises," charged Sami Abu Zuhri, the Hamas spokesman in Gaza City. It amounted to "a dangerous escalation against the Palestinian people and the forces of Palestinian resistance" against Israel. But it would have "no impact on Hamas which treats with respect all the sons and leaders of the Arab world, except for some influential persons in Egypt," said Abu Zuhri.