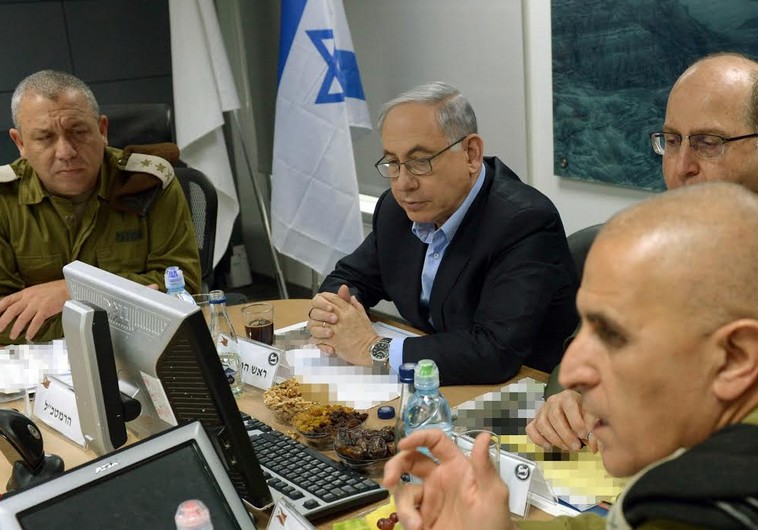 Netanyahu: P5+1 giving Iran green light to have nuclear bomb-making capabilities


By HERB KEINON, TOVAH LAZAROFF/J.Post/02/24/2015
The recent leaks regarding the emerging deal between Iran and world powers is only strengthening Israel's concerns, Prime Minister Benjamin Netanyahu said on Tuesday. Speaking a week before he is scheduled to warn Congress about the agreement, Netanyahu said that the deal, if signed, "will allow Iran to become a nuclear threshold state. That is, with the consent of the major powers, Iran – which openly declares its intention to destroy the State of Israel – will receive a license to develop the production of bombs." These were Netanyahu's first comments since AP reported a day earlier that the emerging deal would allow Iran to retain some 6,500 centrifuges.
According to the report, though the deal would initially freeze Iran's nuclear program, it would gradually allow it to increase activities that could enable it to produce nuclear arms in the last years of the agreement, expected to last only some 10 years."To my regret, the information that has reached me in recent days greatly strengthens our concerns regarding the agreement being formulated between the major powers and Iran," he said.
Justifying his determination to speak before Congress despite the controversy the trip has triggered, Netanyahu said the "bad agreement" that was emerging endangered Israel's future. He said he would speak to Congress because it is "likely to be the final brake before the agreement between the major powers and Iran." In Washington, at a budget hearing before the Senate Appropriations Committee on Foreign Operations on Tuesday, US Secretary of State John Kerry appeared to make a subtle dig at Netanyahu when he said that critics of the ongoing negotiations were uninformed. "The policy is Iran will not get a nuclear weapon. And anybody running around right now jumping in to say, 'Well, we don't like the deal,' or this or that doesn't know what the deal is," Kerry said.
He added that there was no deal yet. "I caution people to wait and see what these negotiations produce," he said. The P5+1 countries – the US, China, Russia, France, Great Britain and Germany – hope to reach an interim deal with Tehran in March to restrict its nuclear program. "Since 2013, we have been testing whether or not we can achieve that goal diplomatically. I don't know yet.
But [negotiations are] the most effective way to solve a problem, and we will prove that over the course of these next weeks and months," Kerry said. He said, nevertheless, that the sixpath talks had made "inroads." "We've halted the progress of Tehran's nuclear program, we've gained unprecedented insight into it, and we expect to know soon whether or not Iran is willing to put together an acceptable and verifiable plan," he said.
Netanyahu's comments on Iran came during a tour of the IDF's Southern Command headquarters. He was accompanied by Defense Minister Moshe Ya'alon, IDF Chief of Staff Lt.- Gen. Gadi Eizenkot and OC Southern Command Maj.-Gen. Sami Turgeman. "Even after Hamas took the severest blow in its history, we are continuing to monitor its activities and we are prepared for any and all developments," Netanyahu said during the visit. "It must be understood that Hamas, Islamic Jihad and all the other terrorist organizations are acting with the full support of Iran, which has openly declared its intention to destroy the State of Israel."
Meanwhile, the Prime Minister's Office declined to comment on an invitation extended to Netanyahu by two senior Democratic senators, Richard Durbin of Illinois and Dianne Feinstein of California, to hold a closed-door session with Democratic lawmakers while in Washington. The goal, the senators said, was to maintain Israel's dialogue with members of Congress from across the political spectrum.
"We believe such a venue would be a wholly appropriate opportunity to discuss the range of issues that face our two countries," the letter said. It stated that America's support for Israel had "historically and wisely been bipartisan, an approach that has well served the strong ties between our two nations." Noting that the invitation for Netanyahu to speak before Congress had been issued by House Speaker John Boehner without consultation with either the Democratic leadership of Congress or the White House, the senators wrote that "this unprecedented move threatens to undermine the important bipartisan approach toward Israel – which as long-standing supporters of Israel troubles us deeply."
Durbin and Feinstein added that the move "sacrifices deep and well-established cooperation in Israel for shortterm partisan points – something that should never be done with Israeli security and which we fear could have lasting repercussions." An aide to Durbin was quoted by Reuters as saying the meeting would be in addition to the prime minister's speech to Congress, not in place of it. Neither Durbin nor Feinstein has made clear publicly whether they intended to be present for the address.