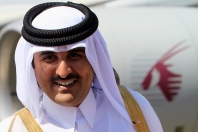 Uneven Diplomacy: The U.S.-Qatar Relationship


Simon Henderson/Washington Institute
February 23, 2015
 The president should use tomorrow's visit to channel Qatar's diplomatic energies in directions more in line with U.S. regional policy.  When Emir Tamim bin Hamad al-Thani visits the White House on February 24, President Obama will have to contend with a Qatari diplomatic scorecard that has significant marks on both sides of the ledger. Given its historically awkward relations with neighboring Saudi Arabia and its shared ownership with Iran of the world's largest offshore natural gas field, Qatar looks to the United States as its main security guarantor. That has suited the U.S. military, which has used the giant al-Udeid Air Base outside Doha for operations over Iraq and Afghanistan. But Qatar, with a population of around two million, of which only some 10 percent are citizens, has an often quirky tendency to demonstrate its independence. Past sins include parading Stinger missiles illegally acquired from Afghanistan mujahedin, allowing its Aljazeera satellite television channel to broadcast inflammatory and false reports that led to American deaths, and financing terrorism.
 Indeed, as deputy CIA chief David Cohen told a Washington audience last March while serving as the Treasury Department's undersecretary for terrorism and financial intelligence, "Distressingly, Iran is not the only state that provides financial support for terrorist organizations. Most notably, Qatar, a longtime U.S. ally, has for many years openly financed Hamas, a group that continues to undermine regional stability. Press reports indicate that the Qatari government is also supporting extremist groups operating in Syria. To say the least, this threatens to aggravate an already volatile situation in a particularly dangerous and unwelcome manner."
One assumes that Doha has at least partly assuaged Washington's concerns on this issue as part of the price for Tamim gaining entry to the Oval Office. Yet the new emir, a thirty-four year-old who took over from his father in 2013, likely does not regard the trip as an occasion for humility. For one thing, he is arriving from Japan, which rivals the United States as Qatar's most important commercial partner. Japan buys more liquefied natural gas from Doha, the world's largest exporter of LNG, than any other country; it is also a significant purchaser of Qatari crude oil and refined products. Notably, Tamim will head to Houston after his White House meeting to attend a dinner hosted by Exxon Mobil.  The emir's diplomatic philosophy seems to include deliberately involving Qatar in issues where it can depict itself as a useful intermediary. He will likely expect endorsement of this role in tomorrow's summit, his first meeting with Obama as emir.
For the president's part, his talking points with Tamim will likely include Syria, where Qatar and Turkey had until recently been supporting more extremist opponents of the Assad regime than Washington is prepared to contemplate. The administration also wants to maintain indefinite use of the al-Udeid base, and it hopes that Doha can continue serving as a point of diplomatic contact with the Afghan Taliban in order to facilitate possible peace talks. In addition, the president will want to gauge the state of Qatar's relations with Gulf Arab neighbors such as Saudi Arabia and the United Arab Emirates, which last year were plagued by a diplomatic squabble. Past claims that these differences had been patched up were undermined last week when Qatar withdrew its ambassador from Cairo to protest Egyptian airstrikes on "Islamic State"/ISIS fighters in Libya, prompting an Egyptian official to accuse Doha of supporting terrorism — remarks that won swift Gulf condemnation which was then rapidly amended.
From the U.S. point of view, Qatar's financial and hydrocarbon wealth and accessible military facilities make it a major player in the Middle East despite its small size and sometimes infuriating actions. President Obama has to convince Emir Tamim of the value of working together, and the dangers of not doing so.
 **Simon Henderson is the Baker Fellow and director of the Gulf and Energy Policy Program at The Washington Institute.