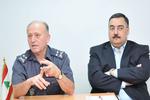 Lebanese Justice Minister Ashraf Rifi Slams Nasrallah's Call to Join Fight against Terror, Seeks to Criminalize Combating Abroad


Naharnet /21/02/15
 Justice Minister Ashraf Rifi stated that defense strategies all over the world include articles on criminalizing fighting outside of home soil, adding that he is seeking to devise an article on this matter for Lebanon's strategy, reported Kuwait's al-Rai newspaper.  He told the daily in an interview set be published on Sunday: "I insist on criminalizing any fighting of Lebanese, whether they be Hizbullah or anyone else, on foreign soil."
 "Foreigners fighting on Lebanese soil should also be criminalized," he added.  The article on combating terrorism was recently introduced to the ongoing dialogue between the Mustaqbal Movement and Hizbullah.  "The combating of Lebanese on foreign soil is among the reasons of internal instability in Lebanon and it has contributed to the al-Nusra Front and the Islamic State groups' infiltration in the country," Rifi said.
 Commenting on Hizbullah chief Sayyed Hassan Nasrallah's call for other sides to join the fighting in Syria and Iraq, the minister noted: "Who said that we can participate in saving an oppressive and totalitarian ruler as Bashar Assad or become part of the Persian project that cannot be victorious?" "Nasrallah does not know how to read the course of history if he is under the illusion that he will emerge victorious," he added.
 "I believe that Hizbullah is headed towards suicide," he continued.  "I have repeatedly said that the Iranian agenda will not last for long. The greatest evidence of this is the fact that it has not been able to maintain its control over regions where it wields influence," he explained.  "Iran's agenda can create instability, but it is incapable of achieving any decisive victory," Rifi stated.
"The more it expands its fronts, the faster it will bring about its suicide," he remarked.  "The Iranians have not achieved a decisive victory on any front so they should halt their delusions and myths," he said.  On Nasrallah's proposal that the Lebanese and Syrian governments and armies should coordinate their efforts against extremist threats, Rifi wondered: "Should we coordinate with Assad's army? As a minister, I cannot agree to such a suggestion."
"Is Bashar Assad's criminality less severe than that of al-Nusra Front and the IS?" he asked.  "Isn't the killing of children with barrel bombs a crime against humanity? We will not allow coordination with the Assad regime or its army," he declared.  Nasrallah had declared during a speech on Monday: "I tell those who are asking us to withdraw from Syria, 'Let us go together to Syria and Iraq and to any place that contains a threat to the future of our nation, because that is the right way to defend Lebanon'."  On February 14, head of the Musatqbal Movement MP Saad Hariri questioned the purpose of Lebanese fighting abroad, asking: "Where is Lebanon's interest in sending Lebanese youths to fight in Syria and Iraq and to interfere in Bahrain's affairs."