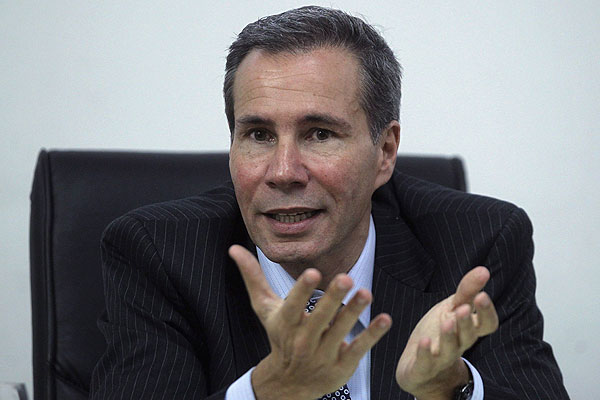 A fake Iranian "defector" assassinated Argentine prosecutor Alberto Nisman


DEBKAfile Exclusive Report February 19, 2015,
A special investigation conducted by debkafile's intelligence, Iranian and counter-terror sources has discovered that the Argentine-Jewish prosecutor Natalio Alerto Nisman, 51, was murdered on Jan. 18 by an Iranian agent, who had won his trust by posing as a defector under the assumed name of Abbas Haqiqat-Ju. His killer struck hours before Nisman showed the Argentine parliament evidence that President Cristina Kirchner and Foreign Minister Hector Timerman had covered up Iran's complicity in the country's worst ever terrorist attack, the 1994 bombing of the Buenos Aires Jewish community center in which 85 people died, two years after 29 people were killed by a blast at the Israeli embassy.
Nisman's evidence had it been presented would have ultimately proved Iran's culpability in the two terrorist attacks.
According to our investigation, two Iranian Intelligence Ministers, the incumbent Mahmoud Alavi and his predecessor Hojjat-ol-Eslam Heydar Moslehi, had for nine years wracked their brains for a way to silence the Jewish prosecutor, ever since he began probing the two attacks. They worked hand in glove with senior Argentinean government and intelligence agencies.
(In Iran, intelligence ministers take their orders directly from supreme leader Ayatollah Ali Khamenei although they attend cabinet meetings.)
Tehran's clandestine hand deep in the Americas
Nisman had made the powers-that-be in Tehran jittery, because a) he was ambitious, honest and a courageous searcher after the truth; b) he was Jewish and had active connections with Israel; and c) in pursuit of his inquiry, he spread his net wide to include contacts with the Israeli Mossad and the American CIA.
Furthermore, in 2006, after three years on the job, the prosecutor had put together an intelligence file on the unbelievable scope of Iranian intelligence penetration, using Lebanese Hizballah agents, deep into the government and intelligence establishments of many Latin American countries – not only Argentina, but also Brazil, Uruguay, Chile, Surinam, Trinidad-Tobago and Guyana.
No sooner was this file put before the government in Buenos Aires when it was locked away to prevent its publication.
Undeterred, Nisman went to New York in 2007 and put the contents of his file orally before senior CIA officials and UN Secretariat bureaucrats. His briefing also uncovered scores of Iranian diplomats and agents operating in the United States under cover out the Pakistani embassy in Washington.
It is hardly surprising that in no time, the information leaked from the UN Secretariat to Tehran, adding to the urgency of getting rid of this thorn in the side of the Islamic Revolution's clandestine operations against the West.
Bribery wouldn't work on Nisman
Iran's security organs are no strangers to political assassination at home and among its exile communities, in such places as France, Austria and Germany. But at first, they tried to win the Argentinean round by bribery, which had always worked before in Buenos Aires. For $10 million, Carlos Saul Menem (Argentine president from 1989 to 1999) and his minions agreed to close the investigation of the two terrorist bombings in its tracks.
Tehran handled President Kirchner differently. She was promised economic and trade benefits for Argentina, along with financial perks for government and intelligence heads. debkafile's Buenos Aires sources report that, at first, Kirchner feared that Nisman's sudden demise would bring her under suspicion at the cost of her presidency. But Tehran assured her through their private channels of communication that the deed would be accomplished cleanly without leaving the slightest trace. Some of the heads of Argentine intelligence eagerly adopted the assassination plan and offered their assistance.
The first step was taken in 2010 when an Iranian contacted prosecutor Nisman to request a secret meeting. He presented himself as a former high Iranian intelligence official who had defected, fled to Denmark and was willing to fly to Buenos Aires with a valuable cache of confidential documents relating to the Jewish Center bombing.
Fake defector spent 4 years to build trust
He claimed that those documents exposed in detail the complicity in the crime of Mohsen Rabbani, then senior intelligence official at the Iranian embassy in the Argentine capital.
According to debkafile's inquiry, Rabbani was the senior plotter of the operation.
The agreed rendezvous took place in Buenos Aires. The phony "defector," who introduced himself as "Abbas Haqiqat-Ju," handed Nisman genuine documents containing evidence of Iran's involvement in the bombings. This consolidated his role as an enemy of the regime who was ready to betray its secrets.
In a relationship lasting four years, the phony defector convinced the prosecutor of his good faith. The Argentinean called on the help of colleagues in friendly agencies to check some of the confidential material he was given and found them to be the real article. Ergo, their donor was a genuine Iranian dissident.
By December 2014, Nissen was ready to submit a finished 300-page report documenting his findings on Kirchner's role in covering up the investigation of Iran's terrorist crimes two decades after the event.
Tehran decided that the bird was ready for plucking and it was time for Haqiqat-Ju to cash in on his long investment in trust-building.
In a secret call to Nisman, the fake defector reported that a fellow high-ranking Iranian intelligence officer had managed to flee Tehran with a suitcase full of very important papers that shed valuable light on the criminal collaboration between Argentinean security agencies and Iranian operatives in the bombing attack on the Jewish center.
Three knocks on the door to murder
He explained that the second defector required a sterile location for their meeting. Haqiqat-Ju warned the prosecutor that he must keep mum about the rendezvous. Argentine intelligence was riddled with Iranian agents and the slightest hint of the meeting would give the game away to Tehran. Above all, if he wanted to see the new documents, he must get rid of the 10 bodyguards assigned him and be alone when the guest arrived at his home on the 13th floor of the Le Parc tower in the Buenos Aires district of Puerto Madero.
That guest would signal his arrival with three knocks on the door. Nisman must not let the Iranian wait but admit him at once. Before setting the scene for the assassination, Haqiqat-Ju had secretly rented an apartment next door. It was he who knocked on the door three times on Jan. 18. The prosecutor opened the door to his murderer. As his confidant, he knew exactly where the small gun Nisman had borrowed from a friend was to be found and used it to shoot him dead.
The Iranian assassin then escaped through the central heating system connecting the two flats and assumed a disguise. His Argentinean confederates had earlier disarmed the security cameras in the building and so he was able to walk out, reach the airport and fly out on a false passport to Montevideo, thence to Dubai and finally to Tehran.
His murderer was long gone when the prosecutor was found lifeless in a pool of blood in his bathroom, killed by a single bullet to the head from a small .22-caliber gun. On Feb. 18, hundreds of thousands of people marched in his honor in Buenos Aires and called for justice.