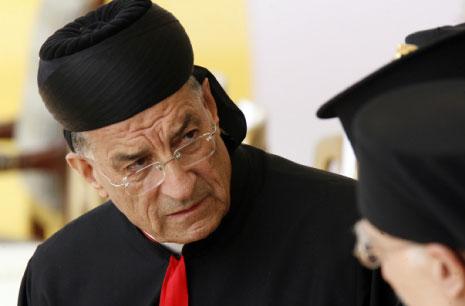 Controversial Maronite Patriarch Beshara Al Raei is Back in Lebanon
Elias Bejjani
February 19.15
Today, late in the afternoon, the Controversial Maronite Patriarch Beshara Al Raei returned Back to Lebanon from the Vatican where he has been for the last three weeks for mere personal and unjustified reasons. It is not any more a secret to all the Lebanese in both Lebanon and Diaspora that this Maronite clergymen is political unstable, moody, conceited, hostile and does not recognize or welcome any criticism in regards to his derailed anti Lebanese alliances, political stances or even his questionable administrative styles, procedures and processes.
In summary, politically and patriotically, he is seen by the majority of the Maronites as totally anti Lebanese and anti-Maronite.
His most dangerous derailment lies in the practical fact that he is against the Maronite historical convictions that completely and fiercely honors Lebanon's freedom, democracy, independence, sovereignty, multi-culturalism, common living and neutrality.
Since his election almost three years ago he has been spending most of his time touring many countries in a bid to advocate for the Syrian-Iranian Axes Of Evil.
In all his world-wide tours that included the USA, Canada, Australia, some Arab states, and numerous European countries he has been campaigning and promoting boldly and openly to the Syrian-Iran Axis of evil.
In Lebanon, He is an ally to the terrorist Hezbollah, and regionally he sees in the Syrian Butcher Bachar Al Assad a guardian for the minorities in the middle east and a role model in democracy.
Tomorrow he is expected to chair the Maronite Bishops' monthly meeting that routinely issues a release addressing both ecclesial and national issues. Some observers are predicting that tomorrows release will be somewhat different from previous blurred and superficial ones.
Naharnet web site posted today this below piece of news addressing  his return to Lebanon:
"Maronite Patriarch Beshara al-Raei revealed Thursday that the Vatican is exerting major efforts to end the presidential vacuum in Lebanon, as he hailed the recent rapprochement between Free Patriotic Movement chief MP Michel Aoun and Lebanese Forces leader Samir Geagea."The Vatican spares no chance or effort with all countries for the sake of the election of a new president in Lebanon," al-Raei said at Beirut's airport upon his return from Rome.
Media reports said in recent days that the patriarch's return will give a new impetus to talks on the presidential crisis, noting that he will try to launch a dynamism that may take the form of a broad Christian meeting or an invitation for the four Maronite leaders to meet once again in Bkirki.The presidential seat, the country's top Christian post, has been vacant since Michel Suleiman's term ended on May 25, 2014. Parliament failed to secure the needed quorum to elect a new president despite having held 19 sessions to that end, with the Aoun-Geagea electoral rivalry one of the main reasons. Asked about the recent rapprochement between the two leaders and the ongoing talks between their two parties, al-Raei said Aoun and Geagea had always talked to each other in Bkirki since he assumed his post three years ago. On Wednesday, Geagea wished Aoun a happy birthday, hoping that tensions would be eased between the two sides.He tweeted: "I hope that we would have reached a complete political agreement before your birthday next year."Aoun in turn thanked Geagea for the wishes, hoping their "agreement" will be achieved "by the end of Lent."