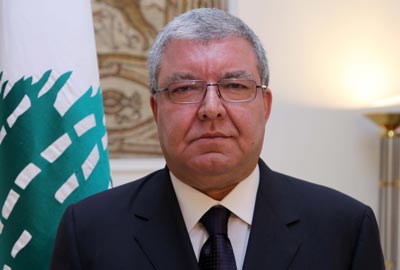 Future, Hezbollah open talks on anti-terror strategy


Hussein Dakroub/The Daily Star/Feb. 19, 2015
 BEIRUT: The Future Movement and Hezbollah have begun discussing a joint national strategy to fight terrorism, Interior Minister Nouhad Machnouk said Wednesday night, reflecting the two parties' concern over growing security threats posed by Islamist militants entrenched in areas near the border with Syria. Machnouk's remarks came as the Future Movement and Hezbollah ended a new round of talks Wednesday night focusing on defusing sectarian tensions and ways to prevent the threat of ISIS and the Nusra Front from destabilizing the country. "The dialogue [between the Future and Hezbollah] is based on finding a constitutional mechanism to implement this [anti-terror] strategy. We are fighting a new kind of war different from wars that we were accustomed to in the past," Machnouk said in an interview with Future TV.
Machnouk, one of three senior Future officials representing the movement in the dialogue with Hezbollah, said the issue of fighting terrorism was discussed Wednesday for about three hours, but no conclusive results were reached as further talks were needed.
 "We need to find a national common ground to fight terrorism with the participation of everyone. We discussed this issue for three hours today without reaching any result," he said, "but we have outlined our position based on [former premier Saad] Hariri's speech. The party's [Hezbollah's] leaders have also outlined some stances and asked for time to continue discussion of this point."But Machnouk stressed that any anti-terror strategy should be handled by the state alone, rather than by political parties. "The only cover capable of finding common ground [for an anti-terror strategy] is the state," he added.
He said the fire of the 4-year-old war in Syria had spread to Lebanon. "Takfiri groups exist on Lebanese territories. The Army and security forces know this," he added. "There are terrorist organizations along all the outskirts adjacent to the Syrian border. These organizations have tools to do things that we do not want to happen," he added. Machnouk said the dialogue with Hezbollah which began in late December was serious and would continue, stressing that its success depended on shrouding it in secrecy.
Wednesday's sixth round of dialogue between the Future Movement and Hezbollah, held at Speaker Nabih Berri's residence in Ain al-Tineh, came against the backdrop of fiery speeches by Hariri and Hezbollah leader Sayyed Hasan Nasrallah.
Addressing a Future rally at the BIEL complex last Saturday to mark the 10th anniversary of the assassination of his father, former Prime Minister Rafik Hariri, Saad Hariri lambasted Hezbollah's military intervention in Syria, calling it an act of madness. He renewed Future's calls on Hezbollah to quit Syria. Hariri also called on Lebanese parties, especially Hezbollah, to work on a national strategy to fight terrorism.
Responding to Hariri's speech, Nasrallah, in a televised speech two days later, rejected calls by his rivals for the party to withdraw its fighters from Syria and invited them instead to join Hezbollah's battle against extremists in Syria and Iraq. However, he supported Hariri's call for a national anti-terror strategy. Machnouk said there was one thing in common between Hariri's and Nasrallah's speeches: Finding a Lebanese strategy in which all the Lebanese would participate to fight terrorism. He ruled out any key appointments in the military and security agencies before the election of a new president. He said the term of Army commander Gen. Jean Kahwagi and Internal Security Forces chief Maj. Gen. Ibrahim Basbous would be extended. The Future Movement and Hezbollah said in a statement after Wednesday's meeting that they continued their dialogue in "a serious spirit on the issues under discussion. They positively assessed the security plan in the Bekaa and the steps taken to remove [political] flags and pictures in various areas and serious commitment to it."
The participants called on "political parties and leaders to help in halting the phenomenon of gunfire on occasions whatever the reason is," the terse statement said. It added that the two parties addressed mutual calls for reaching a national strategy to fight terrorism. "Discussion was opened on its mechanism," the statement.
In addition to senior Future and Hezbollah officials, the meeting was also attended by Finance Minister Ali Hasan Khalil, a political aide to Berri. It was not immediately clear whether the 9-month-old presidential deadlock was discussed during the meeting.  The two rival influential parties have voiced support for a government security plan being implemented by the Lebanese Army and security forces in the northern Bekaa Valley region to crack down on kidnappings for ransom, vendettas, drug smuggling and car thefts.
Separately, Hariri hosted a dinner for MP Michel Aoun at his Downtown Beirut residence Wednesday. Aoun, accompanied by his son-in-law, Foreign Minister Gebran Bassil, met Hariri, with whom he discussed the political situation in Lebanon and the latest regional developments, according to a statement released by Hariri's media office.
Bassil attended last week's Future rally to mark the 10th anniversary of the assassination of Hariri's father. Aoun last year launched a dialogue with the Future Movement in an attempt to win Hariri's support for his bid for the presidency.Meanwhile, Parliament failed Wednesday to elect a new president over a lack of quorum, prompting Berri to postpone the session until March 11. It was the 19th abortive attempt by Parliament since April to end the vacuum in the country's top Christian post as the rival political factions remain divided over who should be chosen as a successor to former President Michel Sleiman. The repeated failure to elect a president has paralyzed Parliament's legislation and is threatening to cripple the government's work.