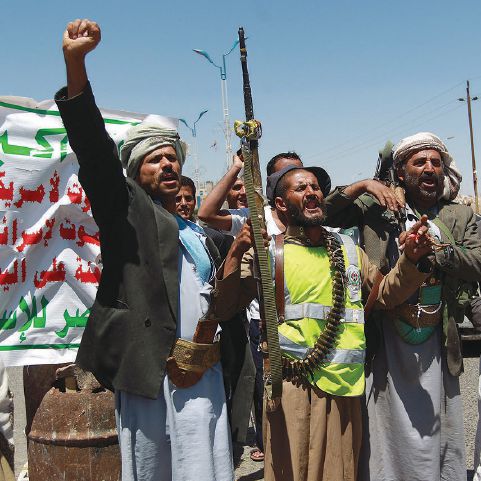 Occupied Sanaa and the besieged president


Abdulrahman al-Rashed/Al Arabiya
Tuesday, 17 February 2015
The U.N. Security Council has come to a rare consensus on rejecting the Houthi militias' seizure of power in Yemen. But there's no real appetite for military action or for dropping the quest for reconciliation – which U.N. envoy to Yemen Jamal Benomar is holding on to and trying to achieve. There is actually more than one reason to avoid a military confrontation and just settle with a political solution.
The first reason is that foreign military intervention could weaken Houthi militias in the areas they have seized and this will neither be enough to restore the legitimacy of the transitional authority nor usher in an alternative authority. Rather, a military action could strengthen the party of ousted President Ali Abdullah Saleh, who has been conspiring with the Houthis to return to power and has been playing a destructive role in the post-revolution Yemen. Ironically, Saleh has recently expressed rejection to the Houthis that he helped occupy Sanaa so they could later propel him to power.
What if the Houthis are able to buy time and consolidate their powers and tighten their grip on state institutions?
Abdulrahman al-Rashed
A military option could thus expel the Houthis but it will not liberate the capital. The second reason is that no one wants to see Yemen turn into another Afghanistan by relying on foreign powers to sort out tribal and partisan struggles. This is a long and rough road and success is not guaranteed. Another reason is the option of a political solution is still viable despite the U.N. envoy's failure and despite the Houthis' failure to stick to their promises.
What if the Houthis are able to buy time and consolidate their powers and tighten their grip on state institutions? In this case, will it be possible to defeat them, especially after ruling out the international military solution?
I think the people of Sanaa will rise against the Houthis, the invaders who came from the north. There's a clear pattern of tribes turning against Houthis in North Yemen. In addition, people from the South Yemen openly reject the Houthis and are preparing to confront them and deprive them of oil resources. These three parties will weaken the militias of Abdulmalik al-Houthi who showed he's incapable of presenting a political project that enables Yemenis to form an all-inclusive government. This man thinks he's a leader and that what's happening is a revolution. Truth be told, he's a militia leader and what's happening is an armed robbery resulting from a power vacuum. This vacuum emerged after the ouster of former president Saleh.
Even with the help from Iran and from Saleh, the Houthis will not be able to provide for the simplest needs of the Yemeni people whose living conditions have deteriorated since the revolution erupted against Saleh's regime at the beginning of 2011.