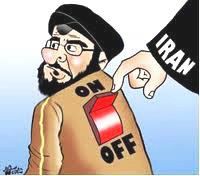 Sayyed Nasrallah to those Who Criticize Hezbollah on Syria Fight: Join Us
Hezbollah Manar Web Site
Batoul Wehbe /February 17/15
Hezbollah Secretary General Sayyed Hasan Nasrallah called on Monday for those who urge Hezbollah to withdraw from Syria to join the party in its fight against Takfiri terrorists in Syria, Iraq and everywhere as the terrorists set Mecca and Medina their main target. Sayyed Nasrallah"I call for those who are urging us to withdraw from Syria to join us in our fight in Syria. Let's go to Iraq and everywhere to face off this threat because this is the right way to defend Lebanon," His eminence said.
In a televised speech during a ceremony commemorating the martyrdom of Leaders Sheikh Ragheb Harb, Sayyed Abbas Al-Mousawi and Haj Imad Moughniyeh, Sayyed Nasrallah warned the so-called ISIL terrorist group's main target was Saudi Arabia, Mecca and Medina specifically and not only Baghdad, noting that its 'caliphate' would not attain its goal without enforcing dominance on Islam's two holiest sites. He said the Takfiri danger was threatening Islam as a whole and not only several regimes.
Balloons instead of bulletsAs soon as the S.G. began his speech, yellow and white balloons were launched in the air from Al-Qaem Mosque in Beirut's southern suburb, Dahiyeh, in a civilized move called for by Hezbollah to substitute the bad habit of firing bullets in the air. "I call upon you, insisting that everybody has to categorically refrain from shooting in the air in view of the religious and the legal considerations," His eminence said in a statement released on Sunday. In his Monday speech, Sayyed Nasrallah saluted supporters for their obedience which marked a precedent in the history of Lebanese leaders' speeches.
The secretary general used the bulk of his speech to talk about the Takfiri threat that was increasing day after another. "Confronting ISIL militarily and politically amounts to defending Islam. We consider ourselves, in Hezbollah, that we are defending Islam as a whole. The origin of the brutality and violence of ISIL Takfiris is Hollywood. Any behavior by he who pretends to be a Muslim but contradicts the rules of humanity is not a Muslim at all."He said that Yemen's Houthis were also standing against ISIL and preventing their expansion praising the movement as "rightful", "brave" and "wise."
"All world countries consider ISIL a huge threat, except Israel. ISIL agenda had immensely served the Israeli one," Sayyed Nasrallah assure, adding that we should search for the Israeli, CIA, KGB hands in ISIL actions and terrorism. "Jordan cannot fight ISIL in Iraq and support Al-Nusra in Syria, terrorist groups are all faces of the same coin.""People in the region must not wait for an international strategy to fight the Takfiri threat. Everybody should have the initiative to face this threat as we are doing," he said. From here, Sayyed Nasrallah saluted the resistance who are fighting this threat in difficult circumstances. "We must renew the salutation to the young men who are deployed on the heights of mountains, the officers and soldiers of the army and security forces and the men of the resistance. We also salute the officers and soldiers of the Syrian army who are preventing the dispatch of bomb-laden cars. They have all our salutations and appreciation amid this snow and cold."
"Italy's defense minister has said that her country is willing to join an international anti-terror coalition because terrorism was now only 350 kilometers away from the Italian border. Terrorism is on our border in the mountains and some parties are speaking of right and wrong!" Sayyed Nasrallah wondered. His eminence threw his weight behind calls for a national counter-terrorism strategy to confront the Takfiri threat. "In front of the Takfiri threat, we support the call for placing a national strategy for counter-terrorism. We support the Bekaa security plan, which was launched last week, and call for more efforts to be exerted in developing the Bekaa region. Alongside the security plan there are two issues — the development plan in Baalbek and Hermel as well as in Akkar, and resolving the problem of tens of thousands of people who are wanted over minor or old offenses." Unfortunately, he said, We agree on the enemy that is terrorism and disagree over another enemy, which is 'Israel'.
Addressing Bekaa residents, Sayyed Nasrallah said that it is the responsibility of the state, and not Hezbollah or Amal Movement, to enforce security in the area.
His eminence urged for coordination between the Lebanese and Syrian armies before the snow melts on eastern border and called on the government to coordinate with Damascus over the issues of refugees and security. Concerning the relations between Hezbollah and the Free Patriotic Movement, Sayyed Nasrallah called for deepening and consolidating the relation and urged for similar agreements on the national level.
Region's Fate Interrelated
His eminence extended his condolences to the former premier Rafik Hariri family and the families of other people who were killed during the 2005 Beirut blast. He said Hezbollah still supports the dialogue with Al-Mustaqbal movement saying it yielded positive atmosphere. "We support the dialogue with Al-Mustaqbal movement and we'll continue hoping to reach a happy ending."
The secretary general criticized the logic of isolating Lebanon from regional changes as "unrealistic." "The storm is coming and carrying snow. As Lebanese we can't tell the snow to hold on and wait. Lebanon has always been affected by regional changes," Sayyed Nasrallah said as he assured that the fate of the whole world is being cooked in the Middle East region. Lebanon cannot disassociate itself from this fate, he said, adding the fate of Lebanon, Iraq, Syria, Jordan, Egypt, Libya…etc are all interrelated.
Sayyed Nasrallah dismissed criticism against Hezbollah for supporting the Bahraini revolution, saying: those who criticize our stance from Bahrain should not interfere in other countries affairs, especially Syria. "We did not call for toppling the regime in Bahrain, we only supported those who were calling for dialogue. There is a terrified and weak government in Bahrain that fears any word of right, it even threatens to expel the Lebanese."
On the ISIL crime against Egyptian Copts, Sayyed Nasrallah strongly condemned the brutally execution of the 21 Coptic Christians who were decapitated by ISIL, and offered condolences to their families and country."We extend our condolences to the Egyptian people and the Coptic Church, this crime has affected both Islam and Christianity."
Israel Haunted by Moughniyeh's Blood
Hezbollah leader threatened Israel would always be 'haunted' by the blood of Martyr Leader Imad Moughniyeh, who was assassinated in 2008. He also spoke of Moughniyeh's son, Jihad, who was also martyred in an Israeli strike on Syria's Quneitra. "The blood of the martyr Jihad has revived the memory of the commander Hajj Imad Moughniyeh and returned this brilliant and historic leader to the forefront of events once again, confirming that his presence is still strong in the minds of friends and in the mind of the enemy, which will always be haunted by Imad Moughniyeh's blood," he said.
He also praised Jihad for following the footstep of his father rather than choosing the materialistic life, "from this platform Jihad pledged allegiance to the resistance way and went to Golan where he was martyred," drawing a path in which past remains connected to the present and future as well.
His eminence also said that when the Zionist entity was occupying our land, Sayyed Abbas, Sheikh Ragheb and Hajj Imad predicted that 'Israel' will leave our land. "It is important to learn loyalty and honesty from them and to learn the responsibility of making a decent and dignified future for our people and nation."
Nasrallah backs Hariri's anti-terror stance
Hussein Dakroub/Hashem Osseiran/The Daily Star/Feb. 17, 2015
BEIRUT: Hezbollah leader Sayyed Hasan Nasrallah voiced support Monday for former Prime Minister Saad Hariri's call for a national strategy to fight terrorism, while exhorting the Lebanese Army to get ready to face threats from Islamist militants near the border with Syria when winter ends.
He also prodded the rival Lebanese factions to resume talks to break the 9-month-old presidential deadlock and not to bet on regional changes to elect a new president.
Speaking at an annual rally to commemorate the Israeli assassinations of ex-Hezbollah chief Sayyed Abbas Musawi, commander Imad Mughniyeh and Sheikh Ragheb Harb, Nasrallah devoted most of his speech to highlighting the danger posed to the entire world by ISIS and the Nusra Front, Syria's Al-Qaeda affiliate, after they committed atrocities that tarnished the image of Islam. He called for combined global action to confront the two militant groups, which have beheaded and burned to death some of their captives.
"We in Hezbollah, in the face of the danger of terrorism, support the call for drawing up a national strategy to fight terrorism. The political parties can agree on this," Nasrallah said, speaking through a huge screen via a video link at the rally held at a Hezbollah complex in Beirut's southern suburbs. The rally was attended by hundreds of Hezbollah's supporters waving the party's yellow flags, a number of Hezbollah lawmakers and political and religious figures.
Nasrallah was responding to Hariri, who called for such a plan in a speech Saturday, noting that terrorism is a common enemy.
The Hezbollah chief warned of attacks by ISIS and the Nusra Front when the snow melts along Lebanon's border with Syria where the two groups are entrenched. He called on the Lebanese Army to prepare to face jihadi threats.
"There are Daesh [ISIS] and the Nusra Front at the opposite eastern mountains [in Syria]. When the snow melts, the state must make up its mind on how to deal with this danger that exists on hills and mountains," Nasrallah said. He renewed his support for the Army and security forces in their battle against terrorism.
Nasrallah called for coordination between the Syrian and Lebanese governments and their armies to face the jihadi threats and the Syrian refugee crisis, saying Lebanon should not be wary of a re-emergence of Syrian tutelage over the country, describing it as a thing of the past.
Referring to the presidential vacuum after Parliament's failure to choose a successor to former President Michel Sleiman, Nasrallah called on the March 8 and March 14 parties to resume talks to break the deadlock and not to wait for the outcome of the U.S.-Iran negotiations on Tehran's nuclear program or a Saudi-Iranian dialogue. "I say to all those who are keen on preventing the [presidential] vacuum, do not wait for changes in the region and abroad because the region is headed for further confrontations and crises," he said. "Let's resume internal efforts to end this issue."
Nasrallah said Hezbollah would continue dialogue with the Future Movement, which he said had produced "positive results within our expectations."
"We hope to reach a positive and good conclusion," he said. He reiterated his support for talks between any rival parties in Lebanon.
Responding to Hariri's fresh call Saturday on Hezbollah to withdraw from the war in Syria, Nasrallah invited his rivals to join the party's battle against extremists that he said had their sights set on taking over as much territory as possible.
"To those who call for Hezbollah's withdrawal from Syria, I invite you to come with us to Syria … and I invite you to come with us to Iraq," he said.
Nasrallah said that ISIS' main target was Saudi Arabia, and Mecca and Medina specifically, noting that its self-declared caliphate would not be complete without enforcing dominance on Islam's two holiest sites.
Nasrallah warned that the takfiri movement represented by ISIS posed a threat to all governments, regimes, peoples and armies in the world. "Daesh poses a threat to Islam as a religion and as a message," he said. "Today, the entire world has conceded that this takfiri movement, Daesh, is posing a threat to the world and the region. Only Israel does not consider it to be a threat."
He claimed that the Israeli intelligence agency, Mossad, the Central Intelligence Agency and the British Intelligence were behind the creation of ISIS.
Nasrallah offered support for the Bekaa Valley security plan launched last week, saying that its implementation came late. Addressing Bekaa Valley residents, Nasrallah said that it is the responsibility of the state, and not Hezbollah or the Amal Movement, to enforce security in the area.
Security forces last week began raiding towns across the northern Bekaa to crack down on theft and the illicit drug trade. At least 137 suspects have been rounded up since the raids began, according to official figures.
The security plan requires a development plan to go along with it, Nasrallah said, such as the construction of hospitals and schools.
Speaking two days after Lebanon marked the 10th anniversary of the assassination of former premier Rafik Hariri, Nasrallah extended his sympathies to the Hariri family and the families of the 21 others who were killed during the Feb. 14, 2005, car bomb explosion in Beirut.
Nasrallah: Lebanon's fate entwined with region
The Hezbollah chief argued against Lebanese neutrality.
BEIRUT –Agencies 16.02.15/ Hezbollah chief Sayyed Hassan Nasrallah called on Lebanon to pro-actively involve itself in regional developments to protect itself and called for security coordination between Damascus and Beirut. "We must not wait for anyone, we must take the initiative," the Hezbollah chief said Monday in a televised address during a ceremony commemorating the assassinations of top party leaders. He slammed the 2012 Baabda Declaration agreed upon by Lebanon's leaders calling for the country to avoid regional entanglements, describing the policy as mere "pretty words and poetry." "The Lebanese people cannot tell a hurricane to stop at our border because we have our own weather," Nasrallah said, stressing that the "region has been shaken upside down." "The fate of Lebanon is being decided in the region… and he who wants to decide Lebanon's fate must have a regional presence." "I tell those asking us to get out of Syria; let's go together to Syria and Iraq."
In a speech focused on the regional threats posed by Islamist militants, Nasrallah argued that his party was not just protecting the Shiite sect. "Fighting takfiris is a defense of Islam, and not the defense of an axis, government or sect."Nasrallah warned Saudi Arabia that the Islamic State (ISIS) group was threatening to move in on the country in a bid to seize Islam's two holiest cities of Mecca and Medina. He further reiterated his party's claims that ISIS and Al-Nusra "are one and the same" and served Israel's interests.
"Everything that serves Israel's and the US' hegemony is being done by ISIS."
"Spring War"
Nasrallah also called on Lebanon to start preparing for a confrontation with Islamist militants in the eastern Beqaa. "We have ISIS and Al-Nusra Front on the other side of the [Ante-Lebanon] mountains… storms and snows have prevented confrontation, but when the snow melts something must be done.""The state must make a decision, as do the Lebanese people."The Hezbollah chief also called for coordination between Lebanese and Syrian authorities to tackle the issue of Syrian refugees as well as security concerns."I call for coordination between the Lebanese army and the Syrian army on the terror threat."Pro-Hezbollah Al-Akhbar newspaper reported last week that 5,000 Lebanese army soldiers have been deployed in the Arsal region facing 2,000 Islamist fighters ahead of an "inevitable" spring war when weather conditions in the desolate region improve.ISIS and Al-Nusra Front fighters have clashes repeatedly with the Lebanese army and Hezbollah in the eastern Beqaa, most dramatically in August of last year when militants swept through Arsal and took over 20 Lebanese security force members hostage in five days of fighting before withdrawing. The Al-Nusra Front in early October attacked Hezbollah positions in Brital, and in January militants killed eight LAF soldiers in fighting outside Ras Baalbek.
The anniversary of Rafik Hariri's assassination would be an apt occasion to make this happen. Daher's comments should be a glitch in Sunni-Christian relations, but they will only seem that way to Christians if a credible Sunni leadership is on hand to affirm it. For now, Sunnis