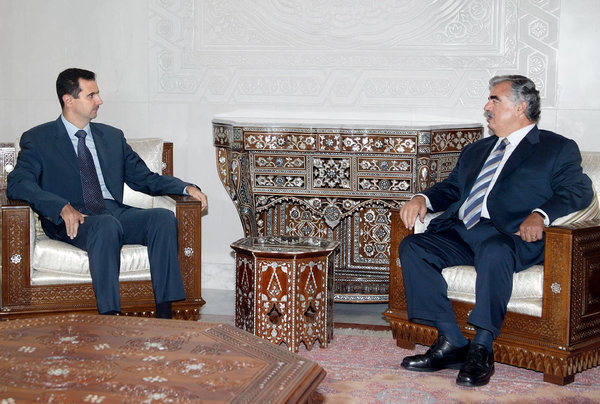 Lebanese leaders vow to honor Hariri legacy


The Daily Star/Feb. 14, 2015
BEIRUT: Lebanese leaders expressed grief and nostalgia Friday on the eve of the 10th anniversary of the assassination of former Prime Minister Rafik Hariri, vowing to uphold his legacy by working for an independent and prosperous Lebanon. Meanwhile, U.S. Secretary of State John Kerry praised the late premier's vision and legacy, voicing his country's support for the Special Tribunal for Lebanon.  The Future Movement will mark the assassination by holding a ceremony at BIEL Saturday afternoon, during which former Prime Minister Saad Hariri, Rafik's son, will deliver a speech.
 "Prime Minister Rafik Hariri, known to many as 'Mr. Lebanon,' was guided by his vision of a stable, sovereign and prosperous homeland," Kerry said in a letter on behalf of U.S. President Barack Obama.  "He spent his life working to make Lebanon more democratic, more free, more prosperous and more secure – for all its people."  "Still today, justice for that crime has not been served, and the United States stands with the Lebanese people and the international community in supporting the Special Tribunal for Lebanon and demanding that the murderers of Rafik Hariri be held accountable," Kerry added.
Prime Minister Tammam Salam said that with Hariri's assassination, "Lebanon lost an exceptional leader, who helped it regain its distinctive place at the heart of the Arab world after years of [civil] war."  In a statement, Salam described Hariri's death as a "sad moment" in Lebanese history, adding that he hoped his killers would soon be brought to justice.
He also called for honoring Hariri's legacy by supporting state institutions and urging moderation and dialogue, which he said the slain premier "adopted [as necessary] for a country as religiously and culturally diverse as Lebanon." Nazek Audi Hariri, Rafik's widow, highlighted the need for the Lebanese to follow her late husband's path.  "Given the painful events that Lebanon, the Arab region and the entire world are witnessing, we have a major reason to follow the path of martyr Rafik Hariri through shielding the internal front, boosting our unity and solidarity, engaging in dialogue and refraining from bickering and polarization which jeopardizes our security and civil peace," she said. "We miss you … we are living through hard times after your loss and we need you now more than ever before: the man of challenges in times of great challenges."Hariri and 21 others were killed in a massive explosion which hit downtown Beirut on Feb. 14, 2005, an event which generated earth-shaking developments on Lebanon's political scene.
Speaking to The Daily Star, Future Movement MP Ahmad Fatfat said Saad Hariri would affirm the principles of the Future Movement in his Saturday speech. "He will explain that dialogue [with Hezbollah] aims at protecting the country … and help in electing a president in order to energize state institutions," Fatfat said.  "At the same time, former premier Hariri will reiterate the Future Movement's opposition to Hezbollah's arsenal and to its involvement in Syria's war."
Kerry said "that America's commitment to Lebanon remains as strong as ever." He expressed his country's support for the Baabda Declaration, and Lebanon's disassociation policy, repeating U.S. promises to continue helping the Lebanese Army as it confronted the rising threat of terrorism.
Kerry said the election of a president was necessary for Lebanon to fully confront security and economic challenges posed by the Syrian conflict.
"I urge Lebanon's leaders not to look outside of their country for a resolution to the presidential gridlock, but instead to find a solution from within. Unless and until a president is chosen, the erosion of Lebanon's political institutions will only become more pronounced," he said.
Kerry's words also indirectly slammed Hezbollah, classified by the U.S. as a terrorist group. "Make no mistake: there is no justification for the retention of arms by a militia or terrorist group that answers – not to the Lebanese people – but to foreign governments in Damascus and Tehran," he said.
Justice Minister Ashraf Rifi vowed to continue the late Hariri's legacy until "all the objectives he lived and died for" are achieved. "There is a long road ahead before we can restore the state's authority, disband illegal arms and achieve full sovereignty in this country, for which Rafik Hariri was a martyr."
Information Minister Ramzi Joreige praised Hariri for his support of public freedoms, especially the freedom of the press and public expression.
Grand Mufti Sheikh Abdel-Latif Derian expressed nostalgia for the stability and prosperity that he said prevailed under Hariri's governance.
"The 10th annual commemoration of Rafik Hariri's [death] comes at a gloomy time for Lebanon, as Parliament's mandate has been extended twice, presidential elections have failed, institutions are rusting, security is volatile and war is next door," Derian said, after visiting Hariri's tomb.
Recalling the slain premier's efforts to reconstruct the country after 15 years of civil war, Derian added: "Hariri has become a symbol of Lebanon's stability, security and prosperity."
U.S. Ambassador to Lebanon David Hale visited Hariri's grave as well to pay respects for the assassinated leader.
Druze spiritual leader Sheikh Naim Hasan highlighted Hariri's leading role in Lebanese history. "He carried Lebanon in his heart and mind, and worked for its development at every level."  During his Friday sermon, deputy head of the Higher Islamic Shiite Council Sheikh Abdel-Amir Qabalan expressed his condolences to all Lebanese for Hariri and the other victims of the attack. "Hariri offered a lot to the country and its people, and was a martyr to all Lebanon."