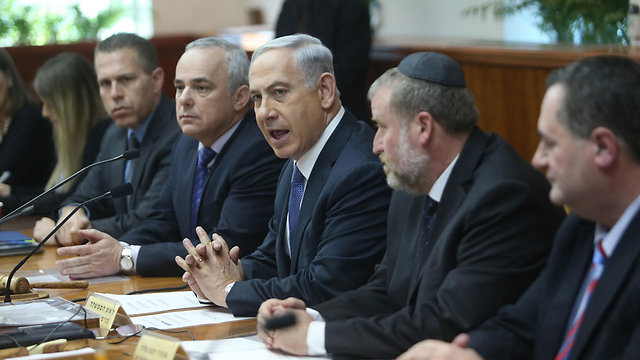 Netanyahu: Speech at congress not political, it's existential 


By HERB KEINON, MICHAEL WILNER/J.Post/02/09/2015 20:55
Contrary to reports he is considering ways to get out of his controversial speech to Congress in March, Prime Minister Benjamin Netanyahu said publicly on Monday he is adamant about going to Washington and presenting Israel's position on Iran to Congress and the American people.
"At a time when there are those who are dealing with protocol and politics, a bad deal is being put together in Munich that will endanger Israel's existence," Netanyahu said at a campaign speech at Bar-Ilan University, in a reference to White House objections that his invitation by Republican Speaker of the House John Boehner, without consulting the White House, was a breach of protocol.
At about the same time that Netanyahu spoke, US President Barack Obama – at a press conference in Washington with visiting German Chancellor Angela Merkel – said he does not want to be "coy," and acknowledged that there are very real differences regarding Iran sanctions with Netanyahu.
Obama said that it does not make sense "to sour" negotiations with Iran "a month or two before they're to be completed" with new sanctions.
"What's the rush?" he said.
"Unless your view is that it is not possible to get a deal with Iran, and it shouldn't even be tested, and that I cannot agree with, because as president of the United States, I'm looking at what the options are if we don't get a diplomatic resolution."
But that was separate and apart from Netanyahu's coming to Washington, Obama said, warning that the perception of a Likud-Republican alignment puts a "cloud of partisan politics" over the US-Israel relationship.
Regarding Netanyahu's plans to come to Washington in early March, Obama said that "we have a practice of not meeting with leaders right before their elections, two weeks before their elections."
Then, in an apparent jab, he added, "as much as I love Angela [Merkel], if she was two weeks before an election, she would probably not have received an invitation to the White House. And I suspect she would not have asked for one."
"Some of this just has to do with how we do business," he said.
"I think it's important for us to maintain these protocols, because the US-Israeli relationship is not about a particular party. This isn't a relationship founded on affinity between the Labor Party and the Democratic Party, or [the] Likud and the Republican Party. This is the US-Israeli relationship, that extends beyond parties, and has to do with that unbreakable bond we feel, and our commitment to Israel's security, and the shared values we have."
Netanyahu, in his speech, said that the question is not whether the relations with the United States will be strong despite disagreements on the Iranian nuclear issue.
"From the establishment of the state until today there have been disagreements on substantive issues with the US, and the relations remained strong, and that will be the case this time as well," he said.
The "true question," he added, is whether Iran will have nuclear bombs to "implement its intention to destroy the State of Israel. That is something we will not allow."
This is not a political issue either in Israel or the US, Netanyahu said.
"This is an existential issue."
Netanyahu's comments came just a few hours after Reuters reported that Jerusalem was entertaining ideas to amend the format of Netanyahu's planned address to Congress to try to calm some of the partisan furor the Iran-focused speech has provoked.
Among the options reportedly being considered, were to have Netanyahu speak to a closed-door session of Congress, rather than in a prime-time TV address, so as to drain some of the intensity from the event.
Another option reportedly discussed was for the prime minister to make his speech at the annual meeting of the American Israel Public Affairs Committee in Washington the same week, rather than in Congress.
One official in the Prime Minister's Office confirmed to The Jerusalem Post that in the last few days a number of different ideas were discussed regarding the speech, but that "currently there is no change in the plans."
A poll on Army Radio on Monday said 47 percent of Israelis think Netanyahu should cancel the address, while 34% said he should go ahead with it.
Reuters contributed to this report.