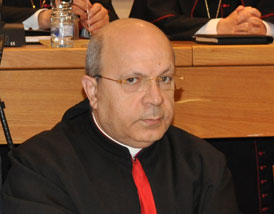 Maronite Bishop Antoine Nabil Andari : We Can't Confine Maronism to Those Who Bowed Their Heads for Personal, Foreign Interests
Naharnet /08.02.15
Maronite Patriarchal Vicar of Jounieh Bishop Antoine Nabil Andari lamented Sunday that "no one can understand why a new president has not been elected until the moment," stressing that Maronism cannot be "confined" to the ambitions of "those who bowed their heads and knees for the sake of personal and foreign interests." "After all what happened, we wonder where is the Christian spirit – the spirit of tolerance, forgiveness and love – and where is Saint Maroun and the example he gave us in terms of self-sacrifice for the sake of others," Andari said in a sermon marking Saint Maroun's Day, which will be celebrated Monday in Lebanon and the world.
"When we're asked why don't Maronites in Lebanon agree on a president, what should we say? We shy away from mentioning the reason and we prefer to say, 'We don't know' … in order to cover up for the greedy ambitions that are being pursued at the expense of the people and the country," the bishop added. He wondered if the time has come for Maronites to "crucify themselves on the cross of history" while being subjected to "the mockery of both allies and enemies."
"Nowadays, we have erred a lot by straying away from our Maronite heritage, because the lack of religiosity and faith and the negligence of the founding fathers' spiritual, ideological and moral heritage have led us into the current situation," Andari decried.
"Our resurrection can only happen through our faith and unity," the bishop underlined. He called for "rising up from the valley of decadence and defeat," emphasizing that "Maronism cannot be confined to the level of those who bowed their heads and knees for the sake of personal and foreign interests, but rather to the level of those who have raised heads and spread its name and message." "Have we forgotten what (late) pope John Paul II had said in the Apostolic Exhortation when he described Lebanon as the cradle of a deep-rooted culture, one of the Mediterranean Sea's beacons and the land of unity and diversity?" Andari went on to say.