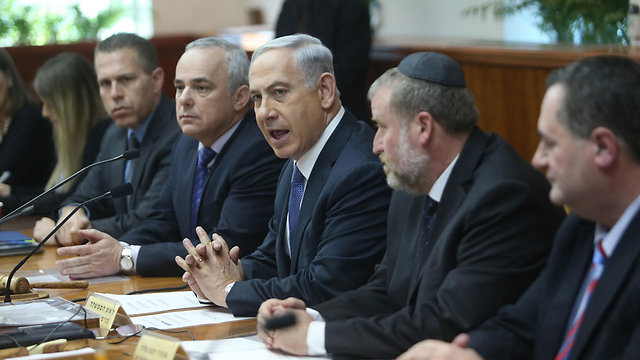 Netanyahu: US, Iran galloping towards deal which threatens Israel


Ynetnews/Published:  02.08.15/ Israel News
Israeli Prime Minister Netanyahu says US, Iranian commitment to reach nuclear deal with Iran by March a danger to Israel, vows Israel 'will do everything, take any action to foil this bad deal.' Prime Minister Benjamin Netanyahu reiterated once again his promise to stop at nothing to prevent Iran from reaching nuclear capabilities, or maintain the ability to do so quickly through a deal with the west.
His comments came US Secretary of State Kerry met with his Iranian counterpart Mohammad Javad Zarif Friday and again Sunday in Munich, where the top US diplomat stressed Washington's commitment to seeing the deadline met.   "The major powers and Iran are galloping toward an agreement that will enable Iran to arm itself with nuclear weapons, which will endanger the existence of the State of Israel," Netanyahu said at Israeli government's weekly cabinet meeting.
Netanyahu took aim at Kerry and Zarif, saying that their intention to complete a framework agreement by the end of March, forces Israel to take action. "From this (commitment stems the urgency of our efforts to try and block this bad and dangerous agreement.   "We will continue to take action and to lead the international effort against Iran's arming itself with nuclear weapons. We will do everything and will take any action to foil this bad and dangerous agreement that will place a heavy cloud over the future of the State of Israel and its security," Netanyahu said.
Kerry ruled out extending a March 31 deadline for Iran nuclear talks unless the basic framework of an agreement is hammered out, speaking in an interview aired Sunday. "The only chance I can see of an extension at this point in time would be that you really have the outlines of the agreement," Kerry said in the interview on NBC's "Meet the Press" taped Saturday in Munich.  Global powers have been struggling for more than a year to pin down a comprehensive deal to rein in Iran's suspected nuclear program, after an interim accord was struck in November 2013.
After their meeting Sunday, Zarif appeared to rule out any new extension to tough negotiations with world powers.  Kerry said outlining the basics of the agreement was crucial before a possible extension could be considered, but reiterated his preference for sticking to the target date.  "But if we're not able to make the fundamental decisions that have to be made over the course of the next weeks, literally, I think it would be impossible to extend," he told NBC.  "I don't think we would want to extend at that point. Either you make the decisions to prove your program is a peaceful one, or if you're unable to do that, it may tell a story that none of us want to hear."
After missing two previous deadlines, the group known as the P5+1 – Britain, China, France, Germany, Russia, and the United States – set a March 31 deadline for a political agreement.
That would be followed by a final deal setting out all the technical points of what would be a complex accord by June 30.
But the atmosphere has been complicated by hardliners both in Iran and the United States, with US lawmakers threatening to impose new sanctions on Iran if the March deadline is missed.
AFP contributed to this report